1993 June July – USA Dallas, Forth Worth, Rapid City, Mount Rushmore Yellowstone, Grand Tetons Chicago
Dallas and Fort Worth. We decided to go on a start and finish independent holiday and then join a Maupin Tour in the middle. First we flew to Dallas and stayed at the magnificent mirror-glassed Hyatt Regency Hotel, (over 1000 rooms) our opulent room somewhere in the sky,
and dined in the Hyatt Regency Tower, the strange circular ball covered in lights.
The heat outside was unbearable. I think we were told that the hotel overlooked the site of the assassination of President Kennedy. Through one of our many windows, it certainly overlooked a railway line which seemed geared towards mile-long freight trains. One started to pass when I went for a long hot soak and it was still passing three-quarters of an hour later.
We wandered around Dallas looking at the astounding buildings and fountains, and then headed for the Dallas Museum of Art. The collection ranges from Ancient Egyptian to present day with an excellent collection of American art.
The Iceberg by Fredrick Church
Oudry one of our favourite artists
We also got a taxi to take us to the little known Meadows Museum of Spanish Art located on the Southern Methodist University.
The artist's grandson by Goya
One of the biggest collections of Spanish art outside Spain: Velasquez, Murillo, Goya, Sorolla, El Greco, Picasso. It's one of Dallas's secret collections, we were the sole visitors that day apart of a small group of school children.
Though we were near the Dallas railway station there were no trains which could take us to Fort Worth, so we hired a taxi for the day and set off. We had our sights set on visiting the Kimbell Art Museum, on the way our taxi driver took us to see William Irving Square which has this incredible fountain with full-length bronze mustangs crossing it. The sculptures by Robert Glen. It is a magnificent sight to see these mustangs galloping across a fountain stream in the centre of town.
We also saw the waterfall fountain in central Fort Worth which is a series of steps like a small Greek theatre with water cascading down.
Before we got to the centre of Fort Worth we passed through what seemed to be a city of used car lots which stretched for mile after mile, a horrendous sight, nothing but used cars as far as the eye could see.  The Kimbell has a truly great art collection. Most of the great painters are present with masterpieces by them. There were also sculptures from ancient to the present times. Each piece seemed to have been chosen for its excellence. But what a hideous building.
The Allen Brothers by Raeburn
We crossed some lawns, in the quaking heat and visited the Amos Carter Museum of 19th and 20th century American Art. Stunning collection of paintings and sculptures.
One of the Remington bronzes
The Bathers by Eakins
If you want to see Remington bronzes this is the place to visit. We had lunch in a very good café in the gallery. We swanned back to the Hyatt in our luxurious taxi, sated and ready for our Maupin Tour which was going to be very different from our art orientated sojourn so far.
Rapid City and Mount Rushmore. On the 26 June we booked into the Rapid City Hotel whose address I see is 445 Mount Rushmore Drive and met up with our fellow travellers.
The following day we set off to tour the Badlands National Park, South Dakota formed 37 million years ago from the ash from volcanoes. Miles and miles of layers and pinnacles of solidified ash in an incredible variety of colours.
Then on to Mount Rushmore where the Maupin group had a photograph taken with the backdrop of the four carved presidential heads of George Washington, Thomas Jefferson, Theodore Roosevelt and Abraham Lincoln. The sculptured heads were the brainchild of Gutzon Borgium. It took 14 years to create from 1927 and is an astonishing sight.
That evening we all went to a private house, Keystone, North Dacota the home of Howard and Audrey Shaff where we were served with champagne and hors d'oeuvres, followed by a cookout of beef, and roast potatoes and finished with carrot cake. During this we were entertained by a guitarist called Doug Robinson. It was a delightful occasion, so quiet and peaceful in this beautiful garden setting with the gentle sound of the guitar while the birds sang and the sun set.
Wyoming. In the morning we drove through the Black Hills National Park to America's first national monument, Devil's Tower. There seems to be some disagreement as to the formation of this massive towering rock.  Some think that it is all that remains of a large explosive volcano, whatever it is, it is awe-inspiring thing, which can be seen for miles around.
When you got closer we found it was formed of upright ribbed rock, and is known for its snakes and indeed we did see a highly coloured snake sitting on a rock which fled on our approach.
We stayed the night at the Holiday Inn Sheridan Wyoming, the centrepiece of the atrium was a massive waterfall falling over a large slab of rock. Most impressive but so noisy no one could be heard above the din.
 Cody, the Big Horn Mountains and Shoshone River, Wyoming.
The following day we travelled to Cody and then on to the Big Horn mountain range, through a landscape covered in wild flowers, some fields entirely covered in wild lupins, all with a backdrop of the tops of the mountains covered in snow.
We stopped a couple of times to view the beautiful Shell Creek Falls.
At Cody we were told to get into something comfortable, preferably shorts and t-shirts and nothing else, as we were going to shoot the rapids on the Shoshone River. Not having either shorts or tee shirts, we rushed off to the nearest shopping mall and got kitted out.  So the next morning we got changed put on our life-jackets and stepped into a number of bright yellow rubber rafts, given an oar and told to row in whichever direction we were given, so it was either both sides to row or only those on the left or those on the right, and we were to row like mad once given an instruction. So off we set. It was certainly unusual and exciting. I don't suppose the rapids were too dangerous but there were times when we were totally drenched by enormous waves which came right over the boat. We were almost flung from our seats a few times and it was like sitting on a bucking bronco, not that I have ever sat on a bucking bronco.  Anyway we all had a great time.
We dried out in Cody as we were drenched from head to foot in freezing water.
We visited the Buffalo Bill Historical Centre and Art Gallery, which was surprisingly rather good.`
Another Frederick Church, this time of Yellowstone
We finally we set off for Yellowstone National Park
Yellowstone National Park. Our first stop was the Mammoth Hot Springs Hotel where we had lunch, from there we visited the Lower Falls, and then on to the Tower Falls of the Yellowstone River.  
The Lower Falls of the Yellowstone River
We then toured the Mammoth Springs, one terrace was known as the Minerva Terrace, here we were faced with terrace upon terrace of what looked like frozen white and highly coloured waterfalls all carried down on a hillside.
The Mammoth Hot Springs.  Our hotel in the distance
Apparently the terraces are made of travertine, a form of calcium carbonate that is dissolved from the limestone beneath the ground and is carried to the surface by the hot water springs. The algae that thrive on it give the terraces their distinctive colour. Our hotel overlooked this incredible spectacle.
There was an extraordinary formation called the Liberty Cap which was composed of calcium carbonate which had grown to the incredible height of 37 feet, but then had solidified because the hot springs could no longer reach the top.
There was another formation called the Punchbowl Spring which looked like the crater of a miniature volcano inside of which there was a bubbling spring of hot water. We were then confronted with a devastated landscape with dead trees, calcified rock and steam from hot springs erupting all over the place. The park authorities had built a very discreet walkway across this extraordinary landscape. It certainly was a memorable day and I cannot do descriptive justice to it.
Boiling mud
We came across this solitary bison
Old Faithful Geyser. Yellowstone is of course renowned for the Old Faithful Geyser. The Geyser spouts a column of water up to 180 feet, hurling 11,000 gallons of boiling water into the air at regular intervals of between half an hour or two hours.
There are dozens of other geysers in the vicinity, and the Grand Geyser blows up twice a day lasting up to twenty minutes in a series of powerful bursts that climb to 200 feet. There is also the Morning Glory Pool which is a deep blue formed by its favoured algae and the Steamboat Geyser which is the world's tallest (300 feet) and the Primrose Spring which is a flower-shaped crater filled with iridescent yellow mud. In-between these springs and formations on little islands of grass were living large numbers of 'critters' prairie dogs, popping up from the ground. We were shown some of the bison that roam the park. Such magnificent animals.
In the evening we had a splendid dinner at the Old Faithful Inn, a gigantic log built hotel, described as one of the most beautiful lodges in the USA and also the largest log building in the world.
Next morning we set off through the Grand Teton National Park, stopping off at various view points, on our way to Jackson. We finally arrived in Jackson and were settled into our extremely comfortable accommodation for the night in Jackson Lake Lodge.
The Park stretches for about 50 miles between Yellowstone and the town of Jackson. The lodge has the most magnificent views of the snow covered Teton Mountain range, which is so incredible that you can hardly believe your eyes. The fields covered in wild flowers. We were now in Wyoming.
We did an excursion to Jackson Hole which is a glorified shopping centre, the whole town taken over by expensive designer shops. In the centre are a set of massive decorative arches until you realise they are composed of elk antlers.
Jackson Hole
We could not wait to leave.
In the afternoon we took a float trip down the Snake River. Inflated boats with a single rower in the centre who took us for miles up the river, telling us about the wildlife, and pointing out the various mountains and one of the highlights was seeing a number of enormous eagles perched on trees along the riverside. He also regaled us with the most extraordinary hobo life that he had led, and at the end of the tourist season he would be off again, hitch-hiking across the states with no particular destination, 'Just wherever the wind blew me'  This was our final day and after a very successful trip here were were floating peacefully down the Snake River.
View from the Snake River Raft
Chicago. The following morning we flew to Chicago which was our final destination before returning home. We stayed at the rather grand Chicago Hilton. Sumptuous rooms.
We had a great time.   We visited the Art Institute of Chicago which was planned to be one of the great highlight of our visit. What a collection.
Van Gogh self portrait                                                   American Gothic by Grant Wood 
The whole time we were in Chicago everyone was preparing for the 4th of July, something called The Taste of Chicago was taking place in the park which had a massive collection of stalls, each one representing a restaurant in the city.
There was some sort of food competition going on and everything looked very hectic and jolly. One afternoon we went to walk along the edge of Lake Michigan to see all the yachts and boats of every kind.  One yacht had a Jolly Roger flag flying from its mast and was called 'This Side Up'.
The day before we left was the 4th of July and during the day every street in Chicago was closed to traffic and thousands of people poured into the city and the park to see the celebratory firework display.  It was fantastic and at times it seemed unreal that we were standing in Chicago among these crowds of Americans on the 4th of July all exclaiming as each display outdid the one before.  The finale lit up the whole city. What a great day to end our trip. We flew back home the next day.
1993 July.  Came down to Bridport again to view properties but did not like any of those we viewed.
The National Trust and CMS  (Computerised Management System). My dream, from when I first started volunteering with the NT, was to get all the detailed material held in Laing' office out to the public via the internet.
For instance it seemed to me incredible that if anyone was putting on an exhibition the only way they could find out if the NT owned suitable pictures would be to visit the office and search through the black and white photographic collection and/or to find out if Laing could remember if there were suitable paintings knocking about in any of the houses or storerooms.  I was of course paving the way for such nonsense to come to and end by putting the material on screen, and trying to urge those in charge to design a data base for all the paintings.
Here I will introduce Hermione a now retired member of the NT who had volunteered (I think it was unpaid though I am not sure) to catalogue the collection of frames on its paintings. Though past retirement age she also dreamt and then urged the NT that there should be a data-base for the NT's collections. She was determined that if no progress was being made by the so-called IT boffins at the NT she would lead the way. She purchased a computer and found a friend who said he could devise a system which would cope not only with her frames but also the paintings. So he began to devise a system.  Sadly, over many months it was all to clear to me that what he was devising would not be fit for purpose.
Hermione was not to be persuaded otherwise.  She was determined that I begin to spend time entering data on this doomed system.  I tried, failed, and refused to continue to waste my time, and returned to my system. She was beside herself and her disappointment turned to rage as I think she also realised that the system was not going to work.  Hermione in a rage was something to witness and I got the full brunt of it. She then threw her hand in regarding cataloguing the frames but not before she had almost boxed my ears a couple of time. She had a dream, as I did and it seemed nobody in the NT shared it. Before the row, she used to tell me tales of her time with the Trust. One of the best was how she had been sent with a team of people from the NT to Florence when it was hit by the floods which affected so many of its art treasures. Apparently one day she found herself up to her waist in filthy water in Santa Croce where the famous Cimabue crucifix was lying face down in the water and she could see pieces of gold paint drifting past her as, according to her, hysterical men flapped about getting nowhere, meanwhile the shreds of gold paint kept drifting past her. By the way the crucifix is vast and extremely heavy. She said someone had to do something to lift it out of the filthy water as soon as possible  and so she plunged under the crucifix and began to walk it up out of the water whereupon the others got the message and it was eventually taken out. Now how much this is true I just don't know. I suspect she had a lot to do with rescuing the crucifix, one of my favourite works of art, so possibly some of it may be true. A quite remarkable lady but she had the knack of upsetting everyone around her with her sharp tongue and short temper.
Anyway back to the data base.  From what I can recall, during my time with the NT there were two aborted attempts to create a database, costing an incredible amount of time and labour.   I spent hours with the designers of both systems explaining what were the requirements so far as paintings, drawings, sculptures, prints were concerned;  both schemes crashed. You can imagine what Hermione had to say about that.
Then the Trust, for once, employed someone who was dedicated and inspired not only to put all the paintings onto screen, but the complete contents of all the houses including, those massive number of items in store. Sadly by this time Hermione had left.   Anyway over the hill riding his white charger came Philip Claris determined and single-mindedly driven to create such a database. The man is a genius and one of the most under-estimated and under-valued members of staff the Trust has ever employed.  I think he was an archaeologist by profession but that was totally irrelevant. He was determined to make the data base work.  I first met him in the early stages of planning and gave him my breakdown of all the paintings, etc., which, by now I had also applied to the sculptures and miniatures, on which very little work had been done other than by Richard Walker in respect of the Miniatures. He took in all the breakdowns I had created and all were included in the final database design. And so the massive undertaking started.
Somewhere along the way the Trust joined forces with the Royal Collection and I think shared the costs.  Philip, I don't how, got the funding to start the photographing of everything, everything, down to the last broken fame in a forgotten storeroom and that dusty photograph album stuffed down the back of a desk. I remain in absolute awe of the way Philip organised everything.  He arranged staff workshops to discuss the development of the data-base at every stage of its creation and it was wonderful seeing it grow and grow.  Shamefully, little or no enthusiasm was shown by many senior members of staff. How he survived their utter indifference and sometimes ridicule 'Oh it will never work' remains a mystery.  But Philip was not the man  to be put off.  And after many years of dedicated work which would have mentally broken most people, there the database was.  And it worked. And it is an incredible tool.
The day I started entering information is one of the most exciting days of my life  And all the information held in that small closely guarded NT office regarding the paintings on which I had been working for so many years was finally out there for everyone to see and illustrated in full colour. You have no idea what contentment it gave me to be sitting at my desk at home transferring all my years of work onto the database. I also entered the prints throughout the NT collections, on which no work had ever been done and then worked on the miniatures and sculptures. I also did a huge amount of work on the photographs of which there are thousands in the NT's collections.
Finally one of my greatest contributions was the name index. Every item in the collection has to be identified by the name of an artist, sitter, school, maker, company, etc., etc. Over the years I had been creating a name index and finally it was put to use. I then spent years and years keeping the index updated. And when I have finished my work on this website I hope to return to finish the project.
One of the offshoots of the work on the paintings was that it enabled a dedicated and incredibly hard working member of staff namely, Tania Adams (ex.Courtauld), to virtually singlehandedly prepare the six volumes of the NT's holdings of all its oil paintings for publication by the Public Catalogue Foundation. She masterminded the whole enterprise, met all the publication deadlines, wrote a superb historical introduction and also many of the introductory histories for each property which were supposed to have been undertaken by an unenthusiastic member of staff, no need to guess who, and kindly acknowledged my contribution.  She had also spent years working on the entries for the paintings, and drawings.  After which she was dumped by the Trust.  There is no other word for it, she was dumped. All her dedicated years working on CMS was held for nought, in fact, apart from Philip she became the most knowledgeable member of staff on the workings of CMS. And yet they dumped her though there is still a great deal of work yet to be done. I know she was/is  extremely hurt and the Trust should bow its head in shame. There was no more dedicated member of staff than Tania and I want to record the shameful way in which she was dismissed by the Trust.
For some years Sarah Staniforth who was (now retired) head of Historic Buildings and therefore responsible for all it contents, kindly came down to Bridport with Philip and Tania and took William and I out to lunch by way of thanks for all my hard work. Three of the nicest, well-mannered, hardworking and dedicated people with whom I have worked with at the NT.  Only Philip remains in the employ of the Trust and I just hope they realise what a treasure they have but knowing the NT I somehow doubt it.
1993 – August – Bregenz, Innsbruck, Verona Mantua. We booked into a Martin Randall trip led by Martin himself. Friday 13th August. Flew to Zurich. Martin helping many of the party, some quite elderly with their luggage off the carousel. Sadly someone walked off with his suitcase, presumably by mistake. Fortunately he had all the tickets and important documents with him. I think his luggage caught up with him a few days later.  We kicked off immediately with a visit to Winterthur to see the Oskar Reinhart art collection of Impressionist and Old Master paintings at his former home 'Am Romerholz', now laid out as a gallery. One of those marvellous private collections with masterpiece, after masterpiece. Breathtaking. Every piece chosen for its perfection. Even had a magnificent Constable, the sort of Constable everyone would like to possess, Cranach, Holbein, Delacroix, Picasso and a host of Impressionists.
Cranach and Picasso
Constable, Branch Pond, Hampstead
Quite a feast and he had not got to our first hotel. We had lunch at the little café there. The house is in a tranquil setting with delightful grounds. Then on to Austria to stay at the Messmer Hotel Bregenz.  Very modern, very comfortable. In the evening a group of us found ourselves by Lake Constance and wafting over the water from the opera house was the sound of the Lament from Verdi's Nabucco which we were to see the following night. Lovely moonlit night and that soulful melody moved us to tears. I recalled many years later that William said he would like the Lament played at his funeral. And so I did.
Saturday 14 August. Walk around Bregenz and visited the Vorarlberger Landesmuseum. Good collection, though swamped by modern rubbish. The remainder of the day was free and for the life of me I cannot remember what we did with it. It poured with very heavy rain, I think we just wandered around the town a bit and hoped that the rain would stop as the opera house was in the open air. We had dinner at the hotel. We arrived rather late and the only available table was occupied by two very grumpy ladies from the party whom we joined. Before we sat down we were greeted with 'We hope you are not going to smoke because if you are would you please sit elsewhere'. No wonder there was no one sitting next to them. We assured them that we did not and never have smoked and the remainder of the meal was passed in frosty silence; they obviously loathed men as well. Outside it was bucketing down with rain and we feared that the performance would be cancelled. The management did not open the doors of the opera house just in case of cancellation so the whole audience crowded outside under umbrellas. All of a sudden it was announced that the management had heard from the other side of Lake Constance, from where the weather was coming, that the sky was clearing. As indeed it did, we were let in and were faced with this magnificent set on an island stage, we sitting in an arena of seats on the land. Who should be sitting beside us by the grumpy ladies. My heart sank, but they were not going to spoil the evening, though I could hear them muttering that they thought the seats were uncomfortable, etc. The performance was superb. It was an incredible production and of course we then heard the lament again.  Before it began a tall barbed wire fence rose from the water between us and the floating stage covered with bits of cloth and torn pieces of paper and the whole chorus in 'holocaust' striped uniforms clung onto the wire, their hands outstretched through the wire pleading with us and sang. It was one of the most moving and electrifying moments we had ever experienced in the theatre. Never to be forgotten. Just as we were getting up from our seats at the end of the performance the heavens opened up again and down came the rain.
15 August. After breakfast we coached to Schwarzenberg, to visit the parish church and see the Angelica Kauffman Museum which was being specially opened for us. Delightful collection of her paintings in the family home with a gallery attached.
We then went to the church to see her altarpiece.  A string quartet were rehearsing in the church, so we stopped to listen. We then went on to Innsbruck over the Arlberg Pass.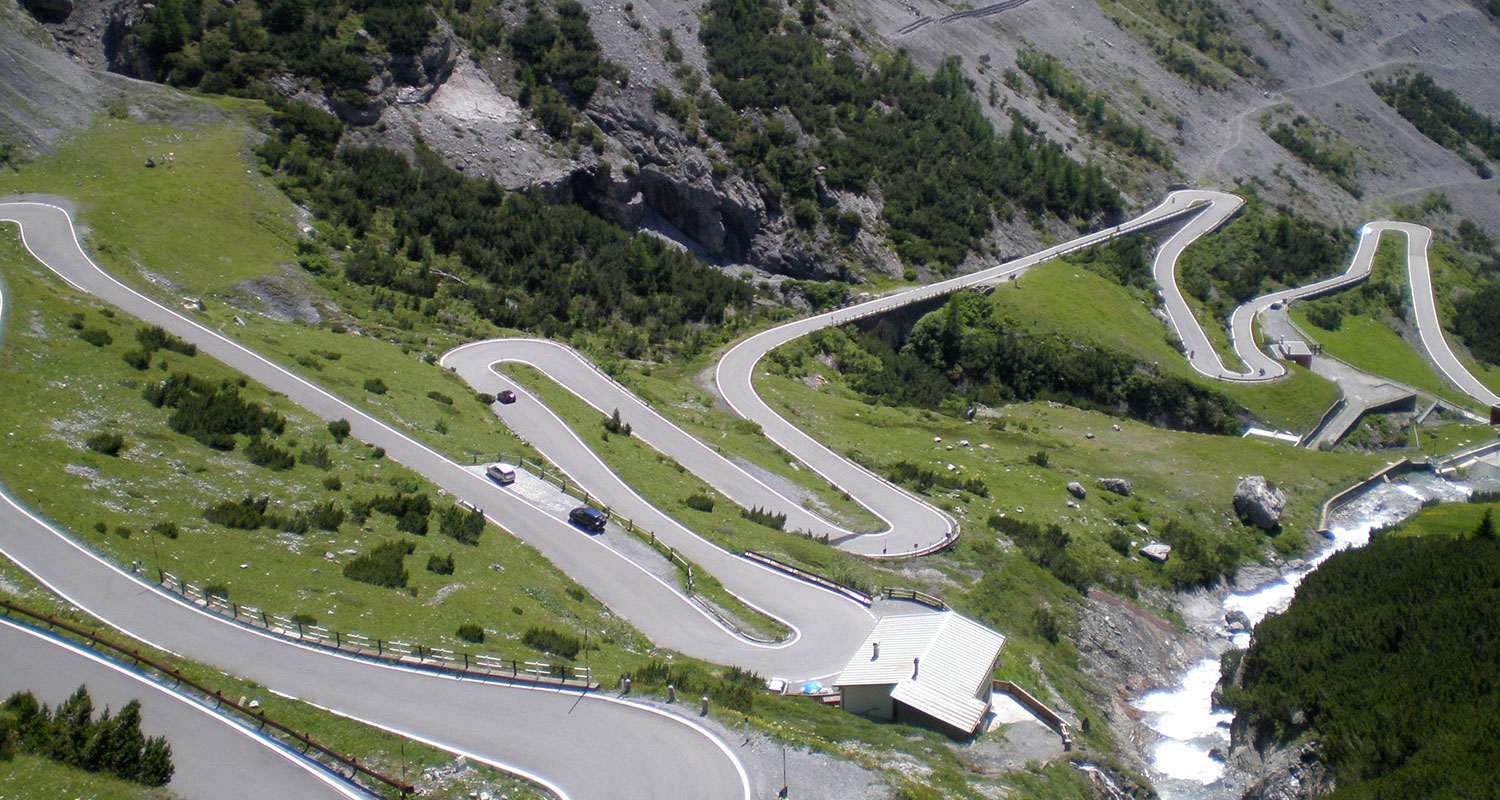 16 August. Innsbruck. Magnificent snow-capped mountains in the background. Visited the St Jacob Cathedral. Handsome interior with marble pillars and a great deal of gilding. Has a painting by the elder Cranach, smothered on the high altar with silver and silver and even more silver. Also a magnificent funerary monument to the Archduke Maximillian III (1558-1618). The archduke is shown praying accompanied by St George who has brought his dragon along for the ride. We then visited the Schloss Ambras. It was this collection that sold the trip for us as we have always wanted to visit the absolutely stunning collection of portrait it contains. There are almost 300 portraits of the House of Austria and I was in heaven. The collection includes a Michiel Sittow of Catherine of Aragon (left)
and they even have portraits of Mary Tudor, Elizabeth I and James II.  There paintings by Bronzino , Sustermans, Zoffany Vigee-Lebrun and so on and so on. The party returned by coach but we remained for the afternoon and returned by taxi when we had had our fill. What a day and it wasn't finished yet. That evening we attended the Tyrolean Provincial Theatre to see Monteverdi's Il Ritorno d'Ulissee in Patria. I think we enjoyed it, but honestly I cannot remember a thing about the production.
17th August. Innsbruck. We visited the Hofkirche. The whole of the nave is dominated by the extravagant monument to Emperor Maximilian I (16th century). It consists of a  central sarcophagus with Maximilian kneeling on top surrounded by 'ancestors'.
Originally there were to be 40 larger than life bronze statues, but only 28 were actually erected in the end and includes Joanna the Mad of Spain whom we keep meeting everywhere and who is one of my favourite ladies in history, and our King Arthur ! Then to the Tiroler Landesmuseum Ferdinandeum with an excellent collection including many portraits. and finally to the Imperial palace the Hofburg. Many furnished rooms with not much of interest except for a reasonable collection of portraits.
18 August. To Bressanone (Brixen). Visited the Duomo, very Baroque with a good cloister and the frescoed 11th century Baptistry of San Battista.
Then on to Trent. Visited the Castello del Buonconsiglio a massive fortified castle from which there are magnificent views of the mountainous countryside. It was the seat of the Bishopric of Trent. Originally built in the 13th century and added to extensively right up to the 17th century. Now the municipal art gallery in which are marvellous 16th century frescoed state rooms, though how anything survived being first used as a military barracks and then a jail. I was bowled over by some of the charming frescoes.
The two towers contain more frescoed rooms which are some of the best in the whole castle and were painted by an anonymous German artist. Then on to the Cathedral of Trent which hosted the Council of Trent which made decisions about Original Sin, Transubstantiation, purgatory, indulgences, veneration of relics and the role of saints and other such twaddle.  How grown men could discuss such nonsense for almost 20 years beggars belief. But unbelievably their decisions formed a manual for the Roman Catholic church right up to modern times. I remember we were confined to the church for over an hour because of torrential rain which flooded the streets.   We then set off for Verona, with some of the party soaked to the skin. We were booked into a hotel, very near to the Roman arena where we were to attend the opera. When we applied to join the group we were asked if we had any special requests.  We always put down 'a bathroom' as William cannot abide showers and baths are scarce in Italian hotels, at that time anyway. That request often paid dividends. The hotel was in a terrace of buildings. It therefore followed that many of the rooms had no windows. Our room number did not make any sense in relation to the room numbers set out in the lift as it was higher than anything shown in the lift, so we took it to the top and got out. We could hear other members being rather horrified that their rooms had no windows as we searched for our number. We got to the end of the corridor and there were no further rooms, but we were faced with a small staircase, so up the staircase we went. We found our room at the top of the stairs and saw that it was virtually on the roof of the hotel.  It had a very spacious bedroom, with a small sitting room attached no less, and the bathroom had a bath, but most significant of all was the fact that seated on the roof  it had large windows with the most magnificent views over the rooftops of Verona. As we were there for four nights we were in heaven.
19 August. Verona. Very, very hot. Everyone excited about seeing the city. Wandered over to the Duomo, 12th century Romanesque with monumental porch, its roof supported by two griffins with pillars on their backs and with charming reliefs over the door by Maestro Nicolo (1139) showing the Virgin and Child with the shepherds on the left being visited by angels and the magi on the right. The interior contains an Assumption by Titian.
Next to Sant'nastasia, the largest church in Verona 14-15th century. Very Gothic and with one absolute treasure, frescoes by Pisanello of  St George with the Princess of Trebizond which is sited in the Pellegrini Chapel. Pure Romeo and Juliet.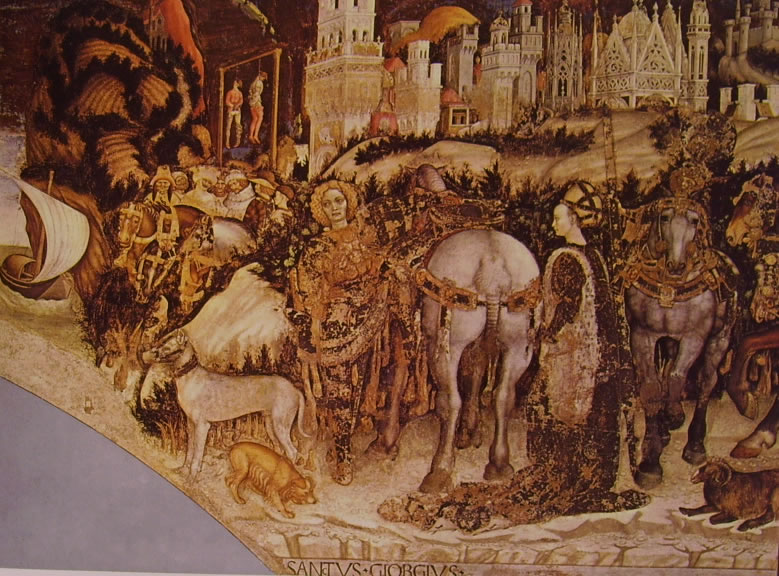 After lunch we had the afternoon to ourselves. We visited San Fermo Maggiore to see the Pisanello Annunciation.
We then roamed about a bit and eventually managed to locate the Roman Theatre, 1st century.
That evening we went to the Roman arena and watched a production of La Traviata. We sat in the arena itself.  Terrible sightlines and appalling acoustics. Never sit in the arena unless you are in the front few rows. People were still chatting and wandering about totally unaware that the opera had commenced.
 20 August. Mantua.  Our coach came to pick us up. We all trooped in and then found that we could not start because our two disruptive and complaining ladies had decided that as the coach driver had been smoking in the coach they would not board until the air had been cleared. Poor Martin, having to deal with this dreadful pair. So in the sweltering heat we sat until such time, after many visits and sniffs to see if the air was clear, did they finally declare that it was safe for them to board the coach. By this time, everyone in the whole party had had a brush with them and they were universally disliked and avoided. Some wag in the party had nicknamed them 'Les Wally' after the opera 'Le Wally' by Catalini, it was something to do with a play on their names. But to everyone they were Les Wally from that moment on. How did Martin manage to kept his cool dealing with such people. And we had not heard the last of them. Anyway to Mantua we went.
Our first port of call was the Palazzo del Te. Built as a summer villa on the site of the Gonzaga stables. Here Federico II Gonzaga held magnificent entertainments and during the visit of the Emperor Charles V was granted the Dukedom of Mantua. It was entirely built and decorated by Giulio Romano (1499-1546) and is unique and quite remarkable. It contains a whole series of rooms which have been frescoes by Romano and his pupils. One has frescoed portraits of Federico's favourite horses others had the story of Psyche, the Fall of Phaethon culminating with the Sala dei Giganti which is a theatrical trompel'oeil showing the Fall of the Giants, crushed by thunderbolts and falling masonry delivered by Jupiter on Mount Olympus. Right over the top.
After lunch we were taken to the Palazzo Ducale a huge fortress palace. It formerly contained the world famous Gonzaga collection which was sadly dispersed. The place is vast and impossible to describe. 
The Sala del Pisanella has tantalising fragments of  mural paintings by Pisanello. One other apartment has a set of Brussels tapestries after the cartoons by Raphael in the V&A. It is supposed to be the most important of the replicas after those in the Vatican. Other rooms have frescoes by Lorenzo Costa (1580) Romano, etc. But of course the great jewel in the castle is the Camera degli Sposi with the magnificent world famous paintings by Mantegna illustrating the life of Lodovico Gonzaga the second Marquis of Mantua. The vaulted ceiling has a trompe l'oeil oculus in the centre with clouds and cupids and a peacock looking down on the scene. One of the many great highlights of the whole trip.
Next to see the Teatro del Bibbiena an 18th century frolic of a theatre which seats about 300 odd. Absolutely delightful. Built by Antonio Bibiena between 1767-9. Then finally to visit the basilica of Sant'Andrea where Mantegna is buried which contains his tomb with his bronze bust possibly a self-portrait (below) and with paintings by Mantegna  and his son Francesco. Back to Verona, for dinner and Bizet's Carmen at the Arena. Performance finished at 1.30 am.
21 August. Verona. First visit was to San Zeno Maggiore. Regarded as one of the most important Romanesque churches in Italy. Begun in the 5th century and reconstructed and finally completed in 13th century. It's great treasure is the Madonna and Saints by Mantegna. Wow.
Then to the Caselvecchio which houses the city's museum and art gallery. The sculptures are arranged in two vast halls of the castle. Everything beautifully laid out. Excellent art collection spread over the whole castle. Madonna of the Quail by Pisanello – very memorable.
Sadly many of the rooms locked. On enquiry it appears they don't have enough staff so parts are permanently closed. Not a guidebook to be had. We were cornered in the gallery by Les Wally who were trying to drum up support for a formal complaint at what they considered to have been one of the most awful trips they had ever experienced and intended to seek full recompense.  I blew my top and said we had had an incredible experience and would not have missed it for the world and was amazed how Martin had tolerated their bad manners and foolish complaints which had absolutely no foundation. I was incensed and said I would be obliged if they did not speak to ether of us in future. They were the most awful crabby, twisted, evil pair of ladies I have ever met.  That evening Verdi's Aida in the arena. Very lavish.
22 August. Leave Verona and travel to Trescore Baleario to visit the chapel of the Suardi villa at Novale which contains Lorenzo Lotto frescoes created in 1524. One of those special places that can only be found on a Martin Randall holiday and has his personal touch. In the centre of the chapel is an almost grotesque monumental Christ portrayed as a vine with branches coming out of his fingers which end in fruits depicting saints and doctors of the church.
There are stories of St Barbara being flogged and tortured in some detail. Stories of Saint Bridiga, St Catherine and Mary Magdalene. All very bewildering and almost impossible to take in. What an extraordinary chapel. Quite unlike anything we had ever seen.
Then onto Bergamo to visit S Maria Maggiore and the Capella Colleoni. The frontage of the  unadorned church is overpowered by the Colleoni chapel, I say unadorned it is just about saved from being totally overlooked by a charming porch supported by two lions in white marble with a tabernacle above with St Alexander on a horse, accompanied by saints and above them a Madonna and Child with saints. Beautiful early frescoes in the interior and some fine 16th century tapestries. The church is also the resting place of the composer Donizetti. The frescoes include two charming Last Suppers. The large wooden crucifix also has intarsia panels designed by Lorenzo Lotto.
And then of course there is the gigantic, over the top, Colleoni chapel. It contains the tombs of the famous mercenary general Bartolomeo Colleoni (d.1476) and his daughter Medea (d.1470).  He in gold astride a huge golden horse. Medea in marble lying on her sarcophagus.
The ceiling and lunettes by Tiepolo no less and somehow a Holy Family by Angelica Kauffmann has been sneaked in. Tiepolo's Beheading of St John the Baptist with Salome (below)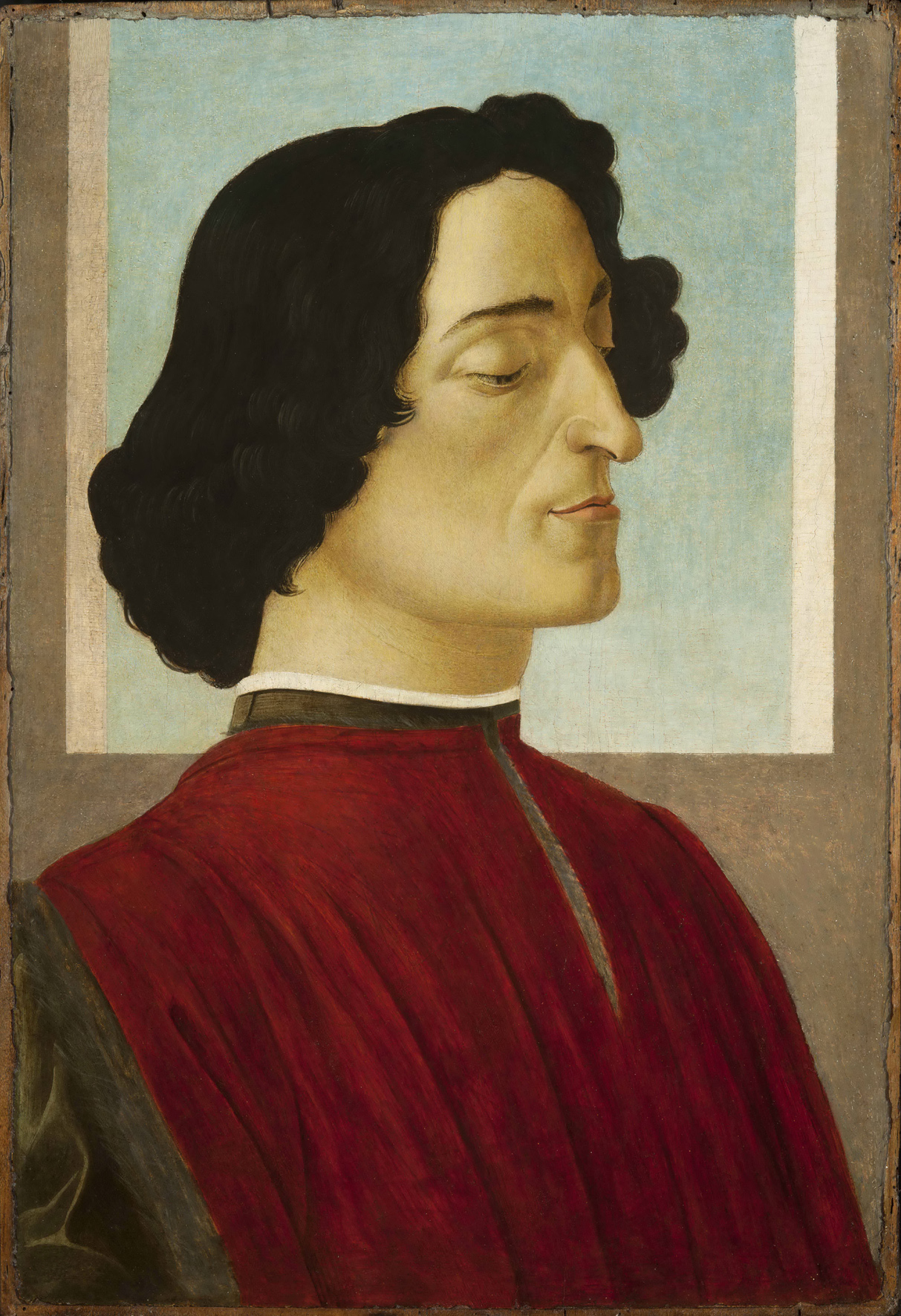 Giuliano de' Medici by Botticelli
The church sits on top of a hill, the Pinacoteca dell'Accademia Carrara a world-famous collection sits at the bottom of a very steep hill. Martin said those who wished to visit the gallery would have to walk down the hill and then up again. A few of us took him on and down we went. Even walking down was an effort. Of course the collection is well worth travelling any distance, but I have to say it was rather daunting knowing we would have to climb up the hill again. Martin, of course, had no intention of us climbing up the hill and ordered some taxis to take us up to join the rest of the party. So ended our trip with Martin, who had been a wonderful guide, giving lectures and talks on all and everything so that we could make the most of what we were seeing and experiencing. So to Milan airport where a drama was to be enacted. It so happened that at the airport waiting for our plane, we found ourselves all sitting together in two rows of seats facing one another.  One, the more belligerent Les Wally got up and called Martin to the centre in front of us all and told him that when she returned she was going to sue him for the cost of the trip as she had been most disappointed in almost everything about it, and went banging on and on. We all sitting there steaming and wanting to set about her. Fortunately we left it to Martin who dealt with her in his usual gentle way, trying to calm her down and told her it was her right to do whatever she felt she must.  I think to a man we were all on Martin's side.  We had all had a fantastic trip and he had been the most perfect guide throughout. We all assured him afterwards that if he wanted support against her claim we would all give it and indeed spell out what a horrible misbehaved troublemaking pair they were and how appreciative we were for all he had done during the holiday including dealing with Les Wally in his usual calm and gentle manner. We flew home incensed.
September 1993. We find our home in Bridport.  Came down to Bridport to view properties but no luck and so we returned to London. The following day my sister happened to speak to the owner of a bungalow near to her. He told her he was thinking of selling. She phoned us and William insisted that we return the following day from London to Bridport.  We viewed the property and fell in love with the place saw it was not overlooked by neighbours and had lovely distant views of the countryside. He told us what he wanted for the property  and we immediately made an offer and it was accepted. Why he put a value on the bungalow which was well below what he had paid  is still not understood. We would have paid much more if he had asked.  We put the purchase it in the hands of our solicitors.
1994 – 22 February. Today we completed the purchase of a property in Bridport, Dorset.  We now had a holiday home. William still retained his flat in Watford and I retained the flat in Bayswater.   He was doing part-time work for the Central Office of Information and I was working as a volunteer with the NT and as librarian with the law office.  So down we came almost every weekend with my mother.   We did not realise then that it was eventually to become our permanent home.
The accident. On one of our trips from London to Bridport, William was driving us down one of those twisty narrow Dorset country lanes with high banks on either side. We drove around a bend to find a car in front of us which was in the process of passing the car which now at the side of us. There was no escape. William stamped on the brakes, but the whole of the front of the car was totally wrecked (the insurance people eventually replaced it with another car) but we were both with bruised chests and necks from the whiplash and my poor mother suffered a broken collar bone. The driver was actually taking an elderly lady to a hospice of all places (she died within days) and here he was driving like a maniac. Fortunately the engines did not ignite as we all sat there numbed. The ambulance and police sorted us out. There was no question who was to blame. There was a court case and the driver had to pay some small fine and mother had to spend weeks in the hospital till her collar bone began to knit. One of the remarkable incidents that happened and I know no one who has had the same experience,  but before we left the hospital we were charged for the ambulance. The insurance paid the charge, but I had never met such a thing before.  We never travelled on that route again. William in all his years of driving since the age of 20, and he and I had travelled the length and breath of England, Scotland and Wales not to mention across Ireland from coast to coast, had never had an accident as he was a careful, very careful, driver. It shook all three of us and William's confidence was shaken.