2000 – June Switzerland, Grunewald, Lucerne, Lugano, Davos, Italy Milan.  We arranged this trip ourselves, and did a comprehensive tour of all the mostly  unvisited and unknown art collections, scattered around Switzerland with day trip to Milan to see its art collections.   We were blessed with the most glorious weather throughout. We started with Berne, which we had visited before but always a delight, this time we visited the Bern Historical Museum with its magnificent collection of portraits, Lugano's art gallery, little known, little visited and full of delights. Chur with its cathedral, Kunsthaus with its Angelica Kauffmann and Hodler, Augusto Jacometti to us much more talented and delightful than his more famous brother with his ugly stick men.   The Buhrle Collection of Zurich,  The Cantonal Museum of Fine Arts in Lausanne, the Swiss Natinal Museum, siting in the charming Chateau de Prangins, Geneva's art  and History Museum with everything from Ancient Egyptian Art to Henry Moore. Breathtaking beautiful Sion with its churches, an archaeological museum, a Musee des Beaux-arts formerly the bishop's palace, crammed full of  delightful works by Swiss artists none of whom we had heard of or seen. The monastery of Einsiedeln, an absolute must, Winterthur, awash with paintings collected by Oakar Reinhart, both in the town and in his residence cum gallery Am Romerholz. It also boasts a a municipal art gallery with Fuseli, Van Gogh and Kokoschka.  Schloss Arenenberg crammed full of Napoleonic treasures formerly owned by the Empress Eugenie, with works by Canova, Baron Gerard and Winterhalter. And so on.   How did we manage it all, mostly by the marvellous Swiss Railways and some days with private car with chauffeur. I still have our well-thumbed guide book with times of trains and places we visited.            
2000. Whitby. Captain's Cook's Shoe Buckle. We visited Whitby and stayed for a few days, walking along its magnificent coast and visiting nearby coastal villages. The purpose of our visit was to hand over to the curator of the Whitby Museum a silver shoe buckle which had at some point being made into a bangle. The shoe buckle was purported, in William's family, to have belonged to Captain Cook and had been owned by  George Dixon the armourer on Captain Cook's last voyage. George Dixon came from the village of Kirkoswald where William's ancestor Jane Railton also lived. It seems likely that he made the buckle for Captain Cook and gave it as a memento to Jane Railton as a  21st birthday gift. Dixon was a silversmith by trade and during 1794-5 had a shop in Bermuda where silver shoe buckles were sold. The buckle passed from mother to daughter between 1785 and 1947 and each owner inscribed her name and date on the buckle which had at some time had been made into a bangle. The first owner has the initials and date JR 1785, and the final name is William's mother H.M.Castell 1947.     There was no documentary evidence to prove the tale but the period of the buckle was correct.  It seemed to us that the Captain Cook Memorial Museum at Whitby would be an appropriate place for it. The curator was delighted to receive it. George Dixon (Kirkoswald 1748 – Bermuda 1795). William's family also owned a lock of Captain Cook's hair which was encased in a silver locket, but sadly this was given away by William's stepmother, to someone in the family, or a family friend, we do not know who. She being totally unaware of the fact that it was a lock of Captain Cook's hair and without consulting anyone just gave it away. Typical unforgivable behaviour of his stepmother.
2000 – July Austria, Bregenz opera, Germany, Opera. Martin Randall tour. 26 July. Heathrow to Zurich. Visited Winterthur to see the Oscar Reinhart gallery. On to Bregenz to book into the Hotel Mercure.  27 July. Coach to Schwarzenberg visited ther Parish Church with paintings by Angelica Kaukffmann and thento the Heimat Museum. Return to Bregenz. Evening opera in the Festspielhaus The Golden Cockerel by Rimsky-Korsakov. 28 July. Guided tour of Breganz and visit to the Vorarlberger Landesmuseum with painting by Wolf Huber and Angelica Kauffmann. Evening opera at the Seebuhne, Un Ballo in Maschera by Verdi. 29 July. Ottobeuren to see the Imperial Hall, Libray and museum and then the Abbey Church. Lunch On to Munich where we booked into the Hotel Platzi. 30 July. Tour of Munich finishing up at the Alte Pinakothek – paintings 14-18th century afternoon Neuke Pinakothek – art from 18 to 19th centuries. Glyptothek and then to the Lenbach House. National Theatre for Mozart's La Nozze di Figaro.  31 July. Munich cathedral.  St Michael's Church, Theatinerkirche, and St John Nepomuk after lunch the Residensmuseum and Treasure rooms and finally the Cuvilliestheatre. Evening Die Meistersinger von Nurnberg by Wagner at the National Theatre with a cast of thousands.   Dinner was served at the theatre during each interval, a course per interval. 1 August. Coach to Nymphenburg to visit the Amalienburg and the Hauptschloss. Then to Munich airport for home.
2000 – August. Swans cruise, La Rochelle, Bordeaux Porgugal Bilbao Lisbon Coimbra. I have not the foggiest idea why we chose to go on this cruise. One attraction was that it left from Southampton.   We boarded on 2nd August and set sail at 6 in the evening.  We spent the first day at sea and arrived at La Rochelle on 4th August. Impressive harbour with two 14th century towers at the entrance. Walked through the town with our guide. The Musee des Beaux Arts in the former Bishop's Palace (18th century) had a good collection of paintings, ranging from 15th to 20th century.  It was nice to meet up with artists like Bouguereau, Fromentin and Chassériau, whose works are hardly ever seen in the UK. Rather stiff Adoration by Le Sueur, an extraordinary Gustave Dore of Christ emerging from his tomb and as for the Bouguereau, quite the worst thing he ever painted of a 'come and get it' naked lady reclining on a beach,  some of his very dull portraits and a typical classical romp, Ulysses returned from Troy
Ulysses returned from Troy by Bouguereau
5 August. Sailed to Bordeaux where we spent the morning. The Place Gambetta in the city which we passed on the way to the Musee des Beaux Arts is where the good citizens of Bordeaux executed 300 of its citizens during the Terror and Bordeaux was regarded as moderate compared to other cities. Very pretty square but what a history. Tremendous collection of paintings in the Musee des Beaux Arts. So much to see, so little time. Of course they have the great iconic Delacroix of  Greece on the ruins of Missolonghi 
Greece on the ruins of Missolonghi 
They also have some of the greats like Mignard, Nattier, Rubens, even a Reynolds and a Raeburn.  The Musee d'Aquitaine we only managed to pop our heads into but met up with the magnificent 2/3rd century Roman bronze of Hercules.
6th August. Sailed to Bilbao. Went to the ghastly Guggenheim.  It covers 24,000 square metres and is only able to accommodate 11,000 square metres of exhibition space.  How the blazes can you create 'rooms' in which to display works of art when most of the space is taken up by 'shapes'.  The inside is a mess where you have to go this way and that to get anywhere and as for the cladding.  We went outside to the back of the building to look closely at the 'tiles', they were an ill-fitting filthy mess. I reckon, I hope, the place falls to pieces within living memory and is left as a wreck. As for the contents, if you are into kitsch and rubbish, Bilbao is your place.  Outside was a ghastly Koons dog made out of flowers.  Yuck.  We left to visit the nearby Museum of Fine Arts, only to find it closed.  What a day to choose to visit Bilbao.  The cathedral was also closed for restoration. We couldn't wait to leave.  7th August at sea. 8th August arrived at Oporto and took an excursion to visit Coimbra. The Roman remains at Coimbra though puffed up by Swans as extensive and important, were disappointing and not worthy a visit. Some quite fine mosaics but nothing of note.
We should have visited the much more important National Museum Machado de Castro in the city.  As it is we were then bussed to the University to view the library which is very impressive but as it was being prepared for some function we were only allowed to glimpse it for a few minutes. All in all a very disappointing visit.   At 6 pm we set sail for Lisbon. 9th August. Arrived at Lisbon at 8.30am. I'm afraid another very poor day. Visited the Jeronymos Monastery which we had seen before and then the Maritime Museum. Nothing of note. And then we flew home. One of our most disappointing trips with Swan
2001. April. The Trafalgar letter by Henry Blackburn.  Among the items owned by William's mother's family was a letter written by an ancestor after the battle of Trafalgar. His name was Henry Blackburn and he served on the Polyphemus and his letter is dated 1 November 1805, eleven days after the Battle. He was born in Ramsgate in 1783, so he was about 25 years of age. We visited the Public Record Office at Kew to see the Muster Rolls which show all the ships personnel. Apparently he had served in the Royal Navy on the Royal William from December 1804-January 1805 and then transferred to the Polyphemus on 26 January 1805. His rank was an Ordinary Seaman (No.510) and is described as a 'Late Ganger'.  Never did find out what that meant hope he was not a Press Ganger. In 1804 he was paid £9.10.10d and by August 1807 was paid the dizzy amount of £23.9.6. The letter was published in the Mariners' Mirror in May 1979, p.196 with an introductory note by N.A.M.Rodger.  It states 'The following letter, now in the possession of a descendant of the writer, has almost certainly never been noticed in print before, and its interest, both as an eye-witness account of Trafalgar and as a letter from the lower deck, justifies printing it in full. The spelling and punctuation (the latter comprising a single comma) are as in the original. Hardly any gloss is required, except to say that Henry Blackburn, Ordinary, appears in the Muster of the Polyphemus (ADM 36/16507) in the Public Record Office. A copy of the letter has been deposited in the National Maritime Museum.'
The letter was said to be historically very interesting because most literate accounts were by officers and so this one is apparently uncommon.
Polyphems Gibralter Bay November 1st 1805.
Honerable Mother
this Coms with my dutiful respects to you hoping you are in Good Health as I am at present thank God for it and for his Goodness to spair me to see the 21 October over and to help us in fighting Against our Enimes that day when they were so superior in Number to us both in men and ships but we may well say the Lord was on Our side when men rose up against us to destroy us for if the Lord had not been on our side they would have swallowed us up the Combined fleet of france and Spain sail'd out of Cadis on the 20th of October and see them to Leward of us on the 21st at Break of day Consisting of 33 Sail of the Line 5 frigats and 2 Brigs formed in a Line on the Starbord tack and at six bore up and mead all the sail we Could and saw the Enemies fleet in a Confused State on the Larboard tack the Victory Lord Nelson made the teligraph signal to prepare for Batle and Hope Every English Man would beheave with is Usual hersiom and exert every means to destroy the Enimies of there Country Lord Nelson wish was told our Ships Compy and was returned by the dreadnaught then on our Larboard beam observd the Royal Sovering Break the Enimies Lines in the Centre and Place hir Self a Long side of a Spanish 3 Daker receving at the same a havey fire from numbers of the Enemies Lines also we were a Bout the Eight Ship in action in the Same Line was a bout an houre after the Royal Soverign fired the first Shote the Ships was Engaged were the frinch Berwick and Spanish agumaut and Le archille we bore up to tak off the firey Edge from the Belisle that was totally dismasted by the archille and others and would have Certenly gone Dowen had we not gone to hir assistance we lay along side of the archille until we Dismasted hir and set hir on fire and about sun set Blew up with a great Explosion about 2 Hundred men saved Besids Giving and Receving Shote from many Others for they were all around us But Before Dark I had the Pleasure to see most of them Stricke and the Rest run away but there arose such a trable storm that Night and we LL Beeing in such a Crippld Condition we could draw nothing with them But Burn and Destroy them and the rest were Wrecked on shore if the weather had Been fine we would have taken and destroy'd the whole, Give my Love to My Brothers and Sisters and all Enquiring friends so no more from your dutifull son Henry Blackburn.
The Polyplemus under Captain Richard Redmill had 64 guns and during the battle of Trafalgar two of the crew were killed and four wounded. On 20 April 2001 William gifted the letter to the National Maritime Museum.
September. The garage. We managed to buy our neighbour's brick built garage at great expense, also the land in the front and back of it. We now have a long driveway to the garage which is just next to our bungalow and we also have a rather nice area at the back which we have made into a paved courtyard. And our neighbour now has a large handsome brick built double garage built from the proceeds.
January 2002. Renovations. We had an integral garage and decided, now that we had a separate garage, to convert the integral garage into a living room with a separate toilet. The work was completed in January 2002 and very handsome it looked with a large window in the front matching the one in my bedroom and masses more space for bookcases, a desk and two armchairs making it into a very comfortable study.
February 2002. The ring and the miniature. William's mother's solitaire diamond engagement ring had been sitting in a drawer for some considerable time while we thought of what to do with it. It was valued at just over £2000.
We decided that William sell the ring and use the money towards a portrait miniature which he would present to the Victoria and Albert Museum in memory of his mother and father. So in 2001 the ring was sold by Phillips, London, and we then set about looking at the auction catalogues to find a suitable portrait miniature which we liked and which the V&A would like to add to its collection. Finally we found a very fine portrait miniature of an unknown gentleman by Andrew Robertson (1777-1845), it had been bought at a sale at Bonhams by a miniature dealer and we discovered it at an antiques fair in London. It was dated to about 1812-1830 and was signed. William duly acquired it having to top up the money he had sold the ring for and presented it to the V&A. It so happened that the V&A were rearranging their miniatures in a new display room. Only a handful of their collection had been selected for their permanent display and the Robertson was one of them. Quite something. So whenever we visited the V&A we made a pilgrimage to the miniature gallery and gazed at the Robertson which included in its description that it had been given in memory of Peggy and Ted Castell.
2002 – Swans Baltic cruise. We decided it was time we saw a bit of Russia and maybe go back at some time in the future. We never did. 21 July. We boarded a ferry from Tower Pier to get to our ship the Minerva which was docked in the Pool of London alongside HMS Belfast.  We unpacked and had afternoon tea wandered around the ship and later had a buffet dinner in the Bridge Café. The ship left at 9.45pm and we sailed down the Thames, passing what appeared to be mile after mile of brightly lit apartments and houses fronting the Thames. We passed Greenwich and passed under the Meridian laser light.
Apparently the Greenwich Meridian separates east from west in the same way that the Equator separates north from south.   The Meridian laser marks the route of the Greenwich Meridian by night in a northerly direction from the Royal Observatory and with a binoculars you can see it run for some 60 miles. Extraordinary sight. 22 July. Day at sea, there were a whole series of lectures during the day.  In the evening there was a Captain's cocktail party, black tie and then dinner. The Minerva now sports a band for people to dance to and a cinema where films were shown most nights. We opted for walking around the deserted deck and gazed at the moon reflected in the sea accompanied by the distant music from the band. 23 July.  The ship passed through the Kiel Canal at 5.30am but we were sound asleep.  After lunch we arrived at Kiel. We were all coached to Lubeck for a city walk. I had begun to be very wary of 'city walks' usually accompanied by a local guide who tells you that 'on the left is…and dates from… and on the right is ….. and has a tower …..  high, dah, dah, dah." 
Pointless. I enquired where and when we were to meet up at the end of the trip and we departed before the drone began. The town is dominated by the Holstenytor a medieval fortified gate (1469-78). Our first port of call was Jacobikirche (13th-14th century) which contains a magnificent font by Klaus Grude dated 1466 supported by three angels and with carvings of the twelve apostles.
Baptism Font 1455    The Brombse Altar 1500 by Heinrich Brubender
It also holds the Brombse altarpiece c.1500 by Heinrich Brabender with its centrepiece of the crucifixion and painted panels, with donors.
The Romanesque cathedral has a magnificent rood screen with a moving crucifixion 1470-77 by Bernt Notke.
Most of our great Rood Screens were destroyed by those precursors of al-Qaeda namely Henry VIII and his wretched son Edward VI.   What great works of art did we lose.   The abbeys and monasteries were certainly rich enough to pay for the best craftsmen if not sculptors, instead they were all burnt or used for firewood.
 Also visited the delightful 18th century Behnhaus which houses a gallery of works by Franz Overbeck,  Caspar David Friedrich and Emil Nolde and then to the town art gallery with its fascinating collection.
This is the sensational Margarete Brumsen 1642 by Michael Conrad Hirt
Finally we went to the Niederegger Café the home of marzipan founded in 1806 by the master confectioner Johann Georg Niederegger. Marzipan one of our favourites. The whole shop full of, yes, marzipan and a café in which you could indulge yourself. We did.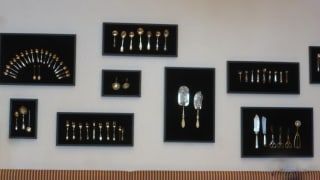 The 'group' would have loved the place.  Anyone would. Met up with the party and returned to the ship with presents of marzipan for some of the people whom we had come to know, all by now kicking themselves for not breaking away from the 'group' I hope we may have started a revolution but I somehow doubt it.
24 July.  We arrived at Ronne in Denmark the following morning for a tour of the island of Bornholm. Quite pretty, cobbled streets and half-timbered houses but all early 19th century though the island had been occupied since the stone age.
We went to see the impressive 13th century ruins of Hammershus fortress, much fought over by both Danes and Swedes who wanted control of the island and the Baltic. Also viewed one of the medieval Round Church. Very snug and cosy.
We set sail at 2pm. 25 July. We berthed at the Pomorskie Pier in the port of Gdynia, Poland and were coached to Gdansk for one of those 'city tours' We fled the group and made our way to the post office or was it a bank to change our money, 30 minutes later, with a ream of paper filled with pointless questions and answers and a vast number of rubber stamped documents, we set off to visit Gadansk's greatest treasure which was sitting in the Museum Narodowe, the Polish National Museum. Looking at the map it soon became apparent that the only way to get to the gallery from the town was over a very busy motorway not to mention having to cross a wasteland of bombed houses. There was no visible bridge. We then met one of our lecturers from the boat who was on the same quest but had given up, we commiserated with each other and he returned to the town.  William threw up his hands and said we should return to the centre of town but I was determined to get to the gallery even if it meant crossing the motorway which would have been suicidal.  While pondering on the problem I happened to see that there were one or two people in the distance who appeared to disappear underground and I realised that there must be an underpass, so we darted across this rather scary landscape and yes there was this horribly filthy underpass covered in graffiti, quite like the UK really, which would lead us to the other side of the motorway and to the gallery.  I must say we did wonder if we would be attacked or murdered en route, we would have been rich pickings, but we were not and eventually found our way to the gallery. Thank goodness for my map which I had bought in London for this very purpose.  The gallery was surrounded by a rather forbidding high iron fence and most of the gates we came across were padlocked and eventually even I was beginning to give up hope when we found one that opened with a great deal of rusty heaving, and so we finally entered the gallery. We came across only two other people in the whole gallery so we were not the only intrepid tourists in Gdansk. Wonderfully all the labels on the paintings were also in English as well as Polish. But we had first to seek out our prize The Tani Last Judgement by Hans Memling. We had seen this once at the great Memling exhibition where it was the main show-stopper and here it was again. The museum had given it a whole room to itself. It has that wow factor.  It consists of three panels showing the Last Judgement and on the back panels are the donor and his wife Angelo di Jacopo Tani and his wife Caterina. Tani commissioned the painting from Memling who completed it in 1473. It was loaded onto an English ship for transport eventually to Florence, but we were at war with the Hanseatic League and the ship was captured by Peter of Gdansk who placed it on the high altar of St Mary's Church in Gdansk. Napoleon bagged it to Paris, the Prussians claimed it after the fall of Napoleon and took it to Berlin it was returned to Gdansk in 1816, during the last war the Germans bagged it and when the Red Army discovered it at the end of the war it was carted off to the Hermitage. It was only finally returned to Gdansk in 1956 and placed in the museum. Here it is.  One of the great highlights of the whole trip.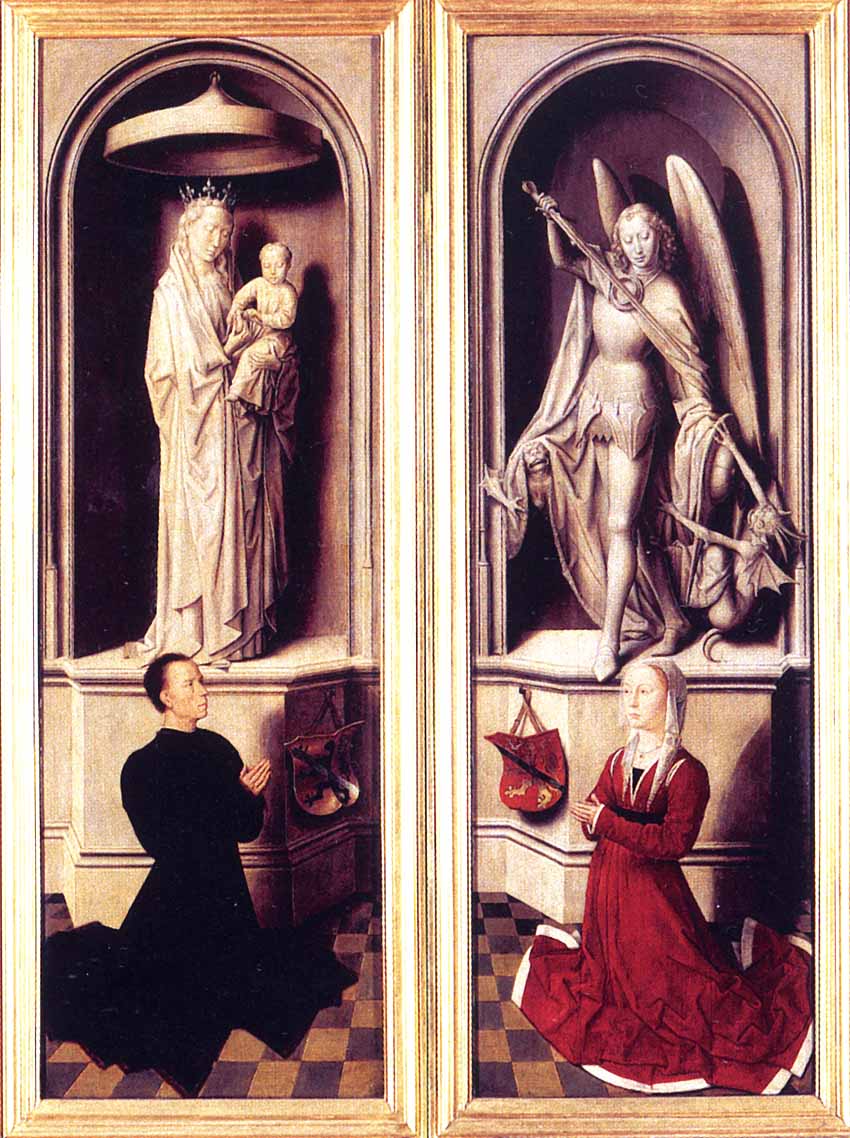 The gallery itself is well worth a visit, it is particularly rich in Flemish and Dutch paintings. We managed to visit the Town Hall which now houses Gdansk's historical museum. It contains the Red Chamber; right over the top.
The Red Chamber, Late 16th century
We rejoined the group and returned to the Minerva and at 4pm in the afternoon we set sail for St Petersburg – 571 nautical miles. 26 July.  At sea all day. 27 July.  We arrived at St Petersburg just after noon. We were greeted by a busker brass band on the quayside who then sent a hat around for some money.  At 2pm we were bussed to the Hermitage. William and I were wearing cotton anoraks.
We were assigned a guide, but there was no way I was going to be taken around the Hermitage by a guide. So I said to our Russian guide in the nicest possible manner that we wanted to visit independently.  Oh my! Our Russian guide was livid and said it was not possible, but I was adamant. So in order to get her own back she said we would not be allowed in wearing anoraks and we had to enter with her as she was going to get a group ticket. Complete rubbish about the anoraks  of course as we could see all around us in the Hermitage. Anyway she insisted that we leave our anoraks in the coach and as this was by now causing quite a stir and delaying our entrance, we placed our anoraks in haste on the coach. Of course in all the haste and upset William left his wallet, etc. in his anorak. Which upset him for most of the visit as frankly we did not expect to see his wallet again.  In fact we  need not have worried as it was lying intact on the coach when we returned.  I've never seen a lady so flushed with anger as our rejected guide, she obviously felt it as a personal insult. Clearly no one had ever stood up to her before. Anyway off we went by ourselves and had a rare old time hunting down all the great works we had only seen in books. It is no good even beginning to describe what we saw.  The place is like our National Gallery, National Portrait Gallery, the Royal Collection the British Museum and the V&A all rolled into one. Managed also to hunt down some of the great Walpole collection from Houghton Hall which had been flogged off by his rubbish son to Catherine the Great. Illustrated is Leonardo's 'Benois' Madonna,  one of two by Leonardo in the Hermitage
28 July. Excursion to the great palace of Peterhof. On our way the Russian guide pointed out, with great displeasure,  the special road that was being created leading from St Petersburg to the vast palace that was being created especially for Putin. I wonder if they still point it out? Apparently Peterhof was totally trashed by the Germans but the Russians had managed to remove most of the portable works of art out of harm's way and the palace had been completely restored. We only had time to visit the Great Palace and the Cascade Gardens. It contains a whole series of magnificent state rooms, reached by a gold staircase, a  golden ballroom glittering with mirrors, a dining room with dazzling stucco work, the Chinese study sumptuously decorated in red, green and gold lacquer, the Picture Hall with its 368 portraits of young court ladies wearing Russian national costumes, the throne room all white and green and so on.  The whole thing so opulent and positively jaw droppingly golden. I wonder if Putin's palace has picked up some ideas from Peterhof.
The so-called Western Chinese Lobby, Peterhof
And then there is the Grand Cascade outside.  Apparently there are 142 water jets spurting all over the place. All the statues painted in gold and a large gold statue of Sampson in the large circular basin at the bottom symbolising Russia's victory over Sweden in 1707 which occurred on St Samson's day.  I did not even know there was a St Samson. I now find there are two St Samsons one of them a 5th century Welshman, and there is a parish in Cornwall called St Samson! The Samson statue is of the biblical one having a high old time breaking the jaws of a lion.
Samson breaking the jaws of the lion 
We returned to the ship for lunch and then back to the Hermitage for the afternoon. We looked at some more paintings and then thought we would explore other collections such as the classical antiquities. One of the rooms is occupied by the Kolyvan Vase a single piece of carved jasper 5 m long around which they had to build the room. Good collection of ancient Roman statuary, the Green Marble Jupiter Hall contains a vast Roman statue of a seated Jupiter, and I mean vast.
Jupiter, late 1st century BC
Good collection of Roman copies of Greek statues.
Then there is Catherine the Great's collection of antique cameos, her great prize being the Gonzaga Cameo one of the largest in the world of Ptolemy Philadelphus and Queen Arsinoe which was carved in Alexandria during the 3rd century BC.
The Gonzaga Cameo. 3rd century BC
Owned by the Gonzaga family in the 16th century
Gold box studded in jewels owned by Catherine the Great
We then visited some of the State Rooms  which contain a couple of Throne Rooms and room 271 which is called the Cathedral  which was originally the Court chapel. Visited the Malachite Room, one of my favourite stones, everything but everything made from malachite.  A vast gallery of Russian Tsars and so on. It really is the most extraordinary place to walk about in, you never know what to expect next, except that it will be vast and magnificent and full of treasures.   What a day. We returned at 5.30 in time for tea. We set sail at 6.30pm for Tallin in Estonia. 29 July.  Arrived at Tallin at 1.30pm. Joined the tour of the city. It's quite a pretty place. Visited the Town Hall, (14th century) seems to have lost most of its furnishings.  The only thing worthy of note is the late 13th century church of the Holy Spirit. It has Baroque pews and a Renaissance pulpit but has a remarkable altarpiece by the  Workshop of Bernt Notke, (1483) showing The Miracle of the Pentecost with Saints and the Coronation of the Virgin. When opened it reveals six scenes from the Life of Christ and two scenes related to the Story of St Elizabeth of Thuringia (d.1231) and the Leper. Apparently St Elizabeth found a man with leprosy and put him in her bed to nurse him, her husband the Landgrave Ludwig is told that there is a man in his wife's bed and when he accuses her, she pulls back the sheet to reveal a man with leprosy but in fact what Ludwig sees is not a man with leprosy but the crucified Christ.
Well worth visiting Tallin if for nothing else. We were told shops would take dollars and there was no need to change money, but no one would except anything but the local currency so we came away empty handed, usually I try to buy a few postcards but not in Tallin. Could not even buy a cup of coffee. We set sail at 11pm for Helsinki, Finland. 30 July. Visited Helsinki. Dumped the city tour and went straight for the  Sinebrychoff Art Museum which form part of the national collection. Even sports a self portrait by Reynolds and an excellent Raeburn. Very strong on Italian, Dutch and Flemish paintings.
The daughters of the artist Cornelis de Vos
31 July. We arrived at Stockholm at 7.30 am. We decided to take the city tour and hope for the best. We were bussed to the City Hall. Built in 1911-23. The style is called National Romantic/Romanesque Revival, whatever that means. We loved it. Its assembly rooms are truly works of art in themselves. The Golden Hall named after the decorative gold mosaics (over 18 million tiles) with motifs from Swedish history.
The Golden Hall, City Hall, Stockholm where the Nobel banquet is held each year
From there we went to visit the Vasa museum which displays the Swedish royal flagship Vasa which sank in 1628 and was raised from the seabed in 1961.  It is virtually intact, unlike our Mary Rose and is a staggering sight.
The Swedish Royal Flagship Vasa which sank in 1628
After lunch we visited the 17th century Royal Palace of Drottingholm,  sitting on an island in Lake Malaren. Magnificent royal apartments and impressive geometric baroque gardens. We visited the 18th century Baroque Court Theatre which still boasts its original sets, stage machinery and props, all in working order. We were shown some of the sets working and from what I remember a small group gave us a short recital.
Drottingholm Palace and theatre
At 6pm we sailed for Visby. 1 August. We docked in Visby on the Island of Gotland in Sweden at 8am. Gotland is the largest of the Baltic's islands. It has been inhabited since the Stone Age. Visby has remarkably intact and impressive city walls 12th – 15th century.
Visited the cathedral, heavily restored and not much of interest inside other than a moving c.1250 Christ.  Once we must have had so many of these in our parish churches.  I could weep.
Christ, c.1250. Cathedral
Visited the Gotland Museum with its fascinating collection of early Memorial Stones some with Runic inscriptions they range in age from about 400-1000 .
Also found a naïve Christ, this time crucified  with a haunting, penetrating gaze dated c.1100 with carved and painted moustache, beard and ringlets.
Crucified Christ, c.1100
We set sail at 3pm. Tonight we had a farewell dinner. 2 August.  We docked in some god-forsaken dockland berth called Langelinic Pier. There was the usual city tour laid on, but as we had visited Copenhagen in the past we ordered a taxi to the National Art Gallery and had a great afternoon looking at some of our favourite paintings and discovering some new ones.
The Nathanson Family (1818)
by Christoffer Wilhelm Eckrsberg (1783-1853)
I have chosen this obscure painting because it is a delight and I doubt if there is a single Eckersberg painting in the whole of the British Isles. We returned by taxi and after dinner a coach was laid on to take anyone who wanted to go to the Tivoli Gardens. Well we knew the Gardens were tourist rubbish of the tattiest kind but the two ladies who had joined us for dinner wanted desperately to go and asked us to accompany them; they had heard of pickpockets. We did so reluctantly and we had hardly been there for 30 weary minutes when the sky opened and we found ourselves drowned in a positively biblical deluge. Everyone quite unprepared and soaked to the skin and nowhere to take shelter, fortunately we knew the quick way out and hoped that our coach was waiting for us. It was. What an end to our trip. 3 August. We flew home.