2003 – September – France, Normandy Bayeaux Caen Rouen. 2 September. ACE Study Tour. Coach from Waterloo to Dover and then a ferry to Calais. Coach to Bayeux staying at the Grand Hotel du Luxembourg.
3 September. We visited the Gothic Cathedral of Bayeux.  It supposed to be the most perfect example of Norman Gothic architecture existing and was the original home of the Bayeux Tapestry. The cathedral was consecrated on 14 July 1077 in the presence of William the Conqueror and it was in the cathedral that Harold was forced to take the oath acknowledging William as the future king the breaking of which led to the Norman Conquest.  The tympanum is carved with the story of Thomas Becket.
The Thomas Becket portal, Bayeux Cathedral
Then on to see the Bayeux Tapestry, which is not a tapestry but an embroidery on linen and depicts the conquest of England by William the Conqueror. It is 230 feet long and is now thought to be Anglo Saxon workmanship. Probably commissioned by Bishop Odo in 1080. It was only recorded in 1476 as part of the property of the Cathedral. During the Revolution it was saved from being used as wagon covers and in 1797 caused a sensation when it was displayed in the Louvre. Two panels are missing one of which probably showed William's coronation. Absolutely fascinating.
Harold swearing his oath of allegiance to
William, Duke of Normandy. Bayeux Tapestry
Afternoon visits to churches. First Saint Loup-Hors, 14th century with very impressive Romanesque tower and many old tombs.
   Tower of St Loup near Bayeux.
Sequeville-en-Bessin, 11th century church with 13 century spire. Priory of St Gabriel founded in the 11th century and the Monastic Church of Thaon.
The monastic church at Thaon, 12th century, set in a beautiful isolated valley. The belfry is capped with a pyramid roof. Most of these churches were of purely architectural interest; our leader being an architectural historian with a special interest in early French churches. I'm afraid we were beginning to find them rather dull, so unlike our local churches dotted with monuments, stained glass, etc.
4 September. Visted a number of churches.   The abbey church of St Vigor, Cerisy-la-Foret, 11th century but denuded of anything of interest other than those keenly interest in the finer points of French church architecture. The Cathedral of Coutances. Gothic begun in 1210. There are the remains of the earlier Norman cathedral consecrated in 1056. The consecration was attended by William, Duke of Normandy, later William the Conqueror.  The cathedral was heavily damaged during the French Revolution and virtually anything of interest destroyed.  It was then used as a grain store and then a Temple of Reason.  There is much stained glass but almost all of it restorations of the 19th and 20th century. There is one of St Lo 13th century (St Lo was a 6th century bishop of Coutances and is regarded as a healing saint, invoked for maladies of the eyes and especially blindness).
Also in the cathedral is an impressive St Thomas Becket window which is almost complete, though again restored.
The burial of St Thomas Becket
Then to the church at Lessay. 11th 12th century, virtually entirely rebuilt after being seriously damaged during the war. And finally for the day a visit to Portbail a quaint small harbour village with its 12 century church of St Martin. Very quite and tranquil place, though goodness knows why we visited it.  5 September. To Caen. It was in Caen that Beau Brummel (1778-184) was virtually exiled. He was appointed British Consul but then the job was axed and he, poor man, became bankrupt, was imprisoned and ended his days in the local asylum. The town is dominated by the remains of a vast castle which was started by William the Conqueror.     Our first port of call was the church of St Etienne which was the church of the Abbaye-aux-Hommes.
William the Conqueror founded the abbey in expiation of the fact that he had married Matilda without papal dispensation being lifted as they were cousins within the prohibited degree. William wished to be buried here. and it was finished and dedicated to him a decade before his death in 1087.   It had been started in 1066 and was in the Romanesque style.  Sadly it was damaged rather severely by the Hugenots who destroyed William the Conqueror's sarcophagus, and scattered his remains to the four winds. Another more elaborate tomb was constructed but this was totally destroyed together with the elaborate interior during the French Revolution.   Just a femur remained of William's body and this was buried beneath the simple name slab in front of the high altar.
Tomb slab of William the Conqueror
The church sports this painting of 'William the Conqueror' !
Abbay-aux-Dames described as a masterpiece of Norman architecture. Matilda, the wife of William the Conqueror founded the abbey in expiation of the fact that she had married William without papal dispensation being lifted as they were cousins within the prohibited degree. Matilda wished to be buried in the church but her tomb and the church like William's tomb and church of the Abbaye-aux-Hommes was trashed by the Huguenots and again during the French Revolution when it was turned into a fodder warehouse. Her burial is now commemorated by a simple inscribed slab in the floor of the church which is thought to be original.
Her coffin was discovered in 1820 so presumably her bones did not suffer the ignominy of William's.    Visited the Musee des Beaux Arts which is set in the Castle precinct.  Stunning collection of paintings, very strong on 18th centuty French works.
One of those dreamy Boucher paintings  which make my heart stop a beat. Musee des Beaux Arts, Caen.
Caen's wonderful Madonna and Child by Van der Weyden
We then took a coach to Rouen for our three night stay at the Hotel Mercure. 6 September.Rouen to visit the Gothic Cathedral of Notre Dame.   It is a magnificent and majestic both inside and out. Quite breathtaking.  The cathedral was repeatedly bombed during the war and when one considers that in the late 16th century the Calvinists damaged much of the furniture, tombs, stained-glass windows and statuary and that during the  French Revolution it was thrashed yet again, it is a wonder there is anything left of the building and its contents. However it still contains the entombed heart of King Richard I, the Lionheart.  Rouen cathedral was where both Richard and later his brother King John were crowned Dukes of Normandy. A few spectacular tombs and much of the statuary on the exterior, dated from the 12th to the 15th century are still in situ.
Tomb of Richard I in which his heart is buried.
The rest of his remains are buried at Fontevrault
St Maclou, Rouen, was built during the transition from the late Gothic period (15th – 16th century) to the Renaissance in the 16th century in the Flamboyant Gothic style. Again, sadly trashed during the Wars of Religion and then during the French Revolution.   
The Tympanum. A Doom or Last Judgment
Then to the abbey church of St Ouen, Rouen. Again in the Flamboyant Gothic style with some magnificent carvings on the portals.
Sculptures from two of the portals.
The Dormition, Assumption and Coronation of the Virgin
Five Saints
Afternoon at the Musee des Beaux Arts. Remarkable collection.  The sheer wealth of paintings to be found in provincial galleries never ceases to amaze.
Christ at the Column by Caravaggio.
One of Rouen's many masterpieces
7 September.  In St Martin de Boscherville we visited the 12th century Romanesque abbey of St Georges de Boscherville, founded by the Lords of Tancarville one of whom was the companion and guardian of the Duke of Normandy, our William the Conqueror.
Abbey Church of St-Georges de Boscherville  with its marvellous carvings dated 1180.
Then to view the majestic ruins of the 11th/15th century ruined abbey of Jumieges which enjoyed the patronage of the Dukes of Normandy and was destroyed during the French Revolution. A gallery of the cloister was bought by Lord Stuart de Rothesay and rebuilt into Highcliffe Castle!
Afternoon at the Flamboyant Gothic church at Caudebec
The church of Notre-Dame at Caudebec. 
Finally for the day the village church of St Jean d'Abetot with its frescoes.
The 13th century wall paintings in the 11th century parish church of St Jean d'Abetot
8 September. Coach to Calais and home.
2004 – August – Berlin and Potsdam. ACE Study Tour. The tour was led by Colin Bailey a truly great tour leader, very warm personality and full of knowledge of all the arts and a great lecturer. 9 August. Flew to Berlin where we booked in at the Hotel Albrechtshof.
Fortunately we had a room at the back of the hotel which was quiet and we were able to keep our windows open as it was extremely hot during the whole of the trip. Some of the others sadly had rooms on the front of the hotel facing a very noisy road and were thus unable to open their windows and sweltered. 10 August.  Bussed to the Charlottenburg Palace for the day.

We had a guided tour of the palace and then toured the gardens and the Schinkel Pavilion. 11 August. Toured Berlin visiting Checkpoint Charlie and concentrated on the East/West divide of the city, roughly following the path of the wall and viewing the portions which are still in situ.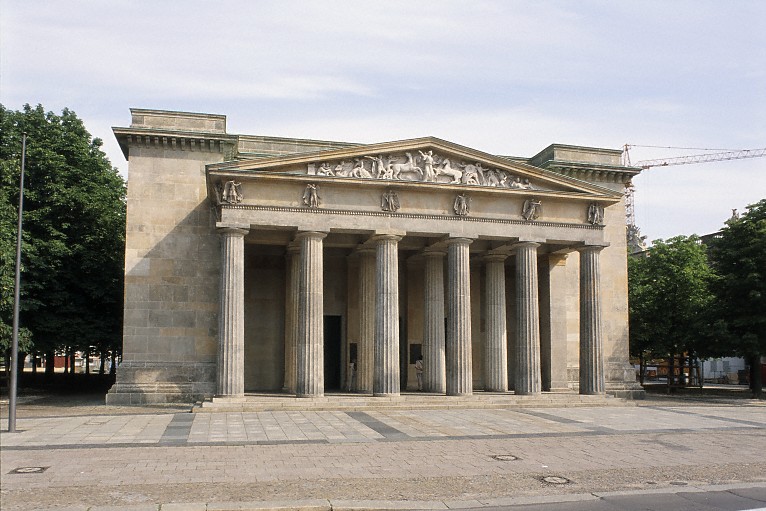 Visited the Neue Wache, a neo-classical building by the architect Karl Friedrich Schinkel.  Built like a Greek temple Originally used as a guardhouse for the troops of the Crown Prince of Prussia. Very simple interior with an oculus in the centre of the dome which is a circular opening to the elements. As it was in East Berlin the Soviets made it into a war memorial with an eternal flame and the tomb of an unknown soldier and a nameless Nazi concentration camp victim. After reunification the GDR memorial piece was removed and replaced by an enlarged version of Kathe Kollowitz's sculpture Mother with her Dead Son placed directly under the oculus.  It is thus exposed to rain snow and the bitter cold Berlin winter climate symbolizing the suffering of civilians during World War II. Which all sounds a bit shocking and introspective, what on earth did they do with the two symbolic bodies that were originally buried there?  Apparently, formerly, there were many visitors to the GDR memorial.  From what I can recall there were no visitors other than ourselves. It looked too grim, like one of the ghastly installations which appear too often in galleries these days. Then to the Humbolt University founded in 1810.
It was from this University that 20,000 books by 'degenerates' and opponents of the Nazi regime were taken to be burned on 10 May 1933.  Under the Soviets the academic staff was replaced by communists who on reunification were replaced by West German professors.
We then went to the Gedachtniskirche (Memorial Church).   The original church on the site was built in the 1890s. It was badly damaged in a bombing raid in 1943 and remains as a symbol of the war.   After lunch we visited the Kathe-Kollwitz Museum. I have to say I found her work very unattractive, dark, doom laden and gloomy. 12 August. Visit the famed Gemaldegalerie with its vast collection of European art. Impossible to illustrate, the gallery is just crammed full of the most iconic world-famous paintings.  These are some of my favourite paintings which will had to represent them all.
Portrait of a young girl (c.1470) by Petrus Christus
 Two portraits by Ghirlandaio
We then went onto the Museum Island to the Pergamon Museum. Excellent German guide who was one of the staff at the museum. The Pergamon altar, 2nd century, is a magnificent knock-out piece.   It really takes your breath away. We had seen the original lump of earth in Pergamon on which it once rested. Thank goodness it was saved by the Germans.
Why did we not bag it first?
Then there is the gate of Ishtar from ancient Babylon 580BC., and other wonders.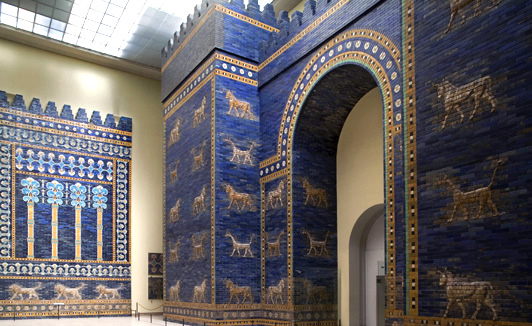 From there we went to the Friedrichswerdersche Kirche to see a stunning display of German sculpture.
The crown-princess Louise and her sister Frederica by Johann Gottfried Schadow
What a day. 13 August. We had a lecture in the morning  and then went to visit the delightful Grunewald Hunting Lodge the oldest of the Prussian palaces in Berlin. The palace was turned into an art gallery in 1932.
The Lodge is one of my favourite places and we have visited it about three times on various occasions.  The Lodge set in the middle of a forest and has a stunning collection of Flemish, German and Dutch works. But its the portraits that make my knees go water.
Portraits by Lucas Cranach the elder.
I could hardly drag myself away. We then had a delightful lunch at the Forsthaus Paulsborn Restaurant also in the forest.
After lunch we visit the Alte Nationalgalerie which has a stunning collection of, Flemish Neo-classical, Romantic, Biedermeier, Impressionist art. Heavily damaged during the last war but now very impressively restored.
Lady with a winged headdress by Rogier van der Weyden
Woman at a window by Kaspar David Friedrich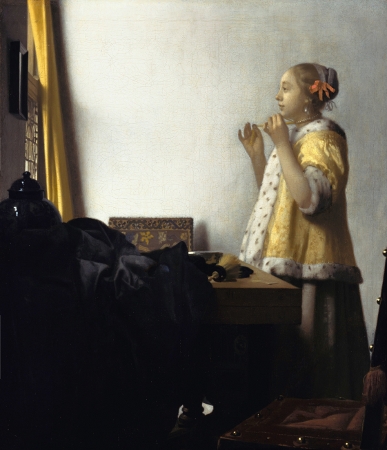 Woman with a pearl necklace by Vermeer
14 August.  We had a guided tour of the Reichstag the German Parliament building. Very impressive modern interior. Opened in 1894 and was burnt down, probably by the Nazis in 1933 and then left to rot until the reunification of Germany when Norman Foster took it in hand and created the magnificent building it is now.
The interior of the dome in the Reichstag  is a wonder.   And then to our second visit to the Gemaldegalerie. 15 August. Coached to Potsdam to visit the Sanssouci Palace and gardens.
Sanssouci Palace
Picture Gallery
Cleopatra by Guido Reni
Also visited the Picture Gallery. After lunch we had a guided tour of the Neues Palais and park. Built for Frederick the Great and completed in 1769 it is one of those vast Baroque confections of which we had seen so many.  Why Frederick needed another palace, and on this scale is beyond comprehension.
 On the way back to the hotel we stopped off at the St Nikolai Church.
It is the oldest church in Berlin (1220-30). Smashed to bits during the war and virtually rebuilt. 16 August. Visited the vast, very, very modern Jewish Museum opened in 2001.  Absolutely shattering experience. It was the portrait photographs that undid me. Words cannot describe the experience. We then did a walking tour of modern Berlin. On to the airport and home.
2004 – October – USA . ACE tour. Art in New England with Colin Bailey. 14 October. Flew from Heathrow to Boston. Coach from there to the Simsbury Inn, near Hartford, Connecticut for two nights.
Beautiful bedroom or it would have been but for two four poster beds, the only thing is there were no hangings, just the posters. Very odd and so unnecessary as the room seemed full of wood.  15 October. Visited the Yale University Art Gallery with its American and European paintings.
Alexandrine Emili Brongniart by Gerard (1795)
Hanseatic Merchant by Hans Holbein the younger
Lady Jean (1924) by George Bellows
Isaac Smith (1769) by John Singleton Copley
We lunched at Mory's where apparently Yale professors usually wine and dine.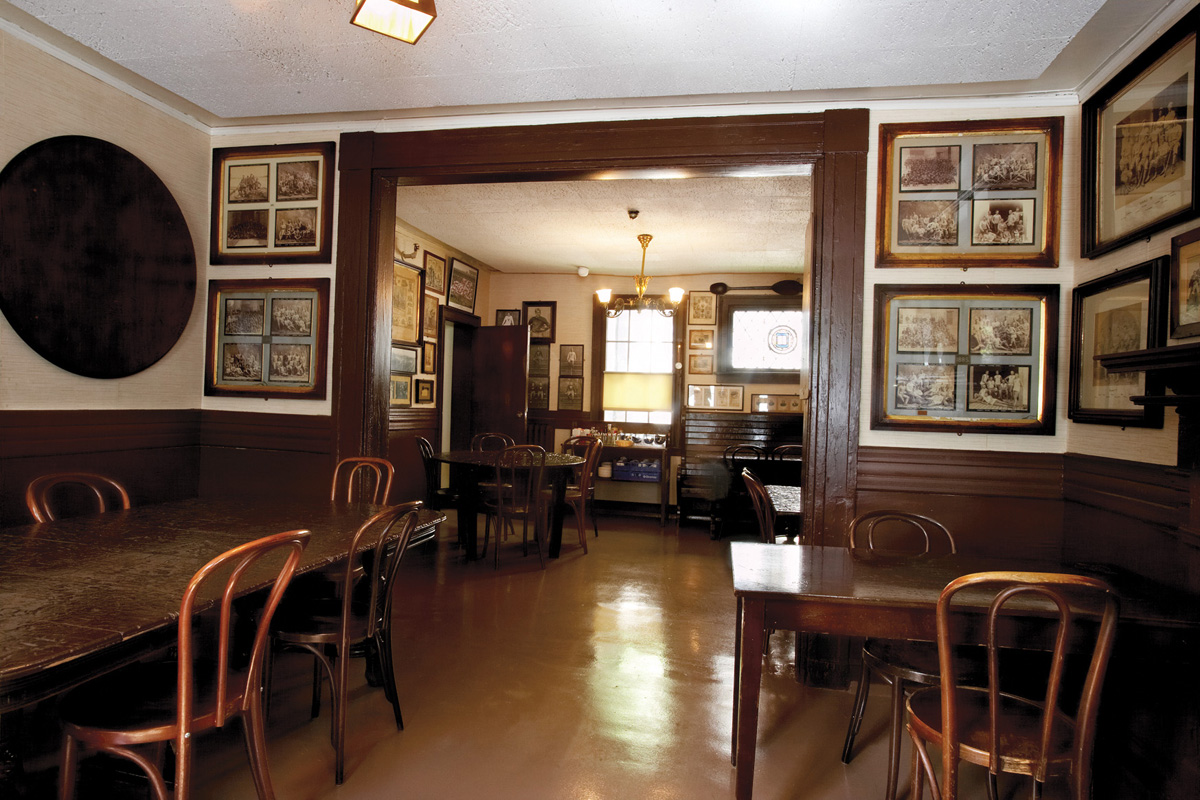 In the afternoon we visited the Yale Centre for British Art.
Yale centre for British Art. We had visited it before. But what a staggering collection it is.  
The Countess of Oxford by Lely
The Gravenor Family by Gainsborogh
16 October. Morning visit to the Wadsworth Athenaeum.
Giovanni Paolo Panini, Interior of a Picture Gallery with the Collection of Cardinal Silvio Valenti Gonzaga, 1749.   Now that's what I call collecting.
Lucas Cranach the Elder, The Feast of Herod, 1531
American School. Unknown, Elizabeth Eggington, 1664
We found great delight in these early American portraits
Ralph Earl, Oliver Ellsworth and Abigail Wolcott Ellsworth, 1792
One of our favourite American artists
After lunch visited Hill-Stead Museum in Farmington a Colonial Revival house and art museum in a large estate and is best known for its French Impressionist masterpieces, architecture, and stately grounds.  It was built in 1901 and houses a remarkable art collection.
View of Cap d'Antibes by Monet
We then went on to our next four night's stay in the Shaker Mill Inn, Canaan.
We had a room on the top floor. Yes, it was small, but small cosy. Built in 1824 as a grist or flour mill, and converted into a small B&B by the owners. The only sound at night was the waterfall at the back. It felt like we were living in the middle of a charmed forest full of birds. We just loved it.   The food was some of the most delicious we have ever been served with and the tempting helpings were enormous. There was a communal sitting room which for once brought the whole group together, in the evenings, whereas normally everyone went to their rooms, were seen at meal times and otherwise never managed to get together.  I remember one of the evenings we spent discussing all our favourite books, in particular the ones we had read and enjoyed as children.  However, as regards our accommodation, the group was horribly divided and I'm, sorry to say that some people, including our leader, found it was not up to the luxurious standard they would expect from a hotel. We could not believe our ears when Colin announced in the coach the following morning that he had to apologise for the poor state of the accommodation, etc., etc.  Apparently some of the group had complained and he announced that ACE would not be using the place in the future. We were so shocked. It is one of the most memorable and picturesque places we had ever stayed at. We rose early and walked to the balcony at the back of the hotel and watched the sun rise in the morning with its dappled light and slowly lifting mist on the waterfall.  And then there were the birds, birds everywhere.  Pure heaven.  I felt awful for the owners who had made us so welcome. And as for the chef and his partner who produced those wonderful meals, I blush to this day when I think how badly they were treated. Well ACE lost out if they never used the Inn again. I cannot recommend it highly enough to anyone who does not require being cossetted by five star luxury and instead wants a blissfully idyllic time spent in a rustic homely place with the perfect hosts and wonderful food.
17 October. Visited Williamstown to see the Clark Institute where we had the benefit of a guided tour by a former curator David Brooke.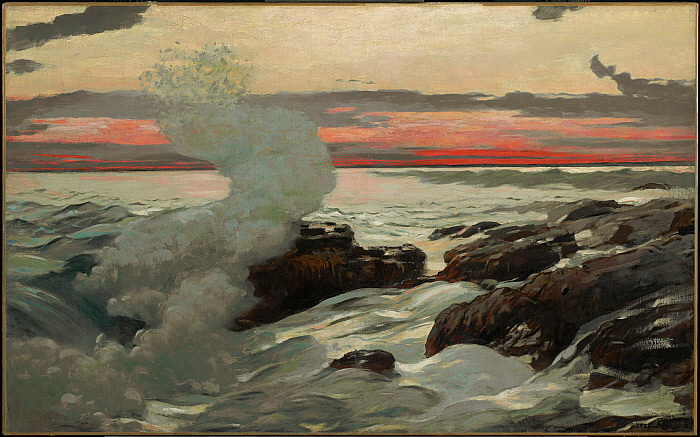 West Point 1900 by Winslow Homer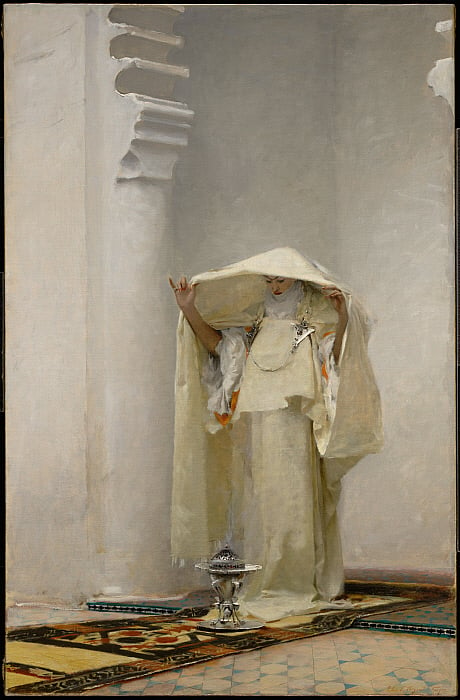 Smoke of Ambergris by John Singer Sargent

George Washington by Gilbert Stuart
After lunch we went to visit Williamstown College and the Massachusetts Museum of Contemporary Art at North Adams which contained a load of unbelievable modern crap – there were changing exhibitions, this one consisted of a vast roomful of torn up newspapers.  18 October. Coach to the Daniel Chester French House and Sculpture Garden.  Daniel Chester French (1850–1931), renowned American sculptor best known for his design of the monumental work, the statue of Abraham Lincoln (1920) in the Lincoln Memorial Washington.
Than to Stockbridge to see colonial style houses.
Visited the Mission House which is now a museum dated 1739/42.
The Merwin House 1835.
 Lunch at the Red Lion in Stockbridge.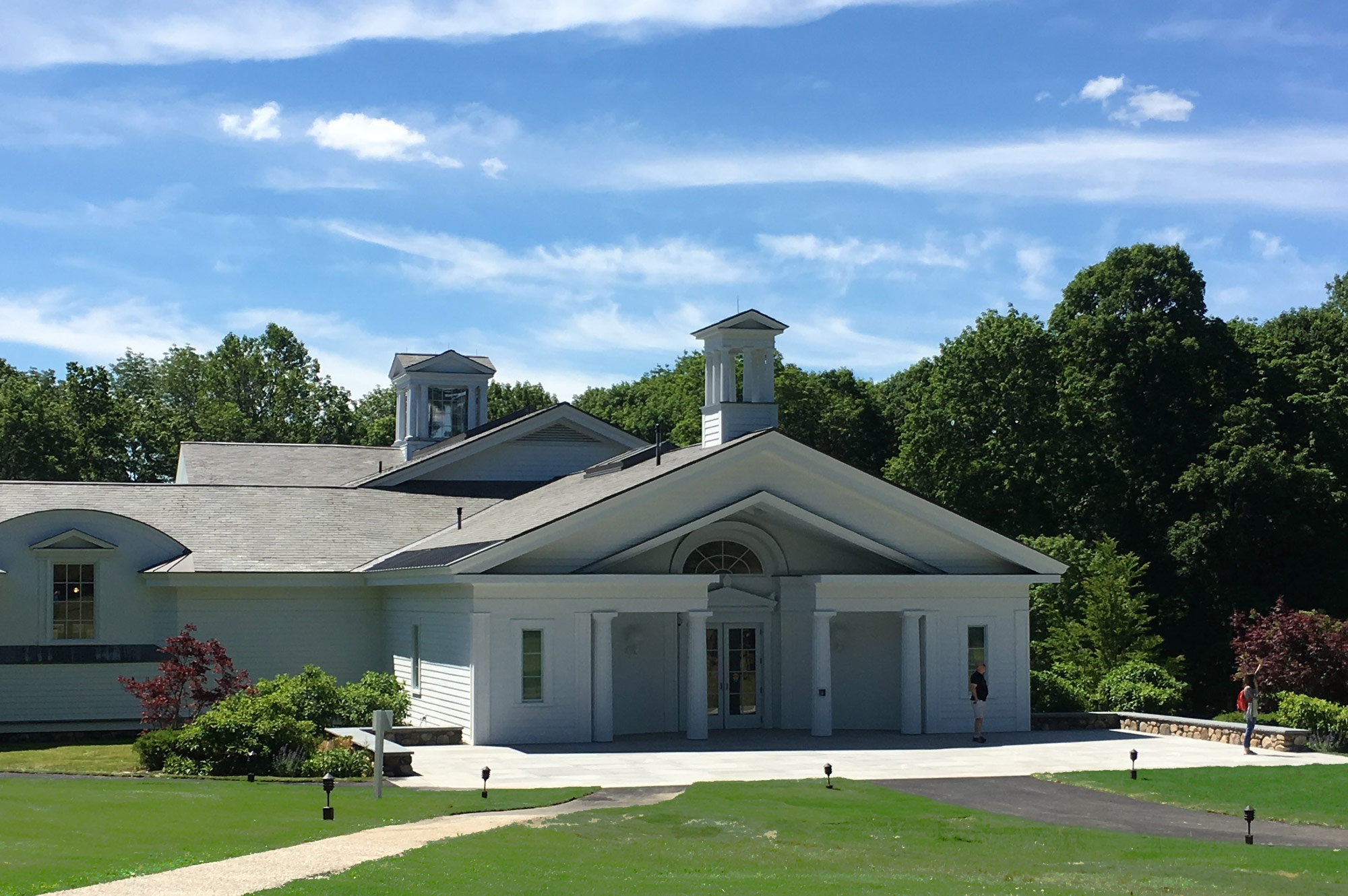 The Norman Rockwell Museum
We continued to the Norman Rockwell Museum. Founded in 1969 with the help of Norman and Molly Rockwell, the museum is dedicated to the enjoyment and study of Rockwell's work and his contributions to society, popular culture, and social commentary. The visit was a pure joy. He captured the essence of middle America with compassion and a sense of humour.
The Connoisseur by Norman Rockwell 
19 October. Visited Bennington, Vermont  to see the Old First Church.The First Congregational Church of Bennington, also known as the Old First Church. The congregation first got together in 1762 and its first meetinghouse was built in 1766.  The current meeting house was built in 1805. It is one of Vermont's best examples of Federal period religious architecture. From there we went to see the Bennington Museum with its Grandma Moses exhibition. Anna Mary Robertson Moses (1860–1961), known by her nickname Grandma Moses, was a renowned American folk artist who began painting at the age of 78.
The Quiet Village by Grandma Moses
Then to the Hancock Shaker Village. It poured with rain during the whole of our visit and I have to say the village was not probably shown off to its best.  It seemed to us to be a very bleak and dismal place in a beautiful setting, but it was done no favours by being seen through sheets of rain. The Shaker religion began in Manchester, England in 1747 led by a charismatic young woman named Ann Lee. In 1770, she is said to have had visions and revelations which taught her that only by renouncing carnal knowledge could humankind ever achieve entrance into heaven. After enduring persecution, she and her followers sailed to America in 1774.  Ann died in 1784 by which time the religion had expanded to some 5,000 believers.  The Shakers Believed in pacifism, celibacy and communal living and their worship included singing, shaking and ecstatic dance.  The Shakers are now mainly known for their plain functional architecture and furniture. Presumably 'celibacy'  and the fact that the end of the world did not happen, finally led to end of the sect though I gather there are a handful of them left.
One of the most notable buildings is the round stone barn built in 1826.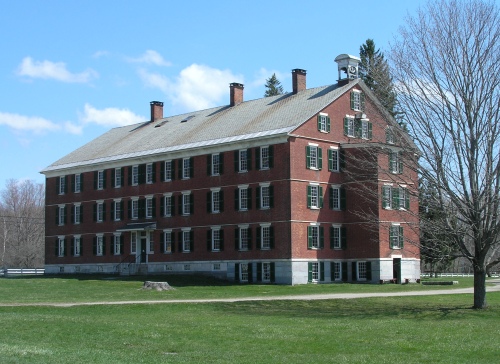 The 'Brick Dwelling' which looks more like an English  workhouse, or an Industrial Revolution factory dormitory,  replaced two earlier dwelling structures, dating to the 1790s.  The 'Brick Dwelling' was built in 1830-1831. The building's basement was used for the kitchen and food storage and the first floor contained various waiting rooms, with the large dining room and Meeting room at opposite ends. The upper floors contained the separated brethren and sisters retiring rooms.   All very stark, though I imagine,  I hope, when filled with its inmates it was a hive of activity. Did anyone ever laugh I wonder.
20 October.   Stopped at Old Deerfield to visit some of the historic houses and have lunch.   There are 12 period museum houses open to the public which date from 1730 to 1872 and contain important collections of 18th and 19th-century American furniture; English and Chinese export ceramics, American silver; and American and English textiles and clothing. Fascinating.
The Allen House built in 1734
The Stebbins House was built in 1799, and has Federal period architecture, wall treatments, and decorative arts. It was the first brick house in Deerfield, and the interior of the house features neoclassical furnishings dating from 1790 to 1830. Then on to Worcester to visit the Art Museum with its magnificent collection of European and North American paintings.
Mrs. Elizabeth Freake and Baby Mary by unknown American artist (1764)
One of my favourite American paintings
Muddy Alligators 1917 by John Singer Sargent. He never fails to surprise and delight.
The artist's daughters by Thomas Gainsborough.
I always consider this one of Gainsborough's greatest paintings. How did it ever escape the country   
Hyacinthe Rigaud's portrait of Charles-Auguste d'Allonville, Marquis de Louville, 1708
It's always wonderful to find a Rigaud, one of my favourite French artists.  Leaving aside all the magnificent trappings done with such amazing skill, it is the penetrating portrait face which is so remarkable and never ceases to fascinate.
From there to Brookline Boston to say at the Holiday Inn Brookline.
Comfortable, featureless. That night the hotel was hosting a very grand gathering for a charity concert featuring Johnny Dankworth and Cleo Laine. Everyone dressed to kill and the ladies loaded with jewellery.  The hotel closed down all its public rooms and we were shunted out and there was nowhere to sit or even order a drink. Outside it was wet and cold and dark, so we withdrew to our featureless room feeling very much in the dumps after the delights of our Worcester Art Gallery experience. 21 October.  Visited the Boston Museum of Fine Arts for second time. Where to begin so many riches so I shall select a few random favourites
Don Baltasar Carlos with a court dwarf by Velasquez
Man in brown by Goya.
What a consummate artist. The gallery has an extremely rich collection of Spanish paintings.
The Fog Warning by Winslow Homer 1885
One of the iconic paintings of this great artist. Most of the great American galleries have works by him and he never ceases to surprise us.
Afternoon was spent at the Isabella Stewart Gardner Museum which we had visited before but what an incredible collection and what an extraordinary lady.  A Venetian Palace, slap in the middle of Boston.
Isabella Stewart Gardner by Sargent in 1888
One of the great masterpieces to be found Self portrait by Rembrandt aged 23
We were then bussed to the centre of Boston to do what we wanted and so we visited the Boston Library to see the Sargent murals.
The Israelites Oppressed by Sargent. Boston Public Library
Follow that! And he does with acres of walls filled with the like.  Hmmm.
22 October. Coach to Cambridge to visit the Fogg Art Museum. Founded in 1895 at Harvard University.
Unknown girl by Joshua Johnson 1763
Harriet Leavens by Ammi Phillips 1815.
Quite one of my favourite American paintings.
Self portrait by Van Gogh (which he dedicated to Gauguin)
We then visited the Sackler Museum of Ancient Art and the  Busch-Reisinger Museum of 20 century German art both of which we had visited before.
Self portrait by Max Beckman. 1927
Self portrait by Lovis Corinth 1924
Pear Tree by Klimt. 1903. Worth a visit for this alone.
We then visited the poet Longfellow's house which has also been used by Washington  during the Siege of Boson in 1775.
Dickens had breakfast here and Oscar Wilde visited and described his host as 'a beautiful poem'; Wilde could be such an ass at times. After lunch visited the Boston Athenaeum one of the oldest independent libraries in the USA, founded in 1807. It contains many treasures including a huge part of George Washington's original library, a magnificent art collection and a first edition of Audubon's Birds of America.
An American Flamingo by Audubon
I
n the evening we were told we would be dining in the famous Legal Sea Foods Fish Restaurant on the quayside in Boston for our farewell dinner. A great treat we were told. Only thing is the place was packed to the ceiling and our booking had been lost. After a great deal of waiting, instead of all being together for our final dinner, we were slowly fed to different tiny tables which had been introduced into an already overcrowded room and waited forever for anyone to serve us and the noise was ear-splitting. Sad last dinner to a great trip and worse was to follow. 23 October. Visited Salem, which is a bit of a tourist dump and looked very run down, I do not think we had seen so many houses, quite prominent ones at that, with a network of exposed electric cables just hanging outside looped to other exposed cables. We started our visit inside a vast car park in which we were fed, as a picnic lunch, a ghastly looking hamburger which found its way to the nearest waste bin as did the fizzy drink and attendant lurid cake. Why did ACE not keep hold of the reins and not put us in the claws of one of the town's utterly incompetent local tourist offices.   We were to visit the Hawthorne House of Seven Gables not to mention the art museum but the former was overbooked and the latter was ignored, instead, having waited around for over an hour in a stuffy waiting room, we found ourselves in the hands of one of those boring town guides delivering one of those nightmare town spiels, 'on your right…. on your left, dah dah'. The guide also totally ignored any mention of the infamous Salem witch trials, which must be a first. We however, could not ignore the fact that there were a thousand and one tacky shops selling witch costumes and that hordes of people with their children were all dressed up as witches. Apparently Salem enjoys a month long celebration of Halloween!  No time for an independent visit to any of the historic houses or the art museum. What a terrible end to a delightful holiday.  We were glad to get to Boston airport and return home.
2006, The Civil Partnership Act 2004. Under the terms of the Act William and I could register as civil partners. We did not feel that we needed to seal our relationship in any way, but clearly there were legal and financial benefits and it would ease matters if either of us was in hospital, etc. We then thought there was no way we wanted our relationship to be spattered over the pages of the local newspaper. Those were the days when we were still terrified of being recognised as a gay couple. Thinking back now it is almost laughable. Anyway to avoid local publicity, we decided that we would register in Weymouth and have the ceremony at Exeter.  Why were we so concerned. Too many years of fear and hiding I'm afraid. So we registered at Weymouth Town Hall but had to enter in a sordid back entrance via the bins. William was asked to wait out in the corridor while they questioned me in a thoroughly nasty, abrupt  manner, Most of their questions related to William, what was his birth date, how long had we been together, his parents full names, his mother's maiden name, etc. I felt like a criminal being questioned before they decided whether to arrest me or not. Horrible experience. How dare officials treat us in such a manner.   They did the same to William whilst I sat in this nasty cramped corridor.   He came out furious and wanted to call the whole thing off.  From what I can remember it was a nasty little office staffed by nasty officials who  treated us with considerable contempt.  Not a good start. Then on the 3rd of February 2006, on a freezing cold day, all the trees were covered in white ice and looked very surreal, we collected my sister Anne and her husband Victor by taxi and drove to Exeter where we went to the registry office for the official ceremony.  We had made it quite clear beforehand that we did not want any ceremony, no words, no music, just a straight forward signing and witnessing. So in this large bleak room full of chairs, all in our overcoats as the room was freezing, the four of us, the lady who was in charge and an assistant who occupied one of the many empty chairs, the ceremony took place. I think the registrar read out a few legally required words, we signed, Anne and Victor signed and we left. I cannot now remember whether we were given a certified copy of the Civil Partnership or whether it came by post a few days later; the latter think. We repaired to a very flash hotel on the green in front of Exeter Cathedral ordered from the menu and were served up with some of the worst food we have ever eaten. The portions were minute and sat in the centre of massive plates. The soup for instance, was foul but doubly remarkable in that it was served in a vast white square plate in the centre of which was a scoop in which resided two soup spoons worth of soup. The main course was pork belly, which consisted of a two inch wedge of fat under which resided a sliver of pork, the vegetables were a few runner beans laid out in a noughts and crosses pattern with three peas.   We paid the preposterous bill and returned by taxi home wondering what the hell that was all about.
2006 – Alamanno Rinuccini (1426-1499). Sometime during the summer we went to a car boot sale in West Bay, Bridport and I spotted what appeared to be a Medici type bronze portrait medallion. I went to pick it up expecting it to be made of plaster only to find it was an extremely heavy bronze. I acquired it for the princely sum of £2.
I could barely make out the inscription so I wrote to the Keeper of Coins and Medals at the British Museum attaching a photograph and received a prompt reply (so unlike most curators). They told me that the portrait was of Alamanno Rinuccini a Florentine humanist, closely connected to the Medici family and was attributed to Niccolo Fiorentino. The original was struck in 1493 and my version, they thought, was probably a 19th century copy but they were not sure and it may possibly be original. The inscription reads Alamanno di Filippo di Cino Rinuccini.  The BM did not have an original or a copy. So I donated it to them and received a letter of thanks and it is now sitting in the collection of the British Museum.
2006. April. Manchester and Salford. I decided I would like to visit Manchester and Salford again. I had not been there for many, many years. We visited some of my old haunts.
First on the visiting list was Manchester City Art Gallery which had just been revamped and where I met up with the first paintings I had ever seen in the flesh; Leighton, Gainsborough, Reynolds, all the Pre-Raphaelites etc. It was amazing to see the white façade, I could only remember that it was black.  Walking up those grand stairs to the pillared portico brought back memories of Dorothy Brown and the doors she had opened for me. I wept when I went through the galleries thinking how I had so neglected her in her last years. I could have picked any number of paintings from this incredible collection but the following few will have to serve.
Sir Gregory Page-Turner by Pompeo Batoni. Surely one of his masterpieces
William Butler Yeats by Augustus John
Lady in a black hat by Cadell
The Last Watch of Hero by Leighton
The Captive Andromache by Leighton
Heaton Hall
Visited Heaton Hall a stately James Wyatt building of 1772, looking in an appalling state, hardly any pictures on the wall, disgracefully run by Manchester – I wonder how many paintings are sitting in the Manchester cellars which would far better grace the walls of Heaton. I understand that it has now been restored and refurnished.  I think there were only about six visitors in Heaton Hall when we were there.
We took a taxi to 3 Cleveland Avenue, Salford, where my family had had our first real home. It was still there in beautiful condition, lovely lawns on the sidewalk, trees everywhere. It was a beautiful sunny day. I knocked on the door which was opened by an elderly man, I introduced myself, saying it was my family who were the first tenants after it was built. He looked a little puzzled and I suppose had every right to be suspicious of this stranger coming to his door unannounced. I would have loved to have just stepped into the house but I could see he would not have let me in, so I asked if I could see the back garden so he took me down the passage at the side of the house, and there was garden which had been created by Mr Doyle and had been my mother's passion.  Everything looked so small. The house looked tiny, the garden minute. Again tears in my eyes.
Salford Art Gallery
Next we visited Salford Art Gallery which has over a thousand oil paintings and clearly 90% of its collection was in storage which, sadly, most of it deserves to be.
Rather pensive portrait by Hoppner of William Beckford
The Welcome by Briton Riviere
 We went to Bury to visit the art gallery with its good collection of paintings
The Random Shot by Landseer
and then to the Bolton Art Gallery.
Young Breton by Henry Lamb
At Salford Quays we visited the Lowry Galleries – I could never warm to his paintings.
An outpost of the Imperial War Museum has the most singular entrance, looked liked we were entering a massive warehouse through a back door.
One of those modern building with great shapes outside but with impossible spaces inside full of curves and odd corners.  Why don't architects start with the interior and then add on the mad shapes, instead of which they start with the mad shapes and then find they can only fit in rooms which are also mad shapes.
The Lowry Centre.  Acres of arid concrete and glass with not a tree or leafy bush in sight. We booked a table for dinner in the Lowry Centre and that evening watched a performance of Spartacus by the Bolshoi Ballet. We had ordered a taxi in advance to take us back to our hotel in Manchester. So there we stood outside the theatre while taxi after taxi, car after car called for everyone but us. I rang the taxi firm to ask if they had sent a taxi for us and they confirmed they had. Finally we were, I think, the only people waiting outside the theatre; certainly the theatre has closed its doors by then. I don't remember how we met us with our taxi at long last, but it seemed that the young lady taxi driver said she was too scared to get out of her taxi so had sat in it, in the car park, waiting for us to eventually find her. I could not credit that she was so frightened in the area and confirmed us in thinking it was not safe to walk to the station which was a considerable way from the Lowry Centre. On our final evening we went to the Bridgewater Hall in Manchester for a concert by the Halle Orchestra.
2006. July. Hamburg, Lubeck and Schwerin. Another tour with ACE Study Tours led by Colin Bailey. 24 July. Flew from Heathrow to Hamburg to stay for seven nights at the Hotel Baseler Hof.
We had a delightful attic room, very cool and at the back of the hotel, others were not so lucky having been assigned rooms in the front which faced onto a very, very noisy road. 25 July. Did our first visit to the Hamburg Kunsthalle.
Magnificent collection of paintings.  One of its masterpieces is
The Grabow Altarpiece 1383 by Master Bertram
Wanderer looking over a Sea of Fog by Caspar David Friedrich c.1817
Self portrait 1802 by Philipp Otto Runge
Elizabeth Hudtwalcker 1798 by Jean Laurent Mosnier
The afternoon spent on a coach tour of Hamburg with local guide which we usually try to avoid.  But it was interesting.  26 July. Day in Schwerin magnificently situated in a landacape of lakes and forests. Visited the Staatliches Museum. It houses a magnificent collection of paintings including many, many portraits and 34 paintings by one of our favourite painters, Oudry, that, in spite of 10 being destroyed during the war.
Young man in a hat 1621 by Lucas Cranach the younger
We were very taken with this sensitive and pensive portrait by Cranach.
One curiosity by Oudry is Clara the Rhinoceros. a famous touring Indian rhinoceros. The painting is lifesize.
The gallery also possesses a School of Gainsborough portrait of Queen Charlotte of Mecklenburg-Strelitz who was married to our George III. The museum only managed to bag it in 1950. Nice to see her back home. The portrait takes pride of place in one of the galleries.
After lunch which we had at the museum, we visited the Schwerin Palace and its gardens. The Palace in the centre of the city sits on a lake the city's main lake Schweriner See. It was for centuries the home of the grand dukes of Mecklenburg-Schwerin and is now used by the seat of the Mecklenburg Parliament though the state apartments are open to the public.  Apparently it is regarded as one of the most important works of Romantic Historicism in Europe. And a mighty confection it is too. Started in the 10th century but was virtually rebuilt every few centuries since, right up to the 19th century.
I just loved this confection. A portrait of Duke Albrecht II, 1st Duke of Mecklenburg 1318-1379 by Theodor Fischer who painted it in the 1850s. The palace crammed from floor to ceiling with paintings and a vast number of portraits; always a weakness of mine. There was just insufficient time to take them all in. I could have spent a couple of days in there. Small, quite inadequate guidebook to the place so just made the most of the time we had during our visit.  The afternoon was booked for a boating trip.  I really should have learnt by now never to take boating trips on lakes.  They are usually a crashing bore and indeed our trip on Schweriner See was exactly that. I sat there fuming, wishing we had returned to the Palace.   There was absolutely nothing of note to see unless you like looking at holiday chalets.  We returned via the Hanseatic city of Wismar. In the centre of the old town is the massive Market Place surrounded by elegant buildings with styles ranging from 14th-century North German Gothic to 19th-century Romanesque revival to Art Nouveau. The square's focal point is the Wasserkunst, an elaborate wrought-iron fountain imported from Holland in 1602. The Town Hall, (neoclassical) early 19th century and the Burgehaus dated 1380 seen on the right.
27 July. Second visit to the Hamburg Kunsthalle which I see boasts to be the largest art museum in Germany. After lunch we went to the Museum for Arts and Crafts and finally the Museum for Hamburgische Geschichte both interesting.  28 July. Whole day in Lubeck. We had visited Lubeck before. Visit the Lubeck Museum for Art and Culture located in two palatial houses dating from the 18th century: The Behnhouse and the Drägerhouse.
The very impressive entrance hall to the museum.  The museum contains mostly 19th century paintings and furniture featuring works by the Nazarene School like Johann Friedrich Overbeck (1789–1869). The Nazarenes exercised enormous influence in Britain as well as Germany and France in the early to middle decades of the nineteenth century. Very much an acquired taste. 
Overbeck with his family c.1820
                                                    Self portrait by Overbeck (1808/9)
and then the Kunsthalle St Annen and the St Annen Museum.  We broke away from the group and went to the café Niederegger where we had an excellent lunch and feasted on  much marzipan. The café is the home of marzipan! In the afternoon we visited the Jakobikirche, 13th/14th century. which we had visited on another trip. The Marienkirche, the Town Hall, the Cathedral the Schabbelhaus and the Heiliger Geist Hospital. Hospital of the Holy Spirit founded in the 13th century to care for the sick and aged. The beautiful chapel still retains its original frescoes
29 July. Day in Bremen. Visited St Peter's Cathedral, begun in 1043.then on to the Bremen Kunsthalle. 19th-20th century French and German paintings not to mention works by Rubens, Rembrandt, Tiepolo and Picasso.  After lunch we visited the Paula Modersohn-Becker House and the Roselius House with its Cranach and Riemenschnider and finally the Schutting, a merchants' guild house. 30 July. Whole day in Kiel. Visited the Kiel Kunsthalle with the 19th century Romantic paintings, German Impressionism and its sculpture garden. On our return to Hamburg we visited Schleusen to see the locks on the Kiel Canal. Yawn. Yawn. 31 July. Visited Petrikirche, Jacobikirche and Michaelkirche in Hamburg and in the afternoon flew home from Hamburg to Heathrow.
The Edinburgh Festival and Pitlochry.  Each year, for many years, we went up to the Edinburgh Festival. This particular year will give a feel of the sort of plays and concerts we attended. We also went up to Pitlochry to see some of the performances there before finally returning to Edinburgh and then home. 24 August Thursday. Train to Edinburgh. Mazeppa opera at the Festival Theatre. Friday, Midnight Cowboy in the afternoon and Troilus and Cressida at the Kings Theatre. Saturday. Usher Hall for some Bach concertos in the afternoon and a Bruckner concert in the evening. Sunday. Visited the festival exhibitions – did not make a note of them this year. Evening at the Traverse Theatre to see a play Black Watch. Excellent and very moving, I think they brought it to London. Monday Don Quixote at the Playhouse. Tuesday. Train to Pitlochry. At Pitlochry we always stay at the Green Park Hotel.
We are collected from the station, and returned at the end of our stay.  How to describe the Green Park? We have stayed in some of the world's greatest hotels so we know quality when we come across it, and the Green Park has quality. The rooms in its Tower are some of the most comfortable we have ever stayed at and as for the food and service, it is unequalled anywhere in the world. The views of the loch from the hotel are truly magnificent and restful. Transport to the theatre from the hotel is arranged so that visiting the theatre is a joy. Everything in the hotel is on a human and very warm scale, no flunkeys. Teas are laid on every day, there is always coffee to be had, I could go on and on. A visit to the Green Park is a total joy. Pitlochry itself can be seen in two minutes, there is nothing there, not even one single interesting shop, but there are so many places of interest in the vicinity and of course the scenery cannot be beaten. The theatre is a delight, and we usually had our lunch there and walked the hills.
Pitlochry Theatre
Anyway for this particular visit we saw Hamlet that evening. Wednesday. Afternoon Woman of No Importance – Wilde, evening, Man of the Moment by Ackbourn. We have been going to the theatre all our lives and have seen some of the greatest productions and some of the world's most famous actors, but I think we can truly say that some of the most stimulating, joyous, memorable and moving moments in the theatre have been delivered to us at the delightful Pitlochry Theatre. At a production of Ronald Harwood's  Taking Sides, set in wrecked, post-war Berlin about an American officer exposing the part played by Furtwängler in Nazi Germany, I swear that at the end everyone in that audience was moved to tears and then, when we were all absolutely broken came the body blow when the music from Tristan and Isolde flooded the theatre as the curtain fell. It is one of those incredible and wonderful moments in life which only the theatre can deliver.  I spoke to one of the actors afterwards to congratulate him and he said the cast was just overwhelmed at the response at the end and he could almost hear people sobbing. Thursday. Train to Edinburgh – Berlin Philharmonic with Simon Rattle at the Usher Hall. Friday. Return to Bridport.

2006 September. We did a short trip to Richmond in Yorkshire, stayed at the strangest of hotels. Visited Aske Hall, Barnard Castle, Bowes Museum and had dinner with William's old school friend Martin Bull and his wife Angela.
2006. October. Independent trip to Vienna. Stayed at the Hotel le Meridien, visited the Kunsthistorisches Museum, yet again, We were to visit the newly opened Lichtenstein Museum but sadly they had decided to only open it on certain days which was not one of the days we could visit. So we revisited the Leopold Museum and the Albertina.   Went to the ballet at the Opera House and saw the ballet Eugene Onegin. Kirker who had booked the holiday for us managed to find us tickets in the centre of the second row in the stalls. We finished our trip with an evening dinner at the Kunsthistorisches Museum always a delight.
2007. Rome. In April we did a Kirker trip to Rome led by our friend Thomas Tuohy. We were a small party of six. It was here we met up with Olive and Cyril and have remained fast friends with them ever since. Highlights of the trip were to Tivoli, which we had visited before but this was more leisurely and we were guided by knowledgeable Thomas.  It was a delight. We had not seen the ruins properly before.  The weather was perfect and we saw the Canopus Pool at its very best.
The Canopus Pool, Tivoli
The pool was designed to imitate the sanctuary of Serapis in Alexandria. 
The so-called Naval Theatre, surrounded by a moat,  but in fact a private retreat for Hadrian 
One of the many temples at the Villa
The two of us had lunch with Thomas in Tivoli.
He took us to see the Temple of Vesta, which we had encountered in countless paintings but had never managed to see till now. It's a circular Roman temple (1st century BC)famous for its picturesque position  overlooking the falls of the Aniene. At some time in its history it was used as a church. We also visited the Vatican museum by ourselves and concentrated on the sculptures, which no one seemed to be bothered about, all going past making their heaving, pushing way to see the Sistine Chapel. Managed to see the wonderful display of the equestrian statue of Marcus Aurelius now in the Capitoline Museum.
Extraordinary to see this magnificent work up close (a copy is now in the Piazza del Campidoglio). We also found the Museo de Roma (been closed for years), in the Palazzo Braschi (early 19th century) with it excellent collection hardly known to anyone. Most items relate to the City of Rome but contains a mass of hidden gems including an excellent collection of paintings and some stunning costumes.
John Staples By Pompeo Batoni (1773) One of Rome's greatest artists and one of our favourites. Museo di Roma, Palazzo Braschi
We also fitted in the quite recently opened Palazzo Mazzimo with many of the great sculptural treasures which were formally in the Museo Nazionale Romano. The Villa Borghese which we had not seen since it renovation. Bernini sculptures up to there and of course the paintings. The last time we had visited, everything looked dusty and uncared for. Now the whole Villa was transformed. Of course we visited the Piazza Navona – sadly covered in scaffolding, I wonder how long that will be on.
The Pantheon. The best preserved monument of ancient Rome n existence. It was built and probably designed by Hadrian.
Begun in AD 118/9 and finished in 125/8.  
We had to see the Pantheon again. What can be said about that awe-inspiring building, you just gape and marvel. And that hole in the centre of the cupola, breath taking.
The Palazzo Colonna.  One of the most dazzling rooms on earth
We had a private guided tour of the Palazzo Colonna, visiting rooms which I presume are not open to the public.  We certainly hadn't been able to access them on our previous visit. Begun to be built in 1654. I defy anyone seeing the Great Hall for the first time not to gasp with wonder. The greatest highlight was a private visit to the Sistine Chapel. Goodness know what it cost Kirker to arrange. But the seven of us were allowed into the Sistine Chapel in the evening for two hours.  We had the Sistine Chapel to ourselves for two hours!  Unbelievable. One of the great moments in all our tours around the world.
The Creation of Adam by Michelangelo. Ceiling of the Sistine Chapel
Finally we visited the ruins at Ostia
The two of us with Thomas at Ostia
Germany's Hidden Art Treasures. July 2007.  I shall not record this trip because just as I was beginning to write it, 5 June 2015, I was told that I have a large cancerous growth on my right kidney and will have to undergo an operation to remove kidney and cancer and in fact the  cancer may have spread, and so more tests before finally I reach the operating table, if indeed it is not too late. As I am raging and grieving over William's death, and therefore my health problems pale into insignificance.  This record of our travels and indeed many more prior to this which I have not completed will now remain incomplete.  The story from now on is complete, if only partially illustrated.
2007.   
With William at West with its now world famous golden cliffs. Where there is a cleft in the cliffs that is where William's parents used to come down to bathe when they first met at Burton Bradstock
Colleen – the will is finally settled. Over the years we were not aware of what was happening in India other than the fact, gleaned from friends of my mother in India, that Colleen's relatives had rescued her from the clutches of her servant. We were also unaware of the will and certainly did not know that Colleen even had a solicitor neighbour.   Probate for Roy's estate had not been cleared before Colleen died.  The solicitors from India got in touch with my mother some weeks after her death and told her of events. They also said they would be going to the court to get probate and all should be settled within weeks.  They duly turned up at the courts with her will intending to seek probate, only to find that the relatives had also registered their will, and soon after that Colleen's servant also turned up with a 'piece of paper', so it was described, leaving everything to him. Not content with this, two or three other people also turned up with 'wills'.  The courts in India being the totally corrupt institutions they are, played with these 'wills' for over 22 years. During this period my mother and Joan visited India and met the solicitors.  They then tried to gain access to Coleen's house, but were met with a padlocked gate,  Colleen's screaming servant and a clutch of ferocious dogs. Needless to say they did not see the house.   One by one Colleen's solicitors disposed of each of the 'wills', by what means we shall never know. The prize for all their hard work was Colleen's quite substantial property, which adjoined theirs. Thus after a final Herculean effort, in April 2007 they obtained Probate of Colleen's final will, came on holiday to England with the documents and the London solicitors acting for Roy were finally able to complete Roy's estate which was then divided between myself as sole beneficiary under my mother's will and Joan.  I had promised my mother that if and when Roy's estate was finally settled I would divide my portion between Joanna my niece, my sister Anne and myself. I then had an almighty tussle with the Inland Revenue as to Inheritance Tax.  I've forgotten what was being demanded from Inland Revenue, but it was a great deal and all hinged on a few words in and Act of Parliament, months of correspondence followed, while the file was lost, the member of staff who was dealing with it was transferred to another post. My elastic finally snapped and I demanded to know who was the ultimate boss of all the staff who were giving me such grief. Having found him, I sent him all the papers and found him to be most efficient and agreeable. Agreeable because he finally agreed with my reading of those vital words and the eye-watering Inheritance Tax first demanded was reduced considerably. Having finally settled that Joan got her half-share, and I divided my share between Joanna , Anne and myself; Colleen's  solicitors got the quite substantial property in Bangalore for their pains.  However on the day after they ousted the servant from Colleen's house with presumably the help of the police, the now house completely bare of its once lavish contents, they found two men pulling down one of the walls of the property facing the roadway. It would appear that someone had sold them the property and they were about to turn it into a roadside garage. As the solicitors held the original deeds, how was this possible? What then transpired I do not know? No doubt they had another tussle with the courts. Why anyone in business would ever consider investing in India knowing the corruption of its courts and many of its people is beyond my imagination; any legal document or contract is virtually worthless as far as the law is concerned unless you have the patience of a saint and good expensive lawyers. Thus ended our family's last remaining and sadly, bitter link with India.
Joanna and Guillaume get married July 2007. My niece Joanna, my sister Anne's daughter had settled in Tubise, Belgium and in July 2007 she married Guillaume Boschis.
Anne and her husband Vic, William and I travelled up to London, and caught the Channel Tunnel train to Brussels were we spent the night. We stayed at a very expensive hotel in the centre of Brussels and they could not even provide a meal for us.  Belgium, as we have found in the past is just downright backward when it comes to services in hotels.   The following day we went to Tubise and from there went to the local town hall where Joanna and Guillaume were married and then all travelled up in a stretch limo to La Farme Des Oliviers, Nivelles, for the very grand reception which Joanna had organised and designed.
Derbyshire's Halls and Houses. September 2007. ACE Study Tour. 3 September. Drove to Sheffield joined the group and booked into the Marriott Hotel, Sheffield. Afternoon visited Eyam Hall where we had tea in the Hall, then to Eyal Church. 4 September. Visited Cartledge Hall, Carnfield Hall, after lunch Haddon Hall and finally Holme Hall. 5 September. Visited Sudbury Hall, lunch at Sudbury and then to Kedleston Hall and finally Tissington Hall. 6 September. Visited Sutton Scarsdale Hall, then to Bolsover Castle. Lunch at Bolsover and then to Hardwick Hall. 7 September. Barlborough Hall, then to Renishaw Hall where we had lunch then visited the John Piper Gallery and Italian Gardens at Renishaw. Drove home.
Grand Tour. Turin to Milan. June 2008. ACE study tour. Tour leader Colin Bailey. 26 May. Flew from Gatwick to Turin. Booked into the Grand Hotel Sitea. 27 May. Walking tour of Turin. Portsa Palatina, 1st century Roman relic, Statue of Emperor Augustus, 15th century Duomo and Capella della Sacra Sidone, Palazzo Reale including Royal Library and Royal Armory, San Lorenzo former Royal Chapel, Palazzo Madama housing the Museo Civicod'Arte Antica and the Teatro Reggio. 28 May. Art Gallery of the Accademia Albertina delle Belle Arti with works by Bellotto, Domenichino, Filippo Lippi. After lunchy coach to Castello della Venaria hunting Lodge. Magnificent exhibition. 29 May. Galleria Sabauda housed in the Guarini Palazzo, Flemish, Dutch, French and Italian masters. Palazzo Carignano, the country's first national parliament building now home to the Museo Nazionale del Risorgimento. After lunch coach to visit Juvarra's Baroque hill-top Basilica di Superga and then to Vercelli to visit the 13th century Basilica of Sant' Andrea,the 16th century Duomo and San Cristoforo to see paintings by Gaudenzio Ferrari. Coach to Milan and booked into the Una Hotel Cusani.  30 May. Tour Milan on foot, visiting the Gothic Duomo and Neo-Classical Teatro alla Scala and the Museo Teatrale. After lunch visits to San Satiro with 9th century Capella della Pieta and Renaissance tromp l'oeil effects by Bramante and the finally the Ambrosiana to see the Cardinal Federico Borromeo's magnificent library and paintings by Botticelli, Caravaggio, Giorgione and Titian.  31 May. Visit the Museo Poldi-Pezzoli with its art collection. After lunch visit S Maria delle Grazie to see Leonardo's Last Supper and to the Castello Sforzesco the Renaissance palace built for Francesco Sforza and now home to the Civiche Raccolte d'Art Antica with its superb collection of paintings, furniture, antiquities and sculpture including Michelangelo's Rondanini Pieta and works by Bellini, Correggio and Magenta. 1 June. Visit the Brere art gallery  with one of Italy's finest collections of Old Masters. Lunch. Visited church of San Lorenzo Maggiore containing the most important collection of Roman and early Christian remains in Milan and then to the mainly 10th century Basilica of Sant Ambrogio with its striking 9th century altar in gold, silver and precious stones. 2nd June. Return home.
Scottish Borders.  June 2008. ACE study tour. 17 June. Train to Berwick where we joined the party and coached to Paxton House then on to Union Bridge. Booked into the Ednam House Hotel, Kelso.  18 June. Visited Abbotsford,then to Melrose Abbey and then to Lessudden House for visit and lunch. On to Mertoun House, (Duke and Duchess Sutherland and finally to Dryburgh Abbey. 19 June. Mellerstain Hose, belonging to the Earl of Haddington, then to Marchmont House owned by Oliver Burge and Duns Castle owned by Mr & Mrs Alexander Hay where we had lunch. Afternoon visited Nisbet House owned by Mr & Mrs Magnus Laird. 20 June. Coach to Lindisfarne Castle and then to Lindisfarne Priory, lunch in Lindisfarne. Coach to Belford Hall and then to visit Ford village.  21 June. Visit Bowhill, home of the Duke of Buccleuch and then to visit Yarrow Kirk. Then to Traquair House to visit and have lunch. Visit Carolside owned by Mrs Rose Foyle. 22 June.  Visited Manderston House, owned by Lord Palmer, then to Gunsgreen House owned by Mrs F. Waddell, on to Eyouth for lunch at Churches Hotel. Visited The Retreat owned by Mrs & Mrs Douglas Dobie and finally Wedderburn Castle owned by Mr & Mrs David Home. 23 June. Visited Floors Castle, The Earl of Roxburghe then on to The Hirsel owned by the Earl of Home finally lunch at Tillmouth Park Hotel and train back to London.
Great family get-together in Bridport. August 2008.
My uncle Derek Stokoe, self, my aunt Joan Stokoe, her daughter Beverley and Joanna  
Self, Joanna, Joan and Anne
2009  The British Museum, the Banks Medallion and the Prefect's Badge. Sometime during the last evening before the GLC was abolished, Tony Banks MP the last Chairman presented me with a large silver medallion, hallmarked 1985, as a way of thank-you for my work on the GLC Heritage Collection. It was a quite handsome object with a design on one side by Stuart Devlin. I presented it to the British Museum for its coins and medals collection.   Also in 2009 William presented the BM with among other items, his Grandfather's rather grand Masonic medallions and his mother's school prefect's badge. His mother has been head prefect at a public school called the Wynberg High School for Girls in Cape Town.  Apparently when you became head prefect you designed and sported your own large solid silver Head Prefect's Badge. All have now found a home with the BM. One other curiosity also handed over to the BM was William's name tag. This was a circular metal identity tag with the addresses of his parents in England on one side and his grandparents in South Africa on the other. It dates from about 1940 and was made for William to wear when it was decided to evacuate him to the safety of South Africa during the war. However, following the sinking by torpedo by a German u-boat of the City of Benares which was carrying many children across the Atlantic to safety in Canada most of whom lost their lives, William's parents had second thoughts and cancelled their evacuation plans.
Cumbria and Clifford Country. June 2009. ACE Study Tour. 18 June. Drove up to Kendal where we joined the group and booked into the Riverside Hotel, Kendal. Visited Dailmain House and Gardens owned by Mr Robert Hassell-McCosh where we had a delightful tea. Visited Dacre Church. 19 June. Visited Winderwath Gardens (owned by Mrs Jane Pollock) then to see the Countess Pillar and on to Brougham Castle (English Heritage) and to Brougham Hall and St Winifred's Chapel. Picnic lunch then to visit Hutton in the Forest owned by Lord and Lady Inglewood where we also had tea. On to Yanwith Hall. 20 June. Coach to Appleby to visit St Lawrence Church and Low Cross after coffee break we visited St Anne's Hospital, Appleby and tdo Upper Cross. Lunch break in Appleby. Coach to Brough Castle (English Heritage) and Brough Church.   Then to Pendragon Castle ruins and Mallerstang Chapel. Tea at Hawes in Wensleydale and return to Kendal. Lecture in the evening on Lady Anne Clifford. 21 June.  Coach to Beamsley Hospital, exterior and then to Holton Abbey. On to Skipton Castle  and Skipton Parish Church. Then East Riddlesden Hall (NT). 22 June. Levens Hall and then lunch in the Bellingham Buttery. Then to the Cumbria Records Office to see documents related to Lady Anne Clifford and then to Abbot Hall Art Gallery and Museum of Lakeland Life. Lecute on Lady Anne Clifford in the evening. 23 June.  Visited Sizergh Castle where we had coffee in the gardens. Returned home.