Summer 1965. France.  William and I went on our second trip abroad, this time to France. Where we spent some time looking at the chateaux of the Loire, and were captivated by Chambord, Chenonceaux, Blois and Amboise.
Chateau of Chambord
Chateau of Chenonceau. 16th century
Chateau of Blois
Chateau of Amboise
Chateau of Amboise
We visited Arles and saw the Roman theatre, and amphitheatre the first substantial Roman remains we had seen
The Roman Theatre at Arles with St Trophine in the background
and Saint Trophime the first great French medieval architecture we had encountered outside Paris.  The heavily sculptured Romanesque cloisters of St Trophime were a revelation.
Also there was a great collection of Roman and early Christian sculptures in the museums. One hot afternoon, with bees humming and birds singing, we walked through the avenue of marble tombs forming the Alychamps and were enchanted.
The Alychamps is a large Roman necropolis, just outsides the walls of Arles. It was Arles'  main burial ground for nearly 1,500 years, and still  with its rows of sarcophagi.
We tried to find the places connected with Van Gogh but there was little sign in those days.  We did a day trip to  Nimes where we visited the massive Roman Amphitheatre which was still being used for bull fights.
William standing at the back of Roman Amphitheatre. Nimes
Saw the Maison Carree one of the finest extant Roman temples and in a marvellous  state of preservation,
Maison Carree, Nimes. 4-7 AD dedicated to Gaius Caesar and Lucius Caesar, grandsons of Augustus who both died young
and finally walked through the magnificent formal gardens of the Jardin de la Fontaine with its delightful so-called Temple of Diana.
We finished up on the coast at Cavalaire, where there was nothing to do but go to the beach and eat some of the most delicious food we had ever had served to us at the hotel which sat on top of a cliff overlooking the sea.
We did take a local bus to Ste Maxime to visit William's family friend in her magnificent villa, where he and his family had spent so many holidays, she laid on a splendid tea in her vast dining room, hung with portraits of her ancestors and laden with silver and porcelain. I remember flowers everywhere, obviously from her beautiful garden. However we both realised that for the future 'beach' holidays, certainly abroad, were not for us. There was absolutely nowhere to walk, the idea of footpaths is unknown to the French so we frittered our time away and ate the most sumptuous meals at the hotel. William's French stood us in good stead during our time there, till we found, on the last day that the proprietor of the hotel spoke perfect English; why do the French behave like that?
The GLC Drama Club
 The GLC had a thriving Staff Drama Club. I joined and took a few acting parts and began to realise that I did not particularly like acting but was absolutely hooked on stage management, designing and making sets and finally directing. Slowly over the years I learnt the craft of stage management and was tutored by some excellent staff members into designing and making sets. Finally I felt I was ready to direct. For many years thereafter I directed plays for the Club, who till then had rarely touched the classics and had, with a few exceptions, done some very light-weight plays. It was also about this time that the magnificent theatre in the Shell Centre was made available to the Club.  I directed many plays with, I hope, some success, I had a great team of actors to work with and I designed and painted all the sets, not only for my productions but for other directors.  I forget how many plays I directed, but I did the club's  first venture into Shakespeare with A Midsummer's Night's Dream.  I also directed, The Devils, Where Angels Fear to Tread, The White Devil, Blythe Spirit, The Alchemist,  The Misanthrope, and many more.  I enjoyed every moment, but then sadly and slowly after many years, I discovered that a new element had somehow begun to permeate the club, one of backbiting, feuds, and general nastiness, maybe some of it had always been there and I had ignored it. Although there were a number of gays in the club I sensed an increasing whiff of homophobia.  It got so bad I began to lose my joy in the club.   I understand that such things are not unusual in most am-dram clubs; I just did not think it could poison ours.  But poison it for me it did and so I resigned. I realise now, looking back that there were two members who drove me to my eventual resignation, both of whom were superb actors and who played in most of my productions, and who I thought were my close friends.   Why they designed to get me to resign is still a mystery, I surmise that the quiet one was just waiting in the shadows to take over the complete reins of the club and the only way he could do it was to push me to the limits the other, his former lover, was one of the most witty men I have ever met.   He had a sharp and cutting tongue but managed to wrap his barbs in such a witty manner that in the midst of laughing you realised that he had aimed a very nasty sting at whoever was his target.  Having made what I thought were close friends for life, I now found that I was completely ostracised, and with only two exceptions they made it clear that many members of the club wanted nothing more to do with me.  I had been secretary for many years, I had designed and built sets for other member directors, I had acted as stage manager for many productions; where had it all gone so wrong. I was so upset by the whole sorry business that one day, many years later, unable to bear the memories of the club; I destroyed 8 feet of shelving containing my entire collection of scripts, photographs, and designs. I now look back and realise that what I thought was friendliness was only surface deep and that as I had the casting of the plays I directed, in my hands, as was the case with all other directors in the Club, I had probably made bitter enemies of some members or what other reason was there.  The positive hatred and rancour that was shown to me towards the end left me utterly shattered.  I don't think I ever really trusted people again.  It was all very bitter and after all these years I have nothing whatsoever to do with many people in the club who for years had professed to be my close friends but who sadly proved to be vindictive and cruel. I would like to know what they really thought of me and why they acted in the way they did towards the end, but as I have nothing to do with most of them I shall never know. But it perplexes me still. I put my heart, soul and whole being into that club, and dragged it from the doldrums of Agatha Christie and minor comedies, with ghastly hired sets into performing the classics and adventurous plays with our own sets. In a strange sort of way it brought William and I closer together as I have to confess that I was spending far too much of my time away from him dealing with the demands of the Drama Club.
One of the very few photographs to escape destruction showing some  members of the drama club taken during an outing I arranged to see Buscot Park.  Standing: left to right Gerald Milch, Richard Samways, who remains a friend to this day, self, ..?… and William.  Front. ..?… Barrie Smith, Joan Hemsley and Barrie's wife.

The only other photograph to survive.  Another Drama Club outing I arranged this time to  Avebury Stone Circle.  Our close friend Ann Goddard in the centre
Anne Goddard (i).  Anne was one of my friends from the drama club who remained so for the rest of her life. She was quite elderly when I joined the Club and had been a violinist in her younger days and was passionately interested in music and the theatre and was always cast, as she herself described it, as 'ancient grotesques'.  She was a very warm, witty and cultured.  When we first met she invited us to her beautiful attic flat in Hampstead which she had rented and had lived in for many years.  One day the owners, her landlords, decided to move out of Hampstead and into the country and so Anne was left with a very small pension and nowhere to live. She moved from pillar to post, looking for somewhere suitable and eventually finished up living in a single room with shared toilet and sordid kitchen above a squalid second-hand book shop in central London.  We were determined to help her help her, somehow.
Joan Hemsley (i).  Joan was the secretary of the drama club when I first joined and wanted to rid herself of the onerous task as soon as possible and persuaded me to take the reins. She was a supervisor in one of the County Hall typing pools. She was rather sharp and slightly pompous and arrogant and wholly dedicated to the club and we often went to the theatre together and my mother William and I met up with her on a number of occasions at Stratford and Chichester.  When she moved house from Croydon to the Barbican I arranged the whole move for her and settled her in, erected shelving for her massive amount of bits and pieces and made sure she had everything working before I left her for her first night in the Barbican. Later she moved to a smaller flat in the Barbican and singlehandedly I moved her possessions to the new flat in another block.  How I managed it all on my own on a hired wheeled truck, I shall never know. And why on earth did I do it, she was quite capable of paying for removal men but saw me as an easy and cheap option.  Anyway I settled her in yet again.  We worked closely together in the club. I helped her with her productions, stage-managed them all, built her sets, found appropriate music for some and generally was, I hope a great help to her.
Joan Hemsley (ii).  The then chief solicitor to the GLC was honorary Chairman of the Drama Club. He played no role other than attend productions and generally be around at any get-togethers we arranged. Joan had by now left the typing pool and was his secretary.  One year he decided to throw a party for the Drama Club at his second home which was in Bognor.  Each year the members of the drama club attended a matinée performance at Chichester, and what better way to end the day, he thought than for those attending to come to his place for tea. By all accounts he put on a massive spread, local ladies helping out, etc. Joan was told to invite members of the club who were attending the Chichester performance to make their way to his place after the performance.  Joan decided that the only people 'THE solicitor' could possible entertain would be those members of the club who had degrees. She herself did not have one, but there we are, she wanted to make it all very special. Of course she knew I did not have a degree, and though in the Legal Department, Secretary of the club and foremost director of plays she considered that the invitation could not possibly be extended to degreeless me.  I never felt more humiliated in my life. Most members of the club did have degrees, so were invited.  Anne Goddard, she discovered when she enquired, also did not have a degree, so was also excluded. I had made my way to Chichester by train and returned home by train. I think William was away sent somewhere by the MOD. A large groups of the degree holders were  travelling by car but on their way to Bognor, the car/s broke down, and I think the other towed it to a garage for repair and of course missed the party at Bognor.  The turnout at the Solicitor's party was very thin on numbers and the solicitor, poor man, must have felt he had been snubbed by the members. The stranded members did not have his telephone number so could not get in touch.  The small party who did make it to Bognor went with the solicitor for a walk along the front at Bognor and who should they meet but Anne Goddard who had decided to spend the night at Bognor and had also decided to take a walk. The solicitor recognised her and when asked by him why she had not come to his place, told him straight that she had not been invited. Presumably Joan had to explain why. The next time I bumped into the solicitor in the corridor I was also asked whether I had gone to Chichester and why had I not attended his party. I told him about my lack of a degree and I was glad to see he was suitably outraged, I should have begun to see that Joan was not a friend. The next year he personally invited us to his house and included any guests and relatives that we were with, thus William, also degreeless attended the bash at Bognor. The event then became part of the drama club calendar.   I began to slowly come to the conclusion that Joan was making use of me whenever possible but in secret thought I was crap.
After I resigned from the Drama Club, which had nothing to do with her, and indeed I was still under the misguided impression that we were close friends, she completely blanked me and thereafter used to cut me dead if we ever met in the corridors of County Hall. I had never in my life been at the receiving end of a cut before. An interesting experience.  We never spoke again. I am, to this day completely bewildered by her cruel behaviour. What had I done to offend her so much? Maybe the rollicking she had had from her boss for the degree mishap.    I shall never know.  Maybe she always disliked me and when I was of no further use to her, discarded me. Is it any wonder I have nothing but bitter memories of my years with the club. I understand that sadly she had dementia in her last years.
1966. William in Borneo
William – 1966. Borneo.  In 1966 William was sent for three months to Borneo by the Ministry of Defence. The Indonesians had crossed over the border from the Indonesian territory in Borneo into the Malaysian territory and the British Government sent elements of the Army to confront the Indonesians and protect the Malaysians as the latter had formerly been subjects of a British Colony. William was given the giddy title of a temporary Captain and was enabled to use the Officers' Mess and their swimming pool in Kuching in Sarawak. He spent some time driving around in a jeep with his photographer collecting 'human interest' stories from the troops to send back to their local newspapers to keep the public informed of their role in Borneo.  It was a great adventure and he spent some time with the Dayaks (formerly head-hunters) in their Long Houses.
William distributing Smarties of all things to children in one of the Long Houses 
Italy 1966. Tuscany and Elba That same summer we took what was to prove to be one of the most important trips we did abroad. We discovered Italy and fell in love with the place. It was an organised trip which also gave us a great deal of free time. We started out in Florence and stayed at the hotel in which E. M. Forster had set the beginning of Room with a View.  
The hotel has since closed as a hotel, but there was a magnificent view of Florence from our bedroom windows and also from the rooftop. We were beguiled and dazzled.
We saw the Uffizi collection, the Baptistery Doors, the Bargello's collection of sculptures, Michelangelo's David at the Accademia, saw the Fra Angelico paintings in San Marco's, the Brancacci Chapel with it frescoes by Masaccio, Masolino and Filippino Lippi.  I could fill the next 10 screens with the wonders we saw. But there is one final one which enchanted us, and made us absolute fans of Benozzo Gozzoli and that was his frescoes in the chapel of the Palazzo Medici-Riccardi. Regarded as one of the great creations of the Renaissance.
Two details from the fresco of the Procession of the Magi, in the Palazzo Medici-Riccardi. Gozzoli's self-portrait on the left and a member of the Medici entourage on the right.
We were in heaven. We must have stood on a rooftop somewhere and taken a photograph of the Ponte Vecchio with the roof of the Vasari Corridor leading to and stretching over it containing the world's most magnificent collection of self portraits, usually closed to the public, which we was determined to see one day, and did.  We saw our first Byzantine mosaics and were entranced, there is no other word for it, we were to see many of the greatest ever created on our travels.
Basilica of San Miniato al Monti, Florence. 
Piazza Vecchio, Florence 
The courtyard of the Bargello
David by Donatello
We chanced. quite by accident, on an exhibition of detached frescoes being held in the vast halls of the Forte de Belvedere, which has magnificent views over Florence and from where we watched the sun set.  As we were leaving Florence we realised we had not seen the Pitti Palace collections and vowed to be back.
San Gimignano was our next stop. Words cannot do justice to the effect of that magnificent small and medieval town of towers and stumps of towers, its twisting medieval streets and the sheer stillness of the place. The town was first populated by the Etruscans.  In 1199, the city having declared itself independent of the bishops of Voltera began to rule itself but the peace of the town was disturbed for the next two centuries by conflict between rival families which resulted in their fortified tower houses of increasing height. Towards the end of the Medieval period they were 72 towers some up to 230 feet tall.
We stayed, again in the footsteps of E. M. Forster, at La Cisterna the hotel Forster had chosen to set part of Where Angels Fear to Tread which I don't think had changed much since his day.  There was indeed a well in the square outside the hotel and in the evenings the locals used to come out bringing their chairs and sit around the square talking and watching the world go by. There was a wonderful feeling of tranquillity and timelessness. Sadly, La Cisterna has since been tarted up, and become extremely expensive and the crowds engulf the small square and every street and alley and the locals are no more. The only good change since those days is the exclusion of traffic, but then, when we visited, there were very few cars around.
We discovered Ghilandaio,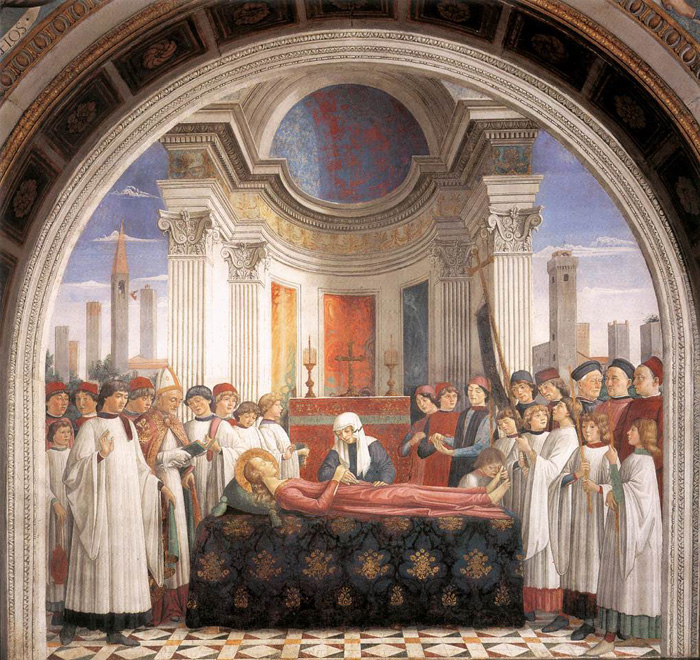 Fresco by Ghirlandaio, from the Santa Fina Chapel, Chiesa Collegiata, San Gimignano
Benozzo Gozzoli and Filippino Lippi and saw our first important and extraordinary Last Judgement, this one by Taddeo di Bartolo –  it must have frightened the life out of most  sinners.
Left: St Sebastian by Gozzoli, Collegiate Church, San Gimignano
Right: Last Judgement 'Doom' by Taddeo di Bartolo . San Gimignano
From there we went to Arezzo where we saw Piero Della Francesco's great cycle of the Legend of the True Cross, and though our guide did not pretend to be an art historian, she gave the best lecture we have ever had on the cycle. We were to see it many times again, but never in such isolated comfort and related with such wonder.
Solomon and the Queen of Sheba
Victory of Constantine
Details from the great cycle of The Legend of the True Cross, Arezzo. 
Then to Siena to see the Cathedral, the Campo and what remains of the great Duccio altarpiece, bits of which are scattered around the world and many of which we have now seen.
The Piazza del Campo, Siena
The Cathedral
Duccio's altarpiece
The kiss of Judas from the great altarpiece in the
Museo dell'Opera, Siena
From there we went to Assisi; saw the Basilica of San Francisco with its frescoes by Giotto and discovered Simone Martini and Pietro Lorenzetti.  We were overwhelmed.
There was something about this fresco in the basilica
by Pietro Lorenzetti  that just captivated us 
The last part of the trip was to the Island of Elba, though we were exhausted, Elba, pretty though it was, seemed a terrible anti-climax and I think the whole party felt horrible withdrawal symptoms. We visited Napoleon's villa, not much to see, and vowed to return to Italy now that we had a hunger for it.
Napoleon's Villa, Isle of Elba
Elba. Wishing we were in Florence