Cornwall. 1967.  In 1967, William and I went to Cornwall, to stay at the Bay Hotel overlooking Fistral beach, we both fell in love with Cornwall, a very different Cornwall from Newquay and Dorothy Brown.
We went for long walks along the deserted cliffs and toured around looking up ancient monuments in remote fields and farms.
One day we went to see the Iron Age village of Chysauster dating from the 1st to 3rd century  AD. It consists of a series of stone houses some with several rooms and a small courtyard; only the lower parts of the walls to be seen. Very remote and quiet place.
I don't seem to have any photographs of our visit then, but this is one at Chysauster taken with Joanna many years later
Nearby are the Lanyon, Trethevy and Mulfra Quoits, really Megalithic chamber tombs with upright stones and enormous capstones the surrounding mounds having disappeared. The Lanyon capstone makes it look like a giants't table and the Mulfra's capstone has toppled over, all very striking.
The Lanyon Quoit
The Trethevy Quoit and the Mulfra Quoit
Next we visited Men-an-Tol, situated in a remote field along a muddy cart track, far from anywhere. It consists of a large stone with a circular hole in the centre, which is presumed to have originally formed the entrance to a megalithic tomb, nearby are two short upright stones. Apparently these stones had been removed in historic times. Our guide book informed us that children with rickets were passed through the stone to cure them.
Men-an-Tol, Cornwall
Nearer to us was the Pawton Quoit another Megalithic tomb chamber,  the supporting stones and capstone visible, it sits in the centre of a field, we passed a barn on the way to it and had to struggle through nettles and weeds at the side of the field. William was stung by an enormous horse-fly. Why or why do insects find William so irresistible, especially those that bite. I think he has been stung in just about every country we have visited. The food and atmosphere at the Bay Hotel was wonderful and of course the views over the bay with crashing waves and surfers was unforgettable, I always regretted I did not take my parents with us on this trip.
Switzerland. 1967  Looking back I realise how important 1967 was to be to us both. In September we went to Switzerland and stayed at Wengen and Weggis and marvelled at the magnificent scenery, took long walks, went up the tunnel railway through the Jungfrau. And did all the tourist things you do when discovering Switzerland.  We were to return time and time again. The following were taken in front of the Jungfrau.
        In front of the Jungfrau
We were so happy and life was sweet. I look back on these photographs and weep, why or why could time not stand still or we could just rewind it for a short while.
Marjorie.  William and I took to visiting a distant cousin of his, Marjorie, a librarian who lived in a remote house in Swarraton, just outside Alresford in Hampshire.
William's mother, his great-aunt Maud Castell and
Marjorie Robinson with her dog
She was stimulating company, very wry sense of humour and smoked like a chimney. Her house was a delight in the summer and artic in the winter. It was surrounded by a large garden and she also owned all the adjacent wild fields for miles around. We spent two Christmases with her and one day she said that she wished to leave her estate, including her beloved house to William. Her existing will left everything to a friend who she had known at University but whom she was now very distant. She said she had no one to leave her estate to and would he think about accepting her kind offer.  William discussed the matter with his father who astonishingly advised not to accept the offer as he considered William would not be able to maintain the property financially and anyway she clearly meant him to live in it and not sell it.  It turned out that Margery had a great deal of money which would have paid for all the upkeep. Margery was a chain smoker, one cigarette lit the next, and had the most terrifying cough which convulsed her at times, it was terrible to hear. William told Marjorie he could not accept the house, but still she insisted and said that he must come with her to her solicitor the next time he visited so they could discuss the matter and she remained adamant that he accept her kind offer. I stood on the sidelines thinking William and his father had gone mad. Within a few weeks of this conversation she died. So William lost out.
The only photograph I have of the house with Marjorie to the left and William's mother on the right
The house was a treasure trove including a rather grand painting of Princess Amelia, one of George III's daughters who had some connection with Marjorie's family and a drawer full of silk embroidered Chinese robes, again collected by some member of the family, two or three pieces of which were framed and hanging in her living room. There were beautiful pieces of furniture and a vast library of books, and goodness knows what lay in all the drawers and cabinets throughout the house. So the distant friend inherited the lot and instantly put everything up for sale including the house and all the surrounding land and poor Marjorie's house and possessions were scattered to the four winds. We were allowed by the friend who inherited, to go and take any family books from a small bedroom in which William's grand aunt, Maud Castell had lived for some years. I longed to look through the drawers and cupboards to see if there were any family mementoes or photographs, but Marjorie's rather sinister cleaning lady stood in the doorway of the room with a fag hanging out of her mouth and her arms folded, daring us to stray from the bookshelves. We took a few books as a gesture, nothing of interest, and left the house for the last time.  The cleaning lady her neighbour who lived a mile or so away up a country lane had worked for Marjorie for many years looking after and cleaning the house. She had somehow persuaded Marjorie to sell her some land which lay between their properties. Marjorie sold the land for peanuts with the stipulation, not in writing, that the land would not be built upon.  Within weeks of the sale, the neighbour had sold the land for a great deal of money and a large house was built on it. At which point Marjorie should have dumped her, but she was so reliant on her for looking after her place, as it was rather remote, that she bit her tongue and continued to employ her. Marjorie during her last few days of life gave all her jewellery to her and a promise that she look after her dog. This information was relayed to us while she stood guard at the door when we went to look through Aunt Maud's books. I don't know why we were told about this.  When we went to collect the books we met up with Marjorie's dog which was tied up outside the house and appeared to be covered in scabs and was clearly in a wretched state, poor thing. These days I would be in touch with the RSPCA but somehow in those days it just did not occur to us to do so.
My father's death, 1968
William took this picture of the family in Windsor Great Park.
September 1967
The last photograph taken of my father in January 1968
 In January my father became very ill, His leukaemia struck with a vengeance and he was retching for long periods, he was taken to hospital and on the 5th February 1968 died of acute leukaemia and tuberculosis which had taken hold yet again. His derisory pension from all those years in the police in India was, I discovered, a mere £79 per annum.  My mother received a widow's pension from Customs and Excise of £52 per annum.  His was a sad and broken life, spent for years in hospitals and sanatoria.  He was a very gentle man, I never saw him lose his temper, he was always soft spoken and self-effacing.  He spent most of his life with worries about the lack of money. I never really got to know him and we remained almost strangers for most of his life.  I sometimes caught him looking at me and probably trying to make head or tail of me.  He and my mother should have come to England with my grandfather, Joan and Brian after they were married. My mother would have made a home for all of them and have relieved Joan from the hardships, responsibilities and loneliness she had to suffer. Why they did not, remains a mystery.  It was a grave mistake for which we all paid the price.
Ted and Peggy: 1968.  Seeing that William was settled in, and had become part of my family and begun to have a life outside theirs, William's parents decided to return to South Africa and to go to live in Cape Town. They both felt that the warm climate would be of great benefit to William's mother whose physical condition was getting worse and not helped by the cold and damp of the English winters.  William found a small flat in Watford and they left. If only William had inherited Marjorie's estate we could all have moved into a house together, as it was William and I had to live apart for many years to come.  Eventually, for tax purposes William's parents became joint citizens of South Africa and the United Kingdom.  They returned at regular intervals to visit William.  But his mother was clearly heartbroken each time she had to return and leave him behind. There were terrible scenes at the airport with William's mother in floods of tears.  They could only spend so many days during any one visit or would have fallen foul of the terrible tax laws of the time.  There was a great deal of weeping done  in those airports.  Having paid extortionate taxes whilst in the UK, Ted and Peggy's state pensions were frozen to the date they left to live in South Africa. Quite iniquitous. Fortunately Peggy's money from her parent's estate meant that they were able to live in considerable comfort in Cape Town and William visited them at regular intervals.
The Crantock Bay Hotel, Cornwall and the Virgin Islands.  In the spring of 1968 we took my now widowed mother to Cornwall for a holiday and stayed at the Crantock Bay Hotel, just north of Newquay; but comfortably far enough from Newquay which was just becoming the hell-hole it is today
We loved the hotel, its remote situation and homely and comfortable atmosphere and for over thirty years returned to it many times whenever we felt like escaping from London. The view from the hotel across the golden sands of Crancock which the sea rushed up and down every day was breath-taking. The sound of the crashing waves during the night, the intoxicating air the delicious food and the long walks along the deserted beaches and cliffs lured us back time and time again.
Cars could not go further along the coast than Crantock ,and so we often found ourselves walking alone, crossing Porth Joke beach and then climbing the cliffs and walking to the magnificent views across Holywell Bay, occasionally seeing seals darting about below us in the sea and the cliffs covered in rabbits.  Oh what beautiful halcyon days they were
The view from the hotel
Porth Joke Beach.  Ever deserted.  On the left of the beach is the 
cliff footpath which takes you to Holywell Bay, one of the most exhilarating and magnificent footpaths to be found anyway.
Holywell Bay, where we often went to picnic
I sit here aged 79 with a broken heart looking at these photographs.   What a wonderful time we had in Cornwall. I can feel the breeze in my hair and the waves crashing against the rocks beneath… we were so happy and carefree, oh, to be able to return and put the clock back just for a brief moment.
After my father died my mother accompanied us on many of our trips around England and Scotland, Wales and Ireland. Long after we had stopped visiting, the hotel at Crantock fell on hard times many years later and was converted into flats.
The Virgin Islands. Tortola Island. September 1968.
William's makeshift desk which he shared with a wireless operator. Each day he would bring his chair and typewriter and set down his stories which he had gathered sitting among the wrecked palm trees and beautiful sea breezes.
In September 1968 William was sent to Tortola Island, which was British territory and formed part of the Virgin Islands. It had been hit by a hurricane and  the Royal Engineers were doing some work for the local population and William went to do his usual assignment of collecting human interest stories for the press back home. He understood that the trip was some sort of reward from his boss at the Ministry of Defence for all his hard work and though the island was idyllic the devastation of the villages was terrible.
1968 Belgium. We took a holiday to Belgium and for some misbegotten reason, booked unseen, except for a brochure, into a grubby little hotel in Brussels. I have no recollection why we decided on Belgium other than it was easy to get to. We were to return many times, the great art collections drawing us back time and time again. All 400 odd pages of our Belgium guidebook are covered in my underlining of 'must see' paintings and collections. We discovered the delightful towns of Bruges, Antwerp and Ghent and the glories of Flemish and Dutch art, Rogier van der Weyden, Hans Memling, Hugo van der Goes, Dirk Bouts and Gerard David, not to mention Rubens, Van Dyck and Frans Hals.
Anthony of Burgundy by Rogier van der Weyden
In Bruges, we found Michelangelo's marble Virgin and Child sitting in the church of Onze Lieve Vouwekerk, something we did not expect.
The mystic marriage of St Catherine by Memling with St John the Baptist being beheaded on the left and St John the Evangelist on the right.
The Memling museum in the Sint Jans Hospitaal holds his great large winged altarpiece of the Mystic Marriage of St Catherine and his Reliquary of St Ursula with its minute jewel like paintings.
Reliquary of St Ursula
In Ghent we saw, in its original chapel. and not in the horror in which we found it displayed in later years, the great and vast polyptych by Van Eyck of the Adoration of the Mystic Lamb.
How it survived its terrible history is a wonder. Everyone, throughout its life, has wanted to have it.   The Calvinists wanted to destroy it, Napoleon grabbed it and the authorities flogged off two outer wings which now sadly sit in a Berlin museum. In Antwerp we had to visit the extraordinary Rubens House, very flash, the massive Fine Arts Gallery, groaning with room after room of masterpieces.
In the Cathedral at Antwerp we discovered on of the world's great masterpieces which moved us deeply, The Descent from the Cross by Rubens
The Descent from the Cross by Rubens is the central panel of a triptych.  The side panels are simply distracting. The moment we saw it we knew this was going to be one of the greatest works of art we would ever see. There is another great Rubens in the Cathedral The Elevation of the Cross which is also quite incredible but again almost ruined by its cluttered side panels. Amazing to find two such masterpiece in one church.
We came home exhausted and determined to return, which we did, many times.
Joanna 1969.  In February 1969 my niece Joanna was born to my sister Anne. Little did we know what an important role she was to play in our family?
Italy. 1969  That same year, 1969 we took another trip to Italy, this time we started in Pisa saw the campanile or leaning tower, climbed to the top, I don't know whether people are allowed to do so any longer but it felt terribly dangerous when you stepped out on its sloping slippy floors without, as far as I can recall, any rails to stop you pitching over.
We visited the baptistery and the Duomo and the Camposato to see the terrible ruins of the frescoes including many by Benozzo Gozzoli (it was bombed in the war).
Then on to Florence, where we caught up with the Pitti Palace treasures,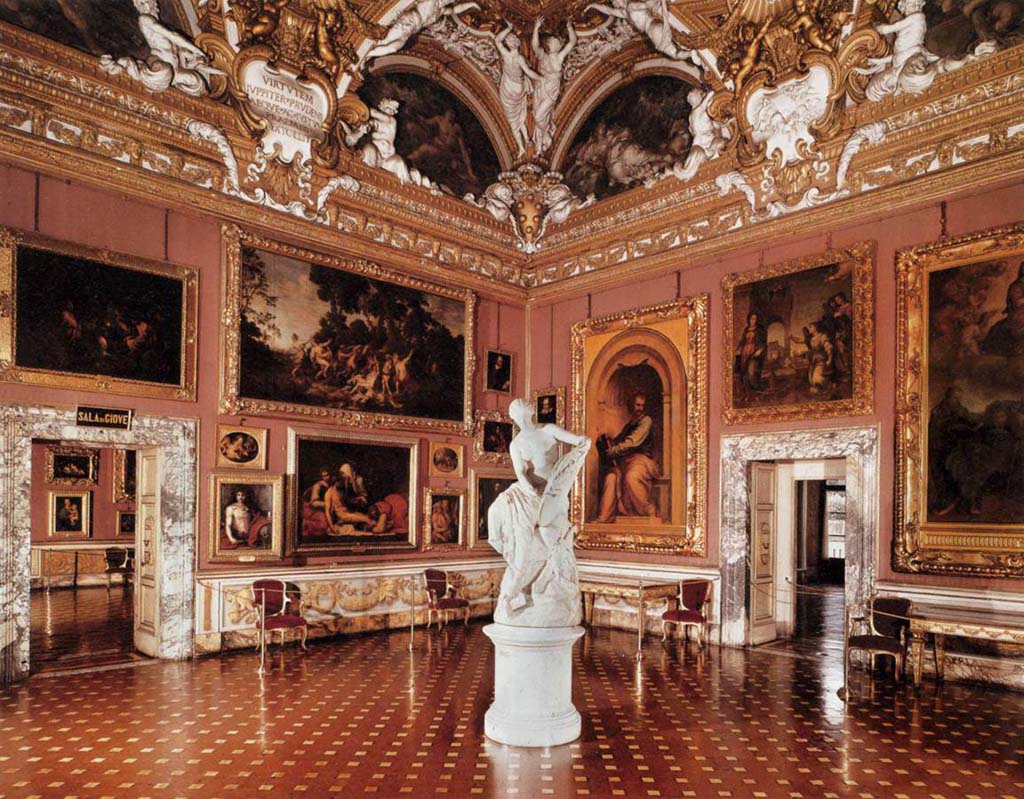 We also visited many of the museums we had missed the first time around. I had read in my guide-book that the Vasari Corridor which connected the Uffizi with the Palazzo Pitti via the Ponte Vecchio, over which it runs, contained the incredible and vast Medici collection of artists self- portraits, a quite remarkable and unique collection.
Many years later I determined to see this and heard that a party was to be escorted across it the following day, the corridor being normally shut to the public.  We found our way to the office of the Superintendent of the Uffizi and asked for a ticket to join the party.  We were told we could get tickets for next month's trip. As we were leaving in a few days' time I thought this was not good enough and said I would sit outside the office until such time as someone got us a ticket, this was greeted with a shrug, and so we sat down and waited, and waited. Eventually, I suppose because of our sheer cheek, we were given tickets and finally got to see the collection.  Worth every moment.  Why is the corridor not simply opened to the public, the views across Florence through the windows as you crossed the Ponte Vecchio were incredible.
We went on to Rome.
Sitting on the roof of our hotel in Rome with St Peter's behind
Rome. How can anyone say anything new about Rome?  We were overwhelmed walking through the Forum, seeing the Arch of Titus with the relief of the Roman legionaries carrying the seven-branched candlestick and silver trumpets from the Temple in Jerusalem.
There we were actually standing in the Coliseum. Begun in AD72 and estimated to hold 80,000 spectators. It was named after a colossal statue of Nero in bronze. Only the base remained. Mussolini bulldozed it.
Castel St Angelo from the Ponte St Angelo
with statues by Bernini pupils
The Castle St Angelo topped with Verschaffelt's bronze angel
Visited, Hadrian's mausoleum now the Castel St Angelo.  Weird walking above Hadrian's sepulchral cella, most visitors don't give it a glance, which originally contained Hadrian's porphyry sarcophagus which was bagged for himself by a 12th century pope and which was destroyed by fire.  the statues in the museums, so familiar from my books on Rome.
St Peter's where we saw Michelangelo's Pieta in the flesh and not behind the glass barrier that now protects it.  We both thought it was the most beautiful object in the world and certainly the most beautiful object we had ever seen or were likely to see; and so it has proved.
The Pieta by Michelangelo.
The most beautiful work of art in the world
One day we sat down for a picnic lunch under some Roman pines by the small circular Temple of Hercules Victor (2nd century BC) the oldest building in Rome made entirely of marble,  which is situated near to the Temple of Portunus the only almost completely preserved ancient temple in Rome (1st century AD).  It is an idyllic place. We sat in the shade with bees buzzing and a cool breeze blowing under the pines. There are some moments you do not forget.  Over the road is S. Maria in Cosmedin which contains the Bocca della Verita (The Mouth of Truth). According to legend if anyone made an oath and had not told the truth, if he put his hand in the mouth of the Triton his fingers were bitten off. It was mid afternoon and no one was in the vestibule – so we had the beautiful church and the vestibule with the captivating Triton mask to almost to ourselves.  We often visited it in later years but the crowds and noise made us always think how lucky we were to have visited it in 1969.
We climbed the steps to the Capitoline museums and saw the great equestrian statue of Marcus Aurelius. Since then re-erected and displayed in the museum.
Equestrian statue of Marcus Aurelius as it now is magnificently displayed in the Capitoline Museum
Of the many world-famous classical statues in the Capitoline I shall just choose one of the infamous Emperor Commodus (reigned 180-192) dressed up as Hercules.  He was as mad as a brush and dangerous, often appeared as a gladiator in the arena fighting against gravely wounded helpless men or dressed as Hercules he would club to death men who were tied up ready for him to slaughter. Got bumped off himself in the end. But what a magnificent work of art.  We saw all the great Caravaggios we could find in Rome.
The Conversion of St Paul by Caravaggio. St Maria del Popolo
We visited the Galleria Colonna containing one of the most magnificent Baroque rooms in the world.
And of course saw that quite incredible, and utterly over the top Bernini S. Maria della Vittoria.  What to make of this completely mad and exquisite work of art?
St Teresa of Avila by Bernini watched by the Cornaro family from their opera boxes at the sides and having a high old time with an angel holding a dart.
The whole of the front of the chapel, which we visited about mid-morning, was surrounded by a crowd of women on their knees praying.
We were overawed by the grandeur of the Pantheon, to think we were actually standing in the centre looking up at the round opening in the dome in a shaft of light coming down on us.
The Pantheon
We went to watch a production of Aida in the ruins of the Baths of Caracalla, four-horse drawn chariots charging towards the audience, camels, pyramids, the lot.
We visited the Sistine Chapel in the Vatican in the days when you could visit without the queues and mayhem that now greet you.  We returned many years later and in a small party of seven we bought the privilege of having the Chapel to ourselves for two whole hours, the silence was golden and the hours magical and unforgettable.
Creation of Adam by Michelangelo. Sistine Chapel 
We discovered Bernini's wonderful concoction, the Piazza Navona with its delightful and majestic fountains, and were suitably impressed by the Trevi Fountain.
Piazza Navona
Trevi Fountain
We visited the Borghese Gardens and the Villa and found ourselves knee deep in Bernini and its magnificent collection of paintings.
Apollo and Daphne by Bernini. Villa Borghese 
William at the Tivoli Gardens, with its spectacular fountains, water spouting from statues and fountains everywhere
Then visited Hadrian's Villa, a vast area, including the Canopus Pool.
The Canopus Pool, part of the Hadrian Villa complex, apparently a copy of the Sanctuary of Serapis near Alexandra.
Finally we travelled to Venice. We have been many times to Venice since but that first impression left our heads swimming and we lost our hearts to the place. We had the most perfect weather.  There were crowds, but not as there are today. The morning was glittering, the air balmy, the small orchestras were playing and we were enchanted.  Enormous flags were flying from the vast flagpoles in the Piazza San Marco and there seemed to be such joy in the air; we became almost light-headed by the wonder of it all.
The original horses were still on the outside of St Marks, and we could wander at will around the interior, not the horrible stumble and shuffle around the sides of the interior which now takes the form of a visit which has become a grotesque and nasty experience. In 1968 the gold and coloured mosaics sparkled, and there were not too many people.One of our favourite sculptures stuck on the corner of the Basilica of San Marco. 'The Tetrarchs'.  Sculptured in porphyry, and thought to represent Diocletian and three other Byzantine emperors. Egyptian work of the 4th century
The lions outside the Arsenale , the one on the right was removed from the Avenue of Lions at Delos
We went in a gondola, saw one of the lions which had taken been from the avenue of lions at Delos sitting outside the Arsenale; one day we were to meet his companions. We hunted down Giovanni Bellini paintings, and saw San Giovanni a Paolo and its treasures, and still left enough for many more future visits.
Verrocchio's magnificent equestrian statue of Bartolomeo Colleoni outside San Giovanni a Paolo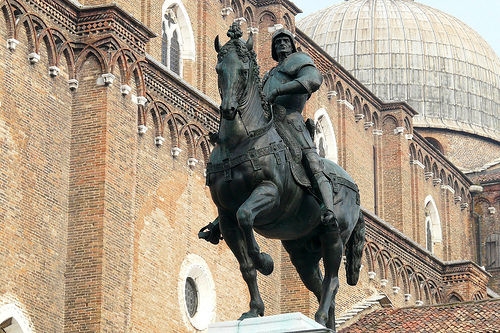 Anne and Joanna.  In the summer of 1970, Anne left her husband, who had begun to ill-treat her and came to live with us in London. It was all very cloak and dagger.  She and Joanna had to be smuggled out of their house whilst he was working, so William and I drove up from London and went to stay the night in Bolton and early the following morning we went to Anne's house, her husband having gone to work, packed up her things, placed them in a van, which was driven by Brian who had joined us at the house and whisked Anne and Joanna away in William's car. Anne left a note for her husband saying she was leaving him for good, and that was that as far as the marriage was concerned. She duly obtained a divorce and never spoke to or saw him again. This left us with Anne, and Joanna.  Anne got a job, met her future husband and eventually married him and moved out of our flat. Joanna was left to be brought up by my mother for some years and then Joanna moved to stay with her mother. So now our holidays in Cornwall were with Joanna as well.  Looking at the photographs, she looks a very happy child, and due to my mother's and sister's  upbringing, has grown into a responsible and loving woman on whom both William and I depend to a large degree for her love and support.
With my mother and Joanna in Cornwall, where we visited about three times a year !
Joanna in Cornwall
Spain. 1970 September.  We took a trip to Spain, staying first in Madrid.  First priority was to see the Prado collection, I think we did about four visits. Here we were in front of magnificent Goya and Velasquez, after all those years of looking at their paintings in books.
 Las meninas by Velázquez, Prado
We also visited the Museo de la Real Academa,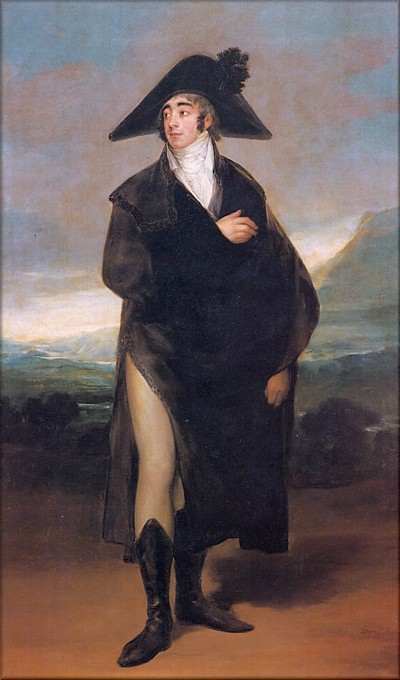 The Count of Fernan Nunez by Goya
Visited the delightful Cerralbo Palace, an absolute treasure house which was left to the State and  which no one should miss,
and the Royal Palace with its magnificent Tiepolo ceilings. The Apotheosis of the Spanish Monarchy by Tiepolo
Anyone visiting the city should not miss out on the Monastery de las Descalzes Reales, crammed full of works of art.  Translated as the "Monastery of the Royal Barefooted", it sits  in the former palace of Charles I of Spain and Isabel of Portugal. Their daughter, Joanna of Austria, founded the convent in 1559.   Each rich incumbent brought with her a massive dowry which soon made the convent the richest in the whole of Europe and enabled the formation of a magnificent art collection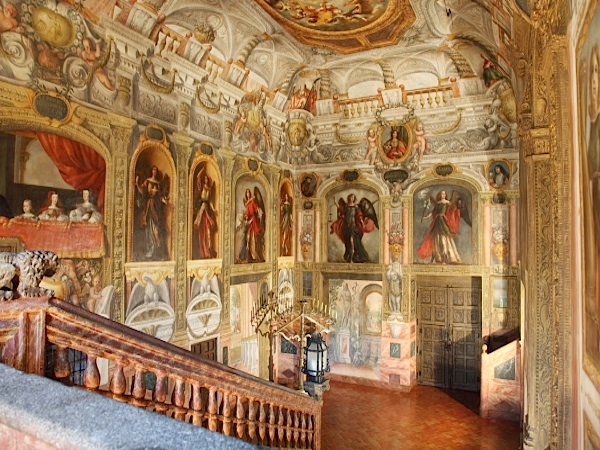 We sought our the Ancient Temple of Debod which was presented to the Spanish Government in thanks for assistance towards the saving of Abu Simbel. What a sad sight. Plonked in the middle of a dreary park and not even erected in its original formation. It had been started in the 2nd century BC, so quite late, and had been completed by Augustus and Tiberius. I hope it is better looked after these days but when we saw it the paving stones which surrounded it were broken and the whole temple looked very sad indeed.
We also visited the Royal Monastery of the Escorial.   Philip II's vast hideaway where he communicated with God and virtually brought his whole country to ruin.
The building is quite ugly from the outside, well, featureless, just huge. We were impressed by the two groups of royal monuments facing the high altar, one group around the Emperor Charles V and the other with Philip II and three of his four wives, number two being Mary Tudor, conspicuous by her absence.  I am sure she would have loved to joined the others and have felt quite at home.  To think she made Philip king of England, though he hardly ever appears as one of our kings. If we do ever have a King Philip, I wonder whether he will be King Philip II.
Philip II with three of his wives and his criminally insane son Don Carlos the result of gross interbreeding and who was put in solitary confinement on the orders of his father where he languished for the last miserable six months of his life. It is a magnificent piece of sculpture probably the masterpiece of Pompeo Leoni (c.1509-1590)
The monastery has quite an impressive art collection, excellent tapestries and many cartoons by Goya and is awash with reliquaries; much good they did Philip II. The pantheon of Kings where as many royals as he could gather were placed in bronze boxes and stored on shelves like a vast filing cabinet was just plain oppressive.
My lasting memory is of Philip II's bed from which he could see, from a small window, the Basilica's high altar.  What a sad and miserable man, and what a disaster for Spain.
Then on to Seville to see the cathedral which is vast and has the impressive bell tower known as the Giralda which was formerly the base of a minaret built by the moors. The Alcazar, a  royal palace originally built by the Moorish kings is truly beautiful and is regarded as the most outstanding example of mudejar architecture in Spain.
One of the many courtyards in the Alcazar
Also the gardens in Seville are a pure delight. The Torre de Oro or Tower of Gold dominates the city. It was originally a Watchtower built by the Moors, then descended into a jail and is now, I understand a museum. William, enjoying lunch with the Watchtower in the background
Cordoba. Once the capital of a Roman Province, then the capital of an Arab State.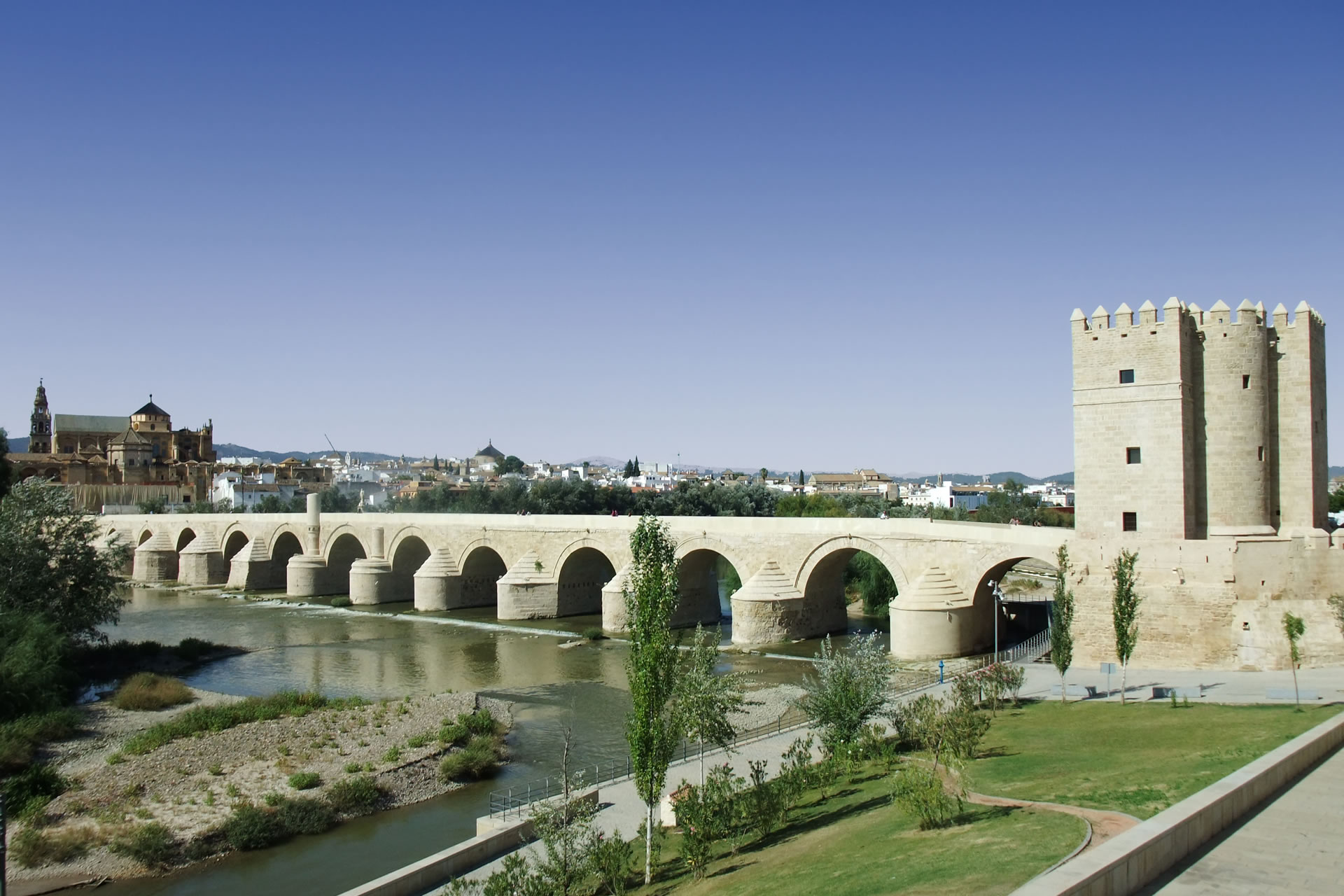 The Roman Bridge, Cordoba
What to say about the Mosque-Cathedral? The interior is one of the most memorable and magnificent sights in the world and we have seen quite a few, though not at that time, and it blew us away. It was built as a mosque in 786 and in the 13th century the Christians plonked a cathedral in the centre. Massive though the cathedral is, it is the Islamic interior which still remains a wonder
The exterior of the Mosque/Cathedral, Cordoba, looks a wreck  
The interior. 
And to think the Spanish wrecked a huge part of it to built a tacky Renaissance Cathedral in the centre
Then there is delightful Alcázar of Córdoba, which once contained the largest library in the west and was stained by being made the home, by that infamous couple Ferdinand and Isabella, of the first permanent tribunals of the Spanish Inquisition who turned its magnificent halls into torture chambers. Why we were fed the fact that the conquest of the Moors was a good thing, when Christian and Jews had been tolerated by the Moors who had created a seat of learning second to none. The destruction of the Moorish civilised world was replaced by Catholic intolerance, ignorance, fear and utter misery for millions.
The beautiful gardens of the Alcazar de los Reyes Cristianos
Interior of the Alcazar de los Reyes Cristianos
Then on to Granada.  First to The Alhambra, a Moorish palace city with the Generalife pleasure palace with its beautiful gardens. In was first developed in the 11th century. But it was in the 13th century, with the arrival of  Mohammed I, 1238–1273), that the royal residence was established in the Alhambra. The Alhambra became palace, citadel and fortress, and was the residence of the Nasrid sultans and their senior officials, including servants of the court and elite soldiers for many centuries. In 1492 the Ferdinand and Isabella, expelled the final Moors from the city of Granada. They established permanent residency in The Alhambra, and it was here that Columbus requested royal endorsement for his westward expedition.
The Courtyard of the Lions in the Alhambra Palace, constructed at the end of the 14th century
The Alhambra with the Sierra Nevada in the background
We had to see the royal chapel where Ferdinand and Isabella are buried, so broke away from the party and made our own way there. Very elaborate tombs with figures on top of Queen Isabella (1541-1504) her husband King Ferdinand II (1452-1516), their stark raving mad daughter Queen Joanna I (1479-1516), her husband Philip I, the Handsome (1478-1506) and their oldest grandson the Infanta Miguel (1498-1500).
Our final destination was Almunecar, which was sold to us as a quaint unspoilt seaside resort near Malaga.
  Yes, it does look quaint, shame about the rats and insects 
The hotel was the worst we have ever stayed at and was crawling with coakroaches and abuzz with mosquitos.  Which is always bad news for William as they usually feast on him  The food was uneatable, I recollect we were served with a foul hamburger for our first meal. Neither of us has ever eaten a hamburger in our lives and we were not about to start now, anyway it looked lethal and in fact two or three people in the group were very ill during our stay.   We left the dining room.  I have no idea where we managed to find any food in that godforsaken place – I think we lived off chocolates and biscuits, quaint indeed!  I remember we had the very devil finding something other than cheap highly coloured fizzy drinks.  Then there were the rats, rats swimming in the swimming pool, in fact rats everywhere, sitting on the side of the streets, popping out from every opening, quite unafraid of the dogs and cats who ignored them.  Why on earth did members of the party dream of swimming in a pool used by rats !  We thought of walking up to the Moorish Castle on top of the hill which dominates the town, but as we came near we found it to be the town rubbish dump with flies everywhere, no chance whatsoever of getting to the Castle. Added to which every mosquito and horsefly made a bee line for William. Though usually quite intrepid we had to give it up.  I am sure that all is now changed but in 1970 Almunecar was literally a quaint rat infested dump.
William and Derek.  Our travels.  During this time William and I started to do some very serious travelling around the British Isles whenever we could, fortunately both the Civil Service and Local Government were generous with leave, so every moment we had we filled with travel. William would pick me up on Friday evening and off we would go. We bought ourselves a collection of guidebooks and selecting an area would visit all the churches, cathedrals, country houses, ancient monuments, castles, etc.,etc. we could find. We were very thorough, one of our passions was seeking out sculptured monuments in churches and cathedrals.  The sheer wealth of magnificent statuary in our places of worship are quite exceptional, even taking into account the barbaric destruction put into action by Henry VIII and his horrible little son Edward VI. Unforgivable.  All done in the name of God. The pair of them stand shoulder to shoulder with the extreme Islamic destroyers of today.  Why is it there is no official visual record of our funerary sculpture available apart from stumbling over the odd piece recorded on the internet? In my view the history of British sculpture lies, mostly neglected, in our churches, abbeys, cathedral and cemeteries, the latter slowly disappearing with erosion and neglect.  What are all the arts graduates who fall out of universities each year doing?
France. 1972  In 1972 we went to France first to Paris to visit the Louvre and see its collections in some depth, Versailles and then on to St Denis to see the very impressive collection of royal tombs.
Henry II and Catherine de Medici
Louis XII and Anne de Bretagne
When I consider the devastation wrought on St Denis during the Revolution, when all the corpses were hauled out and thrown into a midden,  I did wonder how much was pure restoration and how little was the real thing. For the second part of the trip we went to the Loire to see the chateaux. We arrived by train at Chantilly and walked quite a way to the chateau, it was about lunchtime when we arrived at the outskirts and we wondered where on earth we would find somewhere to lunch.  We happened to see quite a number of local people going into a small house, through a white garden gate and though there was so sign on the outside, from what we could see the place was in fact a small restaurant. We went in and were greeted as though we were their personal guests and were served up with a quite delicious home cooked lunch.  Our host was keen to try out his English on us and came and sat at our table for a while. He refused to accept payment for our lunch and seemed so happy to see us as though we were favouring him with our presence.  What delightful and kindly people we have had the good fortune to meet on our travels.
Chantilly
The chateaux and their collections were magnificent. Chantilly with its rooms stacked from floor to ceiling with masterpieces from the Italian, Dutch and of course French Schools. We were particularly taken by the Clouet portraits and fortunately at this particular time there was also on display part of the magnificent collection of Clouet drawings which were I think originally owned by some stupid aristocratic Englishman who flogged them off in the 19th century.   What a loss.
Francis II, king of France by Francois Clouet.  Married to Mary Queen of Scots.
Azay le Rideau, built between 1518 and 1527, and considered one of the foremost examples of early French renaissance architecture.  It stand on an island in the middle of the River Indre.
Fontainebleau, one of the hunting lodges of the kings of France. Thomas Becket consecrated the chapel in the chateau in 1169. Every king seems to have left his stamp on the chateau. It was damaged during the Revolution but seems to have survived very much intact. Napoleon built himself a throne room in the chateau and his last days as emperor were spent there and it is where he abdicated on 46th April 1814.
Vaux le Vicomte The inspiration for Versailles, created by the Finance Minister of France, Fouquet, and fatally shown by him to his master Louis XIV who promptly threw him into prison where he eventually died.
Cheverny, built between 1624 and 1630. The chateau contains a superb collection of paintings and objets d'art.
Langeais,
Chinon
and the gardens at Villandry.
Switzerland. 1973. We met up with William's parents in Switzerland. William hired a car and we spent a holiday with them, staying at a hotel in Lugano and visiting the Villa Carlotta and Isola Bella on Lake Maggiore. The latter originally housed a small village but in the 17th century the Villa was built and for many years hosted sumptuous parties for the Italian elite.
Isola Bella on Lake Maggoire, a 17th century confection built in the 17th century for the Borromeo family
We also saw the Thyssen collection which was then housed in his delightful Villa Favorita in Lugano.
       With William's parents at the Villa Favorita, Lugano
The Tyssen collection is now in Madrid. Room after room of masterpieces.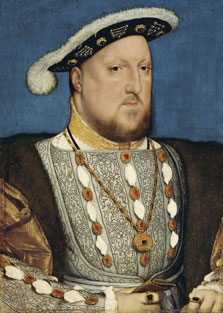 This magnificent portrait of Henry VIII by Holbein
We then hired a car put it on the rail for part of the way and then William drove us over the Susten Pass in Switzerland with snow stacked six feet high on either side of the perilous roads.
William with his father on our journey to the Susten Pass
Picnic on the Susten Pass
We finally landed in a hotel on Lake Brienze. from which we visited Basle to see the great art gallery.   Where we discovered Ferdinand Hodler
Our hotel (centre) on Lake Brienze.
Went on a cruise on Lake Thun and visited Spiez and Kandersteg.
Kandersteg
Both of us at the Blue Lake, Kandersteg, reached by chair-lift up the mountains and a lengthy walk.   One of the most beautiful lakes in the world.
I'd almost forgotten just how beautiful it was in the mountains. I can still smell the flowers and the grass and feel that sharp tingle in the air from the snow  
Somewhere along the way on this holiday I see from a photograph that  we both finished up on the roof of Milan Cathedral among its hundreds of small spires.
After the holiday Ted and Peggy came with us to England for a few days during which we visited Charleston House in Sussex.
William with his parents at Charleston House