September 1974 Italy. Bologna.  We took a trip to Italy, starting in Bologna with a small group. On our first day visited  the Piazza Maggiore and Piazza Nettuno which joins it and saw the great Neptune fountain by Giambologna.
The Neptune fountain, Bologna.  Some of the party. Mr Horton the tall man on the left, William in front with Mrs Lowenthal on the left. Mr Lowenthal did not like his photograph taken
Neptune fountain by Giambologna
We then visited the immense (unfinished) Gothic San Petronio and were bewildered by the vast numbers of Italian artists, many of whom we had never heard of, who were represented by works in the church. I can recall an impressive Martyrdom of St Sebastian with donor 16th century School of Ferrara.  However there were some artists we knew.  There was a St Roch by Parmigianino and an Annunciation by Lorenzo Costa.
In San Giacomo Maggore we met up with Lorenzo Costa again, portraits of Giovanni Bentivoglio and his family in his Madonna Enthroned.
Madonna enthroned by Lorenzo Costa with Giovanni Bentivoglio and all his family. An absolute delight
Visited the Pinacoteca Nazionale containing one of the most important collection of paintings in Italy, including this Madonna and Child by Cima da Conegliano.
Dominating the whole city were the Leaning Towers, apparently there were once 180 of them. I ascended one of them; well, I could never miss going up on a staircase.  From what I can remember, the stone steps turned to wooden ones, which led to a metal ladder which led to a wooden very shaky ladder and a final scramble to the roof with its magnificent views of the city. I was completely shot by my climb, and was aches and pains for the rest of the trip.  One evening in Bologna we had dinner with two members of the party, the Hortons, strangely they lived a few minutes' walk from William's flat in Watford. More of them later.
Assisi.  I cannot recall the order of places visited but at some point we went to Assisi, to revisit the vast edifice which was the Basilica of St Francis. We viewed it from the plain below as the sun was setting, standing in fields of vines; magnificent.  We stayed at an ancient hotel very near the Basilica and I decided to get a cold or was it flu. Whatever it was I felt wretched and coughed all night.  I had to make a superhuman effort to get out of bed in the morning, but, we were in Assisi again for goodness sake and I was not going to miss out.  So aching in every bone and feverish, I staggered around the Basilica. I had to make such a superhuman effort that I can remember the visit to the Basilica with extraordinary clarity.  And in particular I was completely bowled over by Lorenzetti's  Madonna and Child with St John the Baptist and St Francis. Strange how some works of art just simply burn into you.
Madonna and Child with St John the Baptist and St Francis
by Pietro Lorenzetti. Lower Church, Basilica of St Francis  
And of course we saw the Giotto frescoes of the Life of St Francis in the upper church of the basilica of St Francis.
We also visited the church of Santa Maria converted from the ancient Roman Temple of Minerva with its six magnificent Corinthian columns dating from the time of Augustus.
Modena.  In Modena we visited the majestic Gothic Duomo.
Door to the Duomo, Modena 
The interior  covered in Romanesque sculptures, where we were particularly struck by a carving of the Last Supper by Anselmo da Campione.
Last Supper by Anselmo da Campione. Christ feeding Judas 
Visited the fine collection of paintings formed by the Este family and housed in the Galleria Estense.  It contains Bernini's bust of Francesco I d'Este who founded the collection; a positive giddy swirl of marble curls and billowing silk.  Also works by El Greco, Correggio, Palma Vecchio, Guercino and many other great artists.
Francesco I d'Este by Bernini
Parma.  On to Parma where the Duomo was covered with works by Correggio
The Vision of St John the Evangelist by Correggio
 The adjacent Romanesque octagonal Baptistry had magnificent 13th century frescoes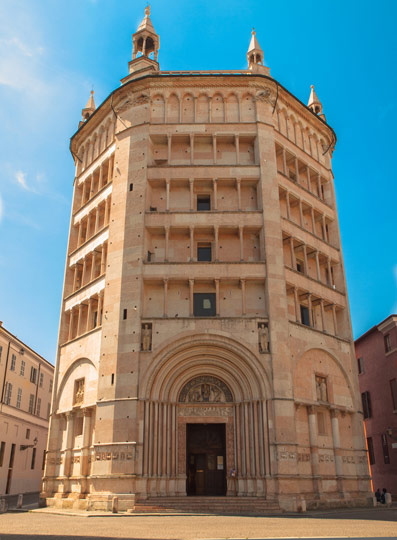 Vicenza.  Vicenza, where we stopped to see the Teatro Olimpico by Palladio. An incredible survival composed of a busy permanent set with a piazza and streets, all covered in statues and pillars with long vistas in perfect perspective. The first play given here was in 1585 and was Oedipus Tyrannus by Sophocles.
Padua.  In Padua we first visited the University's Anatomical Theatre, the oldest in Europe. Then to the Scrovengni Chapel to see the great Giotto frescoes.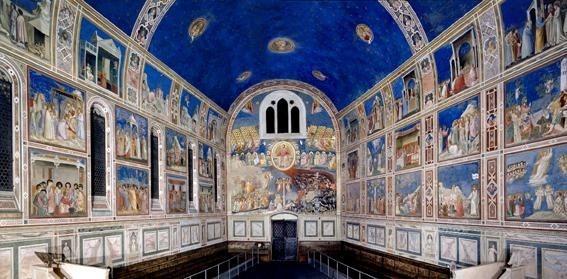 Padua. Writing all this I have begun to realise just how rich this trip was. We then visited the Basilica of Sant'Antonio 13th century with its wealth of bronzes by Donatello.
The Dead Christ by Donatello
Verona.  To Verona where we visited the great Roman Amphitheatre, the 3rd largest in existence.
Padua. The Romanesque San Zeno with its 11th century bronze doors.
I seem to remember a forest of pillars and capitals all pillaged from ancient Roman temples, and a magnificent triptych by Mantegna.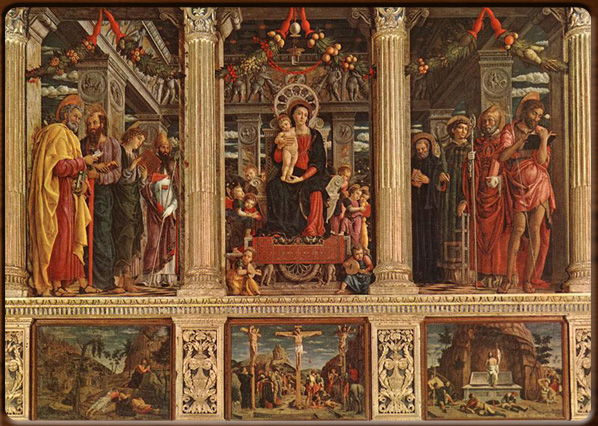 Ravenna.  A feast was in store for us at Ravenna, where I seem to have recovered myself. Church after church after church covered in magnificent Byzantine mosaics.  Here we were in San Vitale standing in front of Justinian and Theodora, he with his train of officials, clergy and soldiers she with her court of ladies. The sheer joy of the colours was breath-taking. The whole church alive with mosaics of people, plants and animals.
Justinian and Theodora
San Vitale.  The whole place a riot of coloured mosaics.
We then went to the Neoniano Baptistry which was apparently converted from a Roman bath house. Now entirely covered in mosaics. The central dome showing the Baptism of Christ.
The Baptism of Christ, St John the Baptist on the left and the figure on the right represents the River Jordan
Next to the Museo Arcivivescovile, more mosaics, a presumed porphyry statue of Justianian (headless) and the Ivory Throne of Maximian (6th century). The chapel with mosaics, many with portraits of apostles, saints, etc., in roundels.
S.Apollinaire in Nuovo  with its procession of 22 virgin martyrs preceded by the Magi offering gifts to the Virgin and Child and 26 martyrs approaching an enthroned Christ. There was also a mosaic portrait of the Emperor Justinian, looking slightly zany in a pearl hat, earrings and a double chin.
The Emperor Justinian,  S.Apollinaire in Nuovo
The Magi offering their gifts to the Madonna and Child
S.Apollinaire in Nuovo 
The Kiss of Judas, S.Apollinare in Nuovo
Then there was S. Apollinare in Classe with its 24 Greek columns and a riot of blue mosaics with a Tranfiguration, various scenes of sacrifices and (below) Constantine IV granting privileges to the church to Archbishop Repartus (7th century).
Three sacrifices. On the left is Abel with his lamb. In the center Melchizedek presides over the sacrifice of bread and wine .On the right is Abraham with his son Isaac, whom he was willing to sacrifice at God's command.
The apse has Saint Appolinare standing with a neat row of twelve sheep, above him is a crucifix with angels on either side and at the top coming through the heavens is the hand of God.
Nearby was the Arian Bapistry, the dome showing the baptism of Christ, looking like a young schoolboy draped with a towel made of water and surrounded by the two apostles, all in white holding bejewelled crowns of laurel.
The Baptism of Christ. The figure on the left is the River Jordan
Mausoleum of Theodoric. On our free afternoon we thought we would try to find the Mausoleum of Theodoric, we asked an elderly lady at the bus stop and she shouted to a friend across the square 'Tomba Theodorico? ', we became the centre of some attention and soon found ourselves being escorted by a small group of elderly ladies onto the right bus with many shouted instructions to the driver to put us off at the Tomba Theodorico.  We had quite a walk from the bus stop to the Tomb.  It was a truly magnificent affair, a large circular stone building with two stories and capped with a massive monolithic stone with a diameter of 11 m and is reckoned to weigh about 300 tons.  It is still a mystery as to how they got the stone into place. Inside is a porphyry bath which was used as the sarcophagus.
Mausoleum of Galla Placida.  And finally we saw the jewel of Ravenna, the Mausoleum of Galla Placida. The mausoleum was erected in the middle of the 5th century and is lit by alabaster windows and covered in magnificent mosaics predominantly blue of the Good Shepherd, St Laurence tripping towards his fiery gridiron a crucifix slung over his right shoulder, an open book in his left, his robes flying about him and  looking without a care in the world, stags, doves, four apostles and a starry sky. It really is a jewel.
Two apostles with an alabaster window in between
The two doves, probably the most famous mosaic in Ravenna
Rimini.  Rimini to see the Tempio Malastestiano, a magnificent Renaissance church with beautiful sculptural panels by Agostino di Duccio
Agostino di Duccio
For us the prize was to see Piero della Francesca's portrait of Sigismondo Pandolfo Malatesta (1417-1468), kneeling before his patron St Sigismund of Burgundy. Apparently the Tempio had been badly bombed during the war, but had been beautifully restored.
Sigismondo Pandolfo Malatesta (1417-1468), Lord of Rimini,
known as the Wolf of Rimini,
kneeling before his patron St Sigismund of Burgundy
by Piero della Francesca 
Aquileia.  At that time Aquileia was quite off the tourist route, maybe it still is. It is virtually a village, only it has the most remarkable Roman remains and even more remarkable mosaics. The city is supposed to have declined due to malaria, and in fact one enormous mosquito was found on William's arm. Mosquitos will fly for miles to come to feast on William.  The basilica first built about 313 was extended in the 11th century and has a huge mosaic pavement, virtually covering the whole floor. When you enter the basilica it is one of those places where everyone gasps when they enter it. There are Christian images mixed together with pagan ones, a really mishmash. As for the extensive Roman remains Aquileia even boasted an Imperial Palace which was lived in by Roman emperors after the time of Diocletian. There is a fine Roman monument and reconstructed Roman fluted pillars which formed part of the Forum. Sadly we had no time to visit the museum, which did not please us as it has a stunning collection.
Roman Forum, Aquileia
The Basilica with the incredible mosaic pavement
Jonah resting, Pavement, pavement Basilica Aquileia
Jonah thrown to the whale, pavement, Basilica Aquileia
Sirmione
Sirmione on Lake Garda. Brief visit just time to tour around the Scalier Castle (13th century). 
Venice.  To complete the tour we went to Venice. I don't know how many times we have been but it never fails to enchant us. We were left to our own devices and so we thought we would hunt down all the Bellini family paintings and also revisit as many of the great churches as we could find. Towards the end of the day when the sun was setting we found this little church, I now forget which one, it almost becomes unimportant, but I think it was Madonna dell'Orto which had a famed Giovanni Bellini.
Madonna and Child by Giovanni Bellini
One thing is vital in Venice and indeed most Italian churches is that you have a bag of coins to turn on the lights. We were at the end of our day and discovered to our horror that we had run out of coins. So there we were faced with the Bellini sitting in shadowy gloom (I now carry a very strong torch with me) what were we to do? An old lady who was obviously on sentry duty in the church saw our dilemma and bitter disappointment and came up to us, indicated that she would put on the lights for us and insisted we kneel, well we did not want to be rude and did so. She then fed the lights with coins from her own pocket and she was right, the only way to see the Bellini was by kneeling in front of it. The gesture and the Bellini moved us both to tears. She joined us on her knees in front of her beloved Bellini and prayed. It is one of those moments in life when the world stands still and becomes almost unbearably beautiful.
The Lowenthals.  One day we all sat down for lunch at a large table, I cannot recall which town we were visiting but it had been severely damaged by the Nazis during the war. The conversation drifted to condemnation of the Germans generally and then a horrible silence fell as someone mid-sentence realised that we had two Germans seated in the centre of the table who had not said a word. The silence was broken by Mr Lowenthal, who made it clear that he and his wife had no problems with what was being said, though they were Germans, they were also Jews and had fled Nazi Germany. He also said that every single one of their known relatives had been killed in concentration camps, every single one and they were quite alone in the world. I don't think the conversation quite recovered after this.  We became very friendly with the Lowenthals who lived in New York and one day we were to call on them in their minute flat. They told us that soon after their marriage they had been chosen by their relatives to flee Germany and to settle in New York where they were to buy a large apartment and eventually be joined by their parents and relatives. They were given all the family's and their friends most treasured possessions to take with them and the young couple set sail for America with trunks and trunks of treasure and I suspect a great deal of undeclared gold.  Their first port of call was Tilbury where they were to catch a train to Liverpool the next morning, and then to sail to the States.  They arrived at Tilbury and all their possessions were placed in storage in Tilbury for the night. That night the storage facility was bombed and everything they possessed went up in flames. They eventually arrived in New York in the clothes they had and little else. None of their relatives or parents managed to escape the concentration camps. He said it is very strange feeling to know they had absolutely no relatives whatsoever and that all their possessions had been destroyed. He said they felt like they were a couple of blank pages.  He had been studying to be a doctor, but because they were penniless he had to work and joined the clothing trade. They were passionately interested in the arts, paintings, architecture, music, but they had one restriction which they imposed on themselves and that was never to listen to Wagner and never to set foot in Germany or Austria. One tale they told was that they decided to travel around America and on one trip they were seated in a coach and arrived at a border town to a southern State when they realised to their horror that the toilets were designated for whites and coloureds and when they returned to the coach, they were told that the coloured people on the coach were to sit at the back and the whites in front. Sickened they demanded that their luggage be taken off the coach and they returned home, never to visit any of the Southern States of America. In fact I think they were so shaken by the incident that they brought their travels around America to a stop.  We had the feeling that they never quite recovered from that experience and took all their holidays in Europe.   They had seen very little of America compared to our subsequent travels in that country.  The Lowenthals often visited London and we always met up for dinner, or they came to us at William's flat in Watford for lunch. We also met them by accident in Switzerland where we were both staying at the same hotel. Unfortunately he always smoked huge cigars which always set me off coughing and I am sure led to his eventual death.
The Hortons.  We also met up with the Hortons on our Bologna trip who we discovered lived a few street away from William in Watford. We visited them many times to discuss our latest travels.   They had travelled the world and seem to have been everywhere we wished one day to visit, but strangely they had not seen anything of the British Isles. They said they were waiting to do 'home' when they eventually retired. Well retire they did, but sadly Mr Horton was struck down with total irreparable blindness. We visited them quite often and always found him in his armchair apparently immovable. He used to enjoy listening to classical music on a small disk player, but slowly stopped doing the one thing we thought he enjoyed.  He refused to go out for a walk with us, or with anyone and in fact refused to leave their flat.  As Mrs Horton had arthritis they had helpers during the day to dress, wash and bathe him, but he had all his meals in his armchair in which he sat, day after day for seventeen years, till he finally died. He was a very witty and entertaining man, with a slightly sharp temper which soon passed. It was sad to watch him, he who loved travel, his whole world now reduced to his armchair.
Anne Goddard (ii).  We last left Anne in a squalid flat in Central London. It just so happened that William who now lived in Watford found that Anne had also lived and been brought up in Watford. Next door to the flats where William lived was the Salters Almhouses, where elderly Watford people were accommodated with a warden in a beautiful Victorian Gothic pile containing small flats with small gardens.  On our holiday in September that year in Italy, we dined in Bologna with a couple, the Hortons, who also lived in Watford and were members of the small party we were travelling with.  We happened to mention Anne's plight regarding accommodation, and the fact that she had lived and been brought up in Watford, and we thought what a great place the almshouses would be for her.  Mr Horton who had some connection with the Salters Company who ran the almshouses, suggested that accommodation at Salters Almshouses would be just the ticket for Anne particularly as she had had such a close connection with Watford. He said he would make enquiries and eventually Anne, who was still living above a squalid book shop in central London, was offered a place at Salters and took it.
The flat was small, a bedroom, living room, kitchen, bathroom and hallway, she was so proud of it and of course she was secure for life and paid a very small rent.  It was one of the good deeds that we have done which gives us most pride. We were often invited to have tea with her and she would specially make Mozart cakes (almond paste dusted in chocolate as she knew we were fond of almonds and we would sit by her cosy fire and feel that life was good. Anne had been a staunch member of the drama club for many years, taking small parts and helping backstage, she had made friends, she thought, close friends, with some members of the club.
Anne sitting behind my mother on one of our trips to Cornwall
In a field of cowslips on our way to Holywell Bay  
She accompanied us on holidays to Cornwall for many years. When she had been in Salters Almshouses for some years, she found she had become so infirm that she could no longer travel to London so ceased to take an active part in the Club. She gave out invitations to visit her, but no one, not one club member ever thought to visit her. She was quite elderly when we met and slowly we could see that all her local friends and relatives had died and she became very lonely.  Eventually William and I moved to Bridport to live, and therefore saw her only occasionally and invited her over to our flat in Watford which we had retained. She became so lonely that she tried to commit suicide but was discovered in time by the warden and eventually died of old age, I fear she was very lonely at the end.  Apparently, after she died she was discovered to be covered in massive bedsores.  They should have let her die when she chose. We tried many times to keep in touch by telephone, but she would not answer.    I shall never forgive members of the drama club, particularly young members whom she befriended and whom she would have loved to entertain in her small way in her home of which she was so proud.  They could have visited as we did and taken her out for drives.  But none of them ever did. Shame on them all.  She was great company on our holidays in Cornwall, we also took her for outings to NT gardens and the like. After she died, her sole remaining cousin, who had arranged everything, rang to tell us of her death and to say that the only name, address and telephone number left in her diary from the drama club members was mine.  She had crossed off all the others so I suspect they had all stopped sending her Christmas cards, if indeed any of them ever did. We are so glad that we got to know Anne, a really gentle kindly lady, with a huge sense of  fun. Full of laughter and a sharp intellect. Passionately fond of music. I used to introduce music into my productions with the GLC Drama Club and I think she was the only one who really appreciated what I was trying to do, and certainly the only one who ever recognised the composers. On the darker side, hers was a lonely life.  She told us she had made a disastrous marriage, I think to a musician which only lasted months and, so she said, broke her heart. She had a very small pension to live on and I think found it difficult to make ends meet. We always insisted on paying for her when she travelled with us, or I doubt she would have come. Our excuse was we were paying for my mother so why not her. Her last years after the attempted suicide must have been dreadful and lonely. We, had settled in Bridport and we wished there was some way we could have taken her with us, but there was no Salters Gardens in Bridport. She would have been company for my mother, but, there we are, there was nothing we could do and she was a fiercely independent lady. The last time we saw her, on one of our trips to London, we visited Salters Gardens and took her out to Cliveden for tea.  Her hair was in a terrible state, she who had always looked so smart and she had a sad look in her eye, all the  vivacity and charm gone.   My mother, we all, were rather shocked to see how much she had deteriorated.  Why or why did they not let her go when she thought it was time.  She must have planned it for months, and then to be revived must have broken her spirit. Dear Anne, I wish we could have been more with you in those last dark years.